Joe's Weather Blog: A Week Of Snow Coming
OK one storm is down and a lot of gray remains with just a few snow showers left over on the MO side as the roads try to recover. Main arteries are vastly improved, secondary roads will take some time.
Usually I try and let Mother Nature get rid of the snow on the driveway if we have 1-2″ or so. Last night most areas in KC had about 1″ of mostly sleet and a topping of snow. Let's just call it crunchy out there. I'm hoping the sunshine tomorrow and most on Monday will do the trick because I hate shoveling shoveling new snow when there is a layer of old snow/ice on the bottom.
I bring all this up another snow event on a more widespread level is heading towards the Plains and this appears to be more of an old fashioned snowstorm that we're more used to in the KC area. There are questions on amounts right now…but the potential for widespread 4″+ amounts is certainly there and some may get close to 8″ out of the scenario. Who gets the max, whether it be the I-70 corridor or up towards N MO will need to be figured out over the next 48 hours but again we should be ready for Tuesday.
Let's step back a bit and show you this graphic that the NWS prepared on storm #1 that affected us this morning. It didn't last all that long, about 4-6 hours worth…and the sleet aspect for many will be remembered.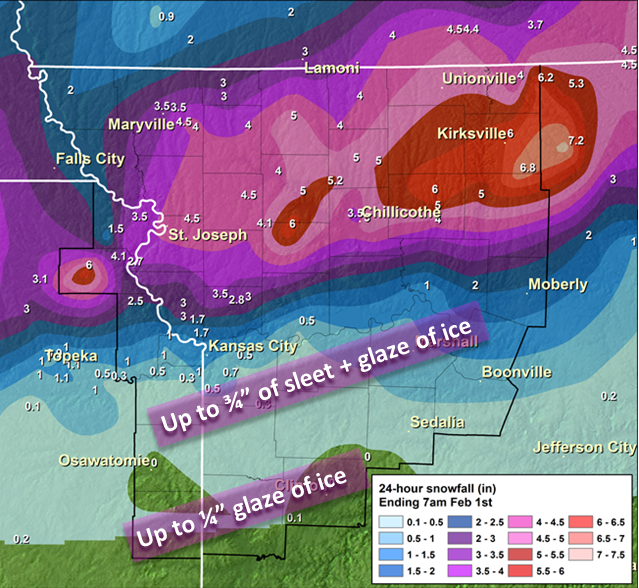 KCI, as we were tweeting and blogging about earlier this AM was on the sleet/snow line and while it was sleeting like crazy 3-5 miles south of the airport it was pouring down snow for awhile at KCI…and they ended up with about 2.8″ of snow bringing there yearly total to 13.9″. it was an interesting storm to watch unfold and color me impressed with the amount of sleet that fell. As expected the 36 highway corridor area did the best on the snowfall with widespread 3-6″ totals there.
Meanwhile of over on the KS side…the NWS from Topeka sent out this map…
OK so it's now time to focus on the second potential snow for us…and that is connected to a circulation off the coast of WA/OR
You can see it clearly spinning towards the SE and it will take a familar (though not really this winter) track for accumulating snow in the Plains.
Let's use the GFS model to show you the track of the storm at around 18,000 feet up.
You can clearly see the storm dropping along the west coast of CA and swinging towards us. Interesting to note that a few days ago most modeling had this storm passing well south of KC…now it's on a more typical snowstorm track for the Plains.
How it moves towards the NE will play a key role in whether we get 4″ or 8″ of snow in the KC area. It should be a fast mover regardless as is pretty typical. There obviously will be wobbling tracks…and as the tracks wobble NW or farther south…so goes the heavier accumulations on the models. Can't worry about that at this point though.
Here is what the GFS is thinking…
As far as timing goes…the snow would start early Tuesday morning and continue through most of the day. The GFS model shows the storm at the surface valid at 6PM Tuesday night…
Behind the storm VERY cold air will pour in and with snowcover…it's going to stay cold for the remainder of the week. The blue contours on the map above represents the amount of accumulated liquid that will fall as snow…and for us it would be about .25″ in a 6 hour wind from noon-6PM…so you get some before that…a little afterwards…and you see where we are roughly.
This particular storm won't have a ton of moisture in the atmosphere wrapping behind it into the cold air. A lot of that moisture will be trapped to the SE of KC in the TN Valley area and the deep south.
The Canadian model has the same ideas for snowcover as well be WED AM.
and our EURO model is aboard but has the heaviest more towards N MO but still gives the KC area about 4-8″ worth.
As you know I've been talking as well about how temperatures THU AM may tank IF we had clear skies and light winds on the assumption of expansive snowcover in the Plains region. It continues to look to me like clouds will rapidly move into the region early THU AM ahead of our late week potential snowmaker. That's why on the air this AM I didn't forecast sub-zero lows. It's not out of the question that we could get there before 12AM THU…like WED night…but should clouds move back into the area…temperatures would slow the descent. I want to see how the next couple of days play out before going all on on that potential.
OK that's it for today…I'm worn down…have my 2nd cold this month which is turning into a sinus infection and I'm not typing so well…
Have a great day and I'll see you on the news tonight.
Joe