Joe's Weather Blog: Seeping Cold Though Early March
Good afternoon and thanks for reading the FOX 4 Weather Blog…before I get into things I just wanted to mention a big hello to the regular readers…I've been running into more and more people who read the weather blog as a regular part of their day and make sure they mention that to me when we say hello to each other out and about through the community. Many may not realize that I was one of the first weather bloggers for a TV station in the country wayyyyy back when and certainly the first here in the KC area. Back then I was aware of only one other station doing something like this and that was Tom Skilling from WGN (they have a great blog as well). So I can't take credit for the idea…but through all the various formats of the blog…through all the different web page changes that we've undergone…this is my favorite platform to get across the some ideas and thoughts that I have that are weather related. I'm not going to waste your time with "other" things or doing a blog just for the sake of doing a blog…it's all about the content and quality for me. Take yesterday for example…great but windy day…I couldn't really think of much to cobble together for you…so it was a "blog day off". They don't happen often…but every so often it's nice to step away for a day from the weather…even for me.
So with all that said…let's get into things. Temperatures as of the noon hour are ranging from 51 to 56° from KCI to Downtown KC. Skies which have been somewhat cloudy are about to turn mostly sunny during the afternoon. Take a look at the visible satellite pictures this afternoon showing skies about to clear out.
So while skies are clearing out…there is a slow press of colder air that's starting to occur…and if one looks to the north of the area you can see where the cold air is going to come from. Take a look at the surface weather map showing the press of cold starting.
In the map above…the yellow shaded area represents temperatures at or above 50°…while the blue shows areas at or below 32°.
When one goes farther north…you can see even more cold air up there…
In the map above…the temperatures for the reporting stations are in RED. Those are single digit temperatures up across ND right now.
In analyzing the pattern coming for the next couple of weeks…it plainly seen that we're going to have some more cold weather to finish off the month and start March. Precipitation (probably snow) though will be more fleeting…and while I expect at least some snow bands in the region…at this point nothing substantial is expected for awhile.
The latest 8-14 forecast for temperatures shows it all…with cold weather probabilities expected through the eastern 1/2 of the country.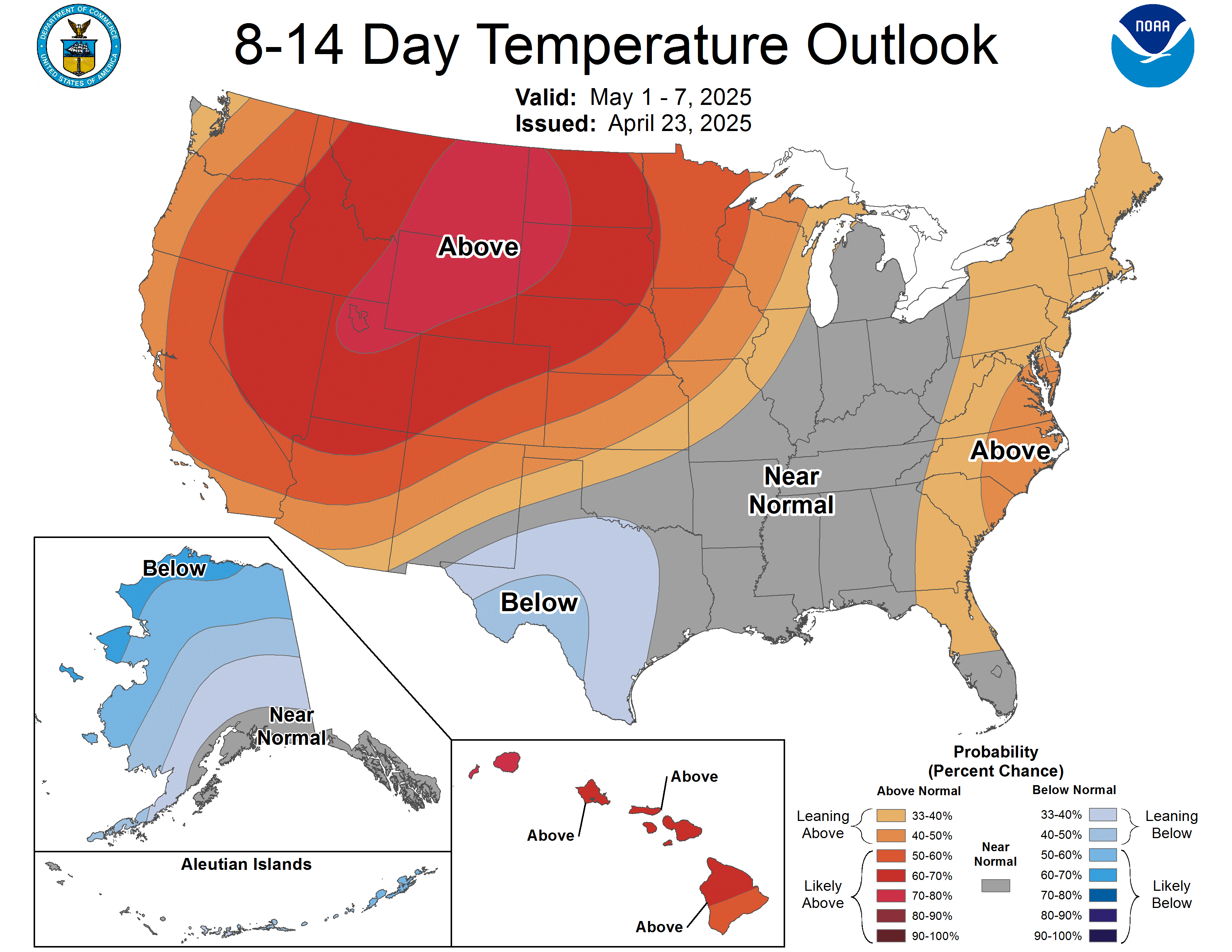 So what about the snow situation in the longer term…past the next 7 days. There is a system which the modelling has portrayed for the last few days due in on the 2nd or 3rd. This system promises to give CA another shot of decent moisture to help their cause a little more…and I've back-traced the storm to a storm developing in the Sea Of Okhotsk in eastern Asia between China and Russia west of the Bering Sea.
As that energy moves eastwards a piece is forecast to split from it tomorrow and Monday and become it's own entity and perhaps our next snowmaker.
As mentioned before this storm would be some good news for the folks out west…where the dry pattern continues…as it has all winter long.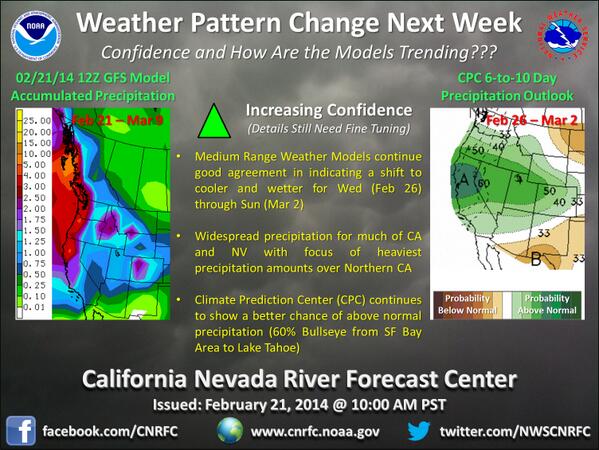 It's 1000s miles away from that KC area…and will undergo changes along it's path but it will be our next weather maker…and despite what the models have been alternating with over the last couple of days…and today the GFS is showing rain…my feeling is that the chances of this being a snowmaker for us are higher than it being a rainmaker for us.
The cold has become the norm this winter…and while we've enjoyed a couple of "thaw" days lately…the trends aren't in our favor. Since 12/1 we are experiencing our 12th coldest meteorological winter thus far…and the coldest since 2001.
That's it for today..again thanks so much for reading my weather blog!
Joe