Joe's Weather Blog: Severe Weather Recap
Well yesterday pretty much played out the way we thought it would…we always felt KC was going to be on the edge of a severe weather risk on Thursday and we were. The storms (luckily for the metro) fired up off towards the east/southeast of KC. Pictures of the large hail coming up but first the forecast through the weekend.
Rest of Today: Blustery and chilly this morning. Wind chills as expected are in the upper 20s this morning. Clouds are also not helping the cause. We should start to see some breaks in the clouds and hopefully partly sunny conditions changing to mostly sunny skies later this afternoon. The winds will slowly drop off but still be busy through mid afternoon. Temperatures should eventually get to near 50° (give or take a couple).
Tonight: Chilly with mostly clear skies…lows drop to near 30°
Tomorrow: Mostly Sunny and nice. Last weekend I promised the folks at St Andrews golf course of 55° weather for there demo days…we may do a couple of degrees better.
Sunday: Increasing clouds with highs near 60°
Discussion:
Colder air coming into the region this morning as our storm pulls away. This mornings pressure map shows a strong surface low near the Chicago area and moving away. Behind it colder air is spilling into the region with NW winds…
This storm created a lot of severe weather yesterday pretty much where the SPC said it would…here are the severe weather reports…
Notice how close those hail reports were to KC. If you remember yesterday AM I was thinking the worst would be towards and east of the 65 highway corridor from Marshall and Sedalia eastwards…well check out some of these large hail stones that fell in that area…
Baseball-sized #hail 7 miles east of #MarshallMO from Karen Jacobs http://t.co/b73iANI7mN—
Fox 4 Weather KC (@fox4wx) April 03, 2014
The last picture was form Clinton, MO…thanks to all who sent in the pictures via Facebook.
There were reports of 8 tornado's in the country which is a rather low number with the set-up that was in place…probably one reason why was that the storm was forecasted to be stronger in the upper levels that what actually happened in reality.
With that said there were reports of funnel clouds as well down towards the Lake Of The Ozarks…here was a picture sent in from Billy Thompson…
Finally check out these pictures of a supercell storm…with what we refer to as a "mothership" appearance…almost "corkscrew" in nature!
Storm photos from Linn, MO provided by Lake of the Ozark Firefighters!
Thanks to all for the great photos!
By the way…large hail also hit Denton, TX…thoughts already are that the damage estimates may be in excess of $250 million.
Oh and on the cold side of the storm…it was snow…some 10″+ in the Minneapolis, MN area apparently!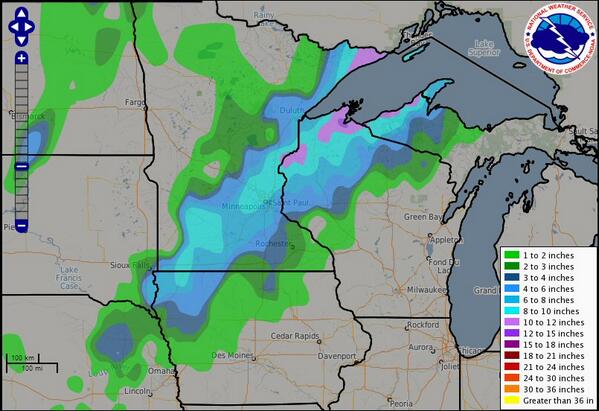 Thankfully the Twins play in Cleveland although it's raining there this morning…
That's it for today…I'm off this weekend so have a great couple of days and I'll update the blog again early next week!
Joe