Joe's Weather Blog: Heat YES…But What About Rain (WED-8/20)
Overall a pretty easy forecast for the next several days as temperatures will be in the 90s with heat index values near or above 100° at the peak of heating in the mid afternoon hours. ALWAYS remember that those temperatures/values are for in the shade…being out in the sunshine on top of concrete/pavement will easily add 10-25°+ degrees to those numbers…this continues into Sunday.
Forecast:
Today through SAT: Hot and humid with winds starting to increase a bit to 15-25 MPH. Highs in the 90s with lows in the 70s. Minimal to no chance of rain in the KC area into the weekend. Basically it's summer again. If you're interested in seeing the clouds from space…and seeing how things evolve every minute…this is a pretty cool site that will allow you to see the flow of weather/clouds every one minute!
Discussion:
As mentioned above…it is what it is…and for a summer that has had relatively few 90° days and no 100° days…the weather over the next 5-7 days will not be in keeping what we've enjoyed for the past several months…but for those who like summer…you're happy campers.
Temperatures aloft and on the ground are getting warmer/hotter. It's not extreme but it is noteworthy none the same compared to some of the airmasses that have affected us this summer with cooler days. So far for the month of August we're running 2.9° below average…let's see where we are in about a week or so with regards to average in KC. From a rainfall average we're close to 2.5″ above average for KCI (which is just one point in a large metropolitan area)…and while things are looking pretty darn good out there from a moisture standpoint…a week or so of mostly hot and dry weather will take a bit of a toll on the grass etc…so start thinking about dragging the sprinkler around in the next few days.
There are chances for rain though…not really till Monday however. A weak front may try to sneak into the region early next week…and as it does so it should create some rain but where that rain sets up and where conditions are more favorable for storms is still not certain. Perhaps we can get something from Mother Nature down the road. Whatever front creeps into the area will stall and retreat northwards ahead of a somewhat stronger front that should move in towards the end  of next week, heading towards the holiday weekend.
If you saw the news yesterday or today, there has been a lot of rain around the Phoenix area…as a matter of fact in some cases historic rainfall. Mostly the rains affected the N Phoenix area up I-17. An area familiar to me because of my trips up towards Sedona. Rain is a desert is usually a good thing during this time of the year, but because of rock hard desert landscapes, the heavy rain runs off more than soaks in sometimes and with the terrain being hilly and rocky, there is a lot of runoff and that creates flooding.
Some areas saw close to 5″ of rainfall…associated with the summer monsoon an also a disturbance in the atmosphere…even for an area that is in a prolonged drought…that is a wet combination. Here are the water vapor images showing the blow up of storms there yesterday…notice the swirl in central CA…that is helping the cause of heavy rainfall.
We've certainly seen over the last few weeks some extreme rainfall totals in various places in the US. Detroit Baltimore, Islip, NY, Portland, ME and now Phoenix.
Today there is a potential for heavy rain in the N Plains region…and there is also the potential of severe weather up there, including the possibility of tornadoes.
So far this year there have been over 850 reports of tornadoes…that number will come down as duplicate reports are filtered out before the year is done…in reality thus far this season is not nearly as active as other seasons and well below average.
The tropics are trying to stir a bit on the Atlantic side…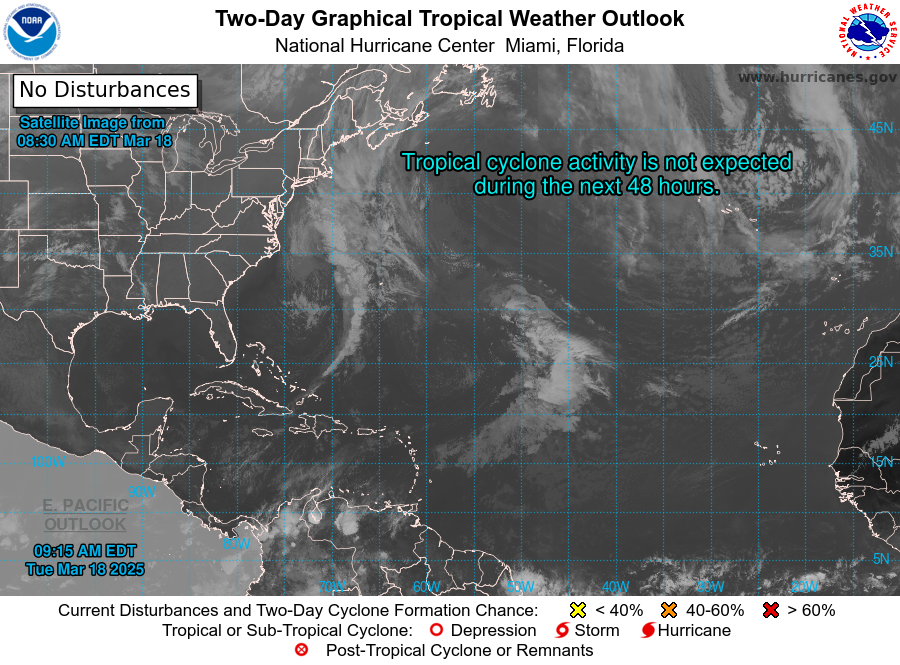 We're now in the major upswing of the typical named storm part of the season in the Atlantic basic (which includes the Gulf of Mexico and the Carribean)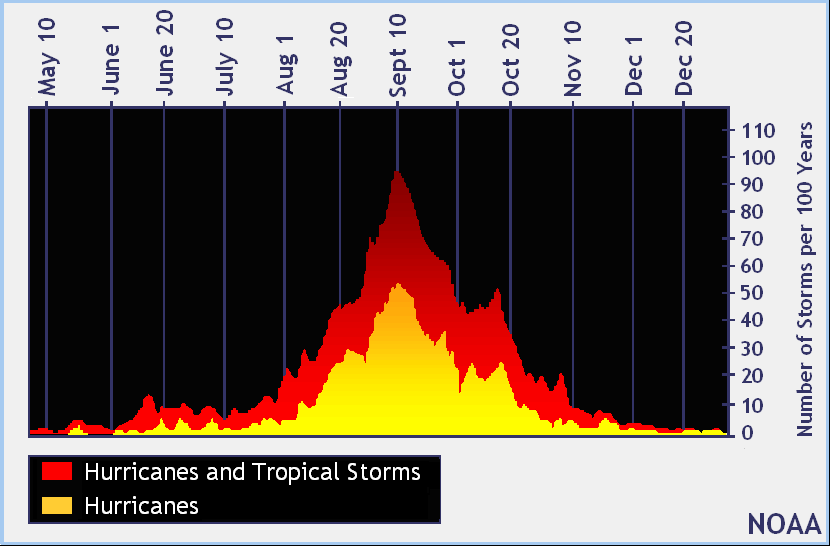 So from a climatological standpoint…odds favor things to get more active over the next month or so.
That's it for today…stay cool, drink your water and for those who may know some elderly folks in the downtown area, and those without A/C…check on them every so often and make sure their coping with the heat. Oh and don't forget the pets as well!
Joe