Joe's Weather Blog: Finally Some "Brief" Mild Air (WED-11/19)
Good afternoon…well we tried to get to 40° before lunch today but technically only got to 39° at KCI so the longest stretch of high temperatures below 40° in the month of November continues (today will be day 9). There are some changes though heading towards the weekend that promise. at least, some more moderate weather to move into the region.
Forecast:
Tonight: Clearing skies and chilly with lows in the teens.
Tomorrow: Variable clouds and chilly with highs struggling to near 40°
Friday: Cloudy with some drizzle/mist developing. Highs in the 30s. There may be some very light freezing mist/drizzle should something form during the day. We should ever so slowly creep above freezing as the day moves along. It needs to be watched.
Discussion:
I can't start this discussion without talking again about the lake effect snows that have tapered (for now) in the Buffalo area. My twitter (@fox4wx) timeline is loaded with some incredible pictures of the amount of snow that has occurred. I was sending out tweets yesterday because I don't think that many can relate to how localized this was for VERY specific locations. I tried to relate this things to KC.
For example there is a town called Cheektowaga, which is east of Buffalo Internation Airport. On the south side of the community there was 60-65″ of snow at one point yesterday afternoon. At the same time about 4 miles away…the airport had about 3.5″. We're talking more than a 55″ gradient in as little as 5-7 miles or so. What is that distance comparable to? Think about this…the north side of Overland Park gets 4″ while the south side of Overland Park has over 60″…or there is this one…the Downtown KC Airport has 4″ and The Plaza area has over 60″. Just amazing…and there is more coming.
The NWS in Buffalo has sent out this FB item with about 40 pictures of the snow sent in by their followers…they're amazing (IF you like snow). There is some speculation that  this may have been the most snow in the US in a 24 hour period. Right now that distinction goes to Silver Lake, CO with 76″. It is going to be investigated I think…suffice it to say that this may have been the most snow in a populated area though in US weather record keeping history.
There are many other facets about this…will we ever know how much snow really fell? Maybe not because the snow is being compacted so much because of it's sheer weight. It's very possible that there may have been more snow than has been reported because of this situation…plus add in blowing and drifting and measuring that much is tough to do.
Sadly there are reports of people who have lost their lives because of the extreme amounts of snow. Also be alert for this over the weekend…roof collapses. They should start to warm-up over the weekend and rain is possible (heavier by Monday). This will lead to the weight of the snowpack to increase dramatically as water (rain and melt) is added to the snowpack. Those wide span roofs (think big box retailer buildings) may become VERY vulnerable to this over the next 5 days or so.
Check out the scene from Orchard Park where the Chiefs played a couple of Sunday's ago…
They're offering free tickets to Sudnay's game + $10/hour to shovel to whoever wants to come out there and help. Those shovelers and machines will be working awfully hard…why?
That's a lot of tonnage!
If only it would stop…and it will but NOT until another heavy band sets up tomorrow giving the same hard hit areas another potentially 1-3 feet of snow…allowing the potential of some of these hardest hit areas to close in on 90-100° of snow in a few days time. It'll be interesting to see when the piles finally melt there for good.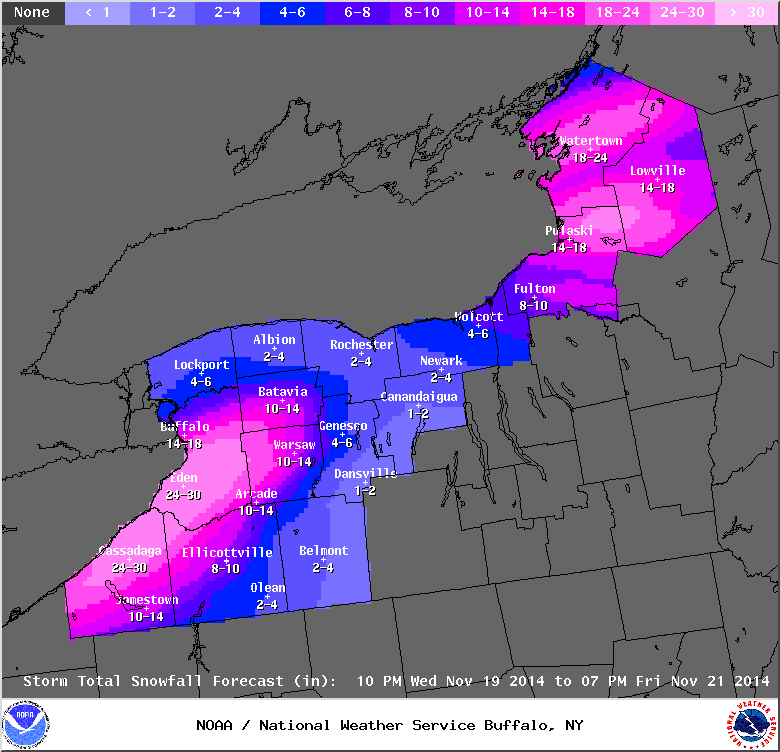 So many things to ponder there…by the way there are all sorts of records. At this point I believe the record for a snowfall in a 24 hour period is 49″ in Watertown, NY. There is an unofficial record of 54″ in Barnes Corner (Tug Hill, Plateau, NY) in January of 1976. So perhaps IF nothing else. For comparison in MO a couple of locations near Cape Girardeau have the record of 24″ set in 1979 and in KS the record is in Pratt with 30″ in late March of 2009.
OK…enough with all that…
As I mentioned at the top of the blog…the grinding cold continues more or less. We're 10° below average for the month of November which is really stunning coming into the last 10 days of the month. As a matter of fact from the 1st through the 18th this is or 3rd coldest November start in KC weather history. Yes it's been colder as the graphic below illustrates.
If you're wondering…and I know you snow lovers are… in the winter of 91-92 we had a whooping 10.1″ of snow (almost half in November (4.6″) and in the winter of 97-98 we had 19.6″ (more than half in December). Carrying this farther… in the winter of 1986-87 we had 17.3″ and in the winter of 2000 we had 22.8″.  Let's go one more year down the list to the winter of 1951-52…we had 21.2″. So we go from well below average winter snows in that top 5 or so to near average winters. A clue to this coming winter snowfall in KC?
Speaking of which…we'll have our Winter Weather Forecast including the coldest temperatures and the amount of snow for KC on next Monday's newscasts at 5/6/9/10 so you can look for that then giggle next April when the snow season is done.
The trend at least through the the rest of the month is colder than average with some limited intervals of moderation I feel.  If the month ended today this would be the 4th coldest November in KC weather history going back to 1888. Here are the coldest Novembers in KC.
Now let's talk about what's ahead because there will be a significant storm developing in the Plains region but most (not all) of the best precipitation looks to be shunted to the east of the area.
The system that will be a player (actually two systems that will try and merge into one) is now approaching N CA.
That disturbance will move through the SW part of the country and then curl up the MS River Valley. With that trajectory, odds favor the best rainfall from the storm to be in central and eastern MO as opposed to W MO and E KS. Take a look at the GFS forecast through the next 8 days…
There is additional energy aloft that will move into the PAC NW as well then dive into the Rockies and gradually merge (or what we call phase) with the southern storm system. Then we'll end up with potentially an upper level storm in the upper Midwest/western Lakes region. Look for the "dips" in the black lines in the above animation.
For us we should see an influx of low level moisture ahead of the 1st wave move into the area on FRI AM. This moisture mostly below 6,000′ will run into the cold air at the surface. When you introduce moisture like this, there could be mist/drizzle that develops. What will need to be watched is the surface temperatures on FRI. As long as this mist/drizzle doesn't happen too early in the AM we should be OK as temperatures rise to near or above 32°. What needs to be monitored is the potential for a faster arrival of that low level moisture combined with temperatures below freezing. That would raise the specter of freezing mist/drizzle. At this point the chance is low for KC of that happening but it's something to watch, especially across N MO. Eventually S/SE surface winds will overcome the colder surface air and we'll go above freezing as the day/night moves along.
We should finally see above 40° or 50° weather this weekend. Some rain is also likely on SAT into SUN. Very light amounts on SAT and potentially something a bit more decent on Sunday…although we're probably going to be on the far NW side of the better precipitation so any farther SE movement of the rain shield and that plays out to a drier scenario. One thing for sure, after that wet start to OCT we've dried out in the last month or so.
Behind this storm will come another (not as cold) but below average shot of air early next week with "perhaps" a quick moderation on Thanksgiving followed by a return of the cold over the holiday weekend. The cold seems assured to me at least…the "moderation" timing is not. It could be like last night where we had a bubble of warmth aloft move on top of us during the worst part of the day as opposed to the daytime hours where we could've warmed up nicely.
That's it for today. Almost 1500 words later.
Joe
(@fox4wx on twitter)