Joe's Weather Blog: A Lost Weekend In The Gray (SUN-12/7)
Good afternoon…well today is not turning out much better than yesterday and it appears the low clouds are winning the fight with the weak December sunshine above them. As a result things really haven't changed all that much this weekend.
Forecast:
Tonight: There may be a few spotty showers later this afternoon/evening, but otherwise skies will remain cloudy. Temperatures tonight will hold steady in the mid 30s
Tomorrow: We may start the day with clouds but I'm still hopeful we'll get some sunshine to help the cause with highs potentially near 50°. Although IF the clouds hang tougher it may be tough to get there. I'm hoping the NW winds of 10-20 MPH will help to stir the air and allow some drier air above us to help chew away at the cloud cover faster.
Tuesday: A return to colder conditions as a seasonably strong December front slides through. Highs should be near 40°
Discussion:
Different day…but it's the same verse as far as the weather goes around this part of the country. If you remember yesterday the morning weather balloon launch revealed about a 3000′ layer of chilly saturated air siting on and immediately above us…well it's still there and it's essentially stuck. Here is the satellite picture showing the clouds and the surface weather reports with the temperatures in RED. click on it to make it more readable…this was from the 1PM weather update.
Notice out across western KS/NE there is clear weather and sunshine…that is allowing temperatures to warm well into the 50s. So close yet so far…
There are also some showers (rain) located to the west of the area as I type this blog, those may slip through the region during the late afternoon hours…not a lot of rain…just some passing showers…
Then on Tuesday morning another cold front will move through from the north. This will allow a seasonably cold airmass to settle into the area for about 36 hours or so…the air pressures will be rather high and the airmass itself around the KC area will be rather shallow…in other words it'll only be about as thick as the moisture layer on top of the area now. Another way of looking at that would be IF there was a building some 500 stories tall…the air on the top floor would be warmer (by a few degrees) than the air on the 1st floor. regardless it's going to be a struggle for us to warm up on Tuesday.
What's interesting is the little wave that will pass well north of here later tomorrow will turn into another Nor'easter in the NE part of the country…rain for the coastal areas (mostly) with heavy well inland snowfall again. That storm however will stall and spin in that part of the country for a couple of days and act as a block for us in a sense. The chilly airmass that moves in Tuesday will only slowly move away…meaning that while we will warm up later in the week…overall the week will end up near average for temperatures.
Take a look at the EURO model forecast for FRI AM…showing 2 storms on the coasts…one, being the very spun-out nor'easter and the other being another complex of disturbances connected to a parent storm off the western part of the country…which means more drought easing rains for the CA region.
The combination of both storms means good rains for areas affected.
We're talking 5-10″ worth across N CA…
The latest info on the potentially significant precipitation event and hydrologic impacts for later this week. #cawx http://t.co/XBQ181YOV6—
NWS CNRFC (@NWSCNRFC) December 07, 2014
For some this will be too much of a good thing as flooding is expected. It would be a bit more helpful IF we could shift some of that farther southwards to get to some of the other reservoirs which need a bunch of runoff.
For us in KC…some on FB are wondering about our snow prospects…and there is really nothing to get excited about for at least a week or so…and this latest 8-14 day forecast doesn't show a lot of sustained cold for this part of the country…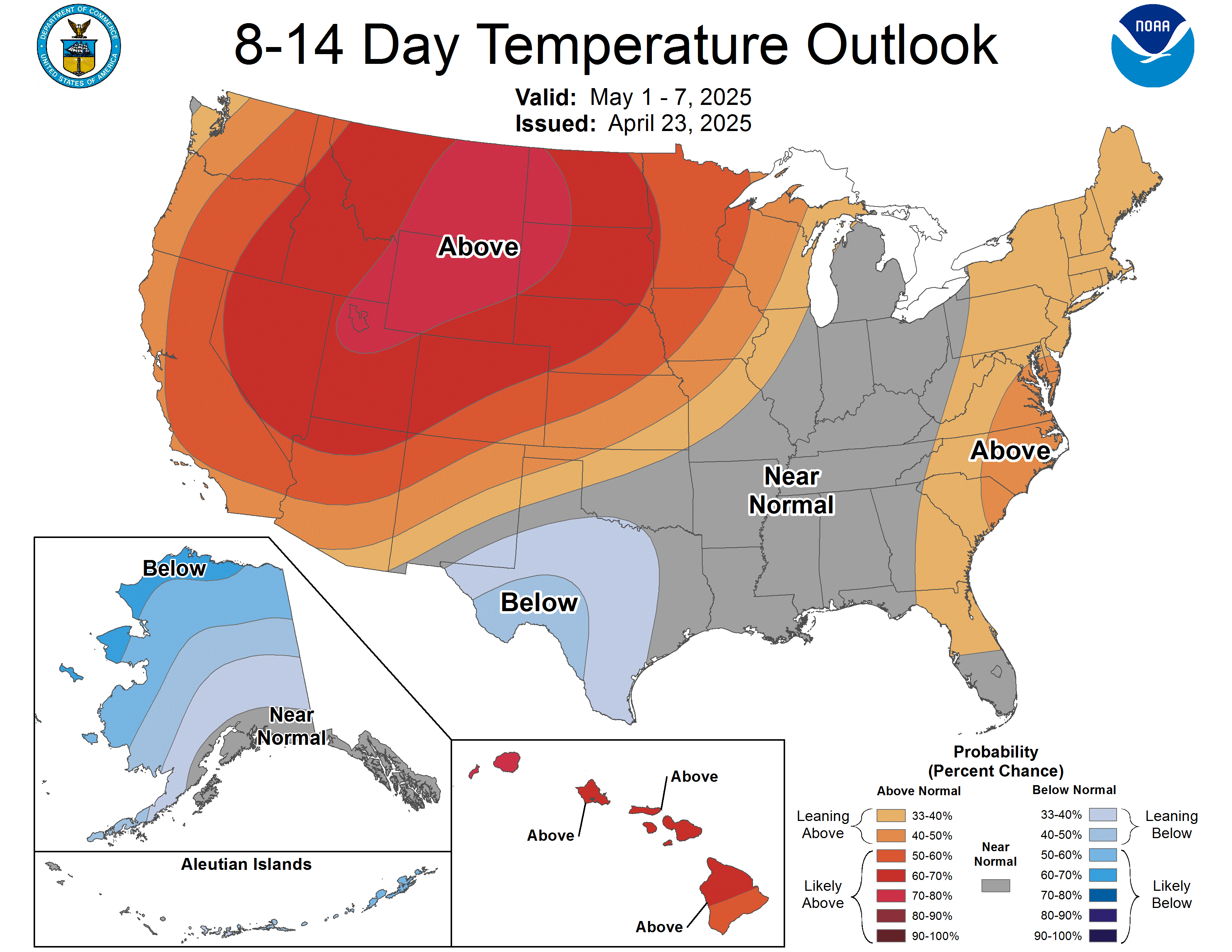 I think they're thoughts for the NE part of the country are a bit too optimistic but the overall idea in the map above seems legit to me right now.
The flow is forecast to split aloft in about 7+ days…and that will mean storms may have a better opportunity of getting in the Plains (will they be too far south?). The issue then could be where the cold air is when they get into position…
That's about it for today…we've got a busy week at FOX 4 so blogs may be a bit intermittent at times…I'll do my best though when I can…and in all honesty there really won't be a lot to write about unless something significantly changes in the central US.
Featured photo is from Todd Bryan…he is showing us what things look like from above this afternoon…not much better it appears. :(
Joe
(@fox4wx on Twitter)