Joe's Weather Blog: Snow In February?!?! (FRI-1/23)
Well it certainly won't be January unless there is a Hail Mary pass on the last day of the month…
So far this month we've had 1.6″ of snow which is a miracle considering our precip total is .12″ for the month.
Forecast: Updated Saturday @ 1PM)

Saturday: Temperatures may really warm up today with highs in the upper 50s or lower 60s. Skies will be sunny. Winds will increase tomorrow 15-30 MPH.
Tonight: There may be some late evening showers pushing through the region
Sunday: A clipper will pass towards the NE of KC…however it will drag some chillier air down into the area. Temperatures on Sunday should back off into the low 40s. We'll also have quite a bit of cloud cover around and perhaps a few showers also. I can't rule out perhaps a snowflake or two especially on the MO side. Overall a more blustery day with north winds of 20-30 MPH. Not pleasant
Discussion:
I thought I'd start out the day showing you the snowfall deficits and then show you what a computer model is showing for the month of February. It's getting to the point where now it's like passing by an accident and you don't want to look but yet you still sneak a peak because of curiosity. The model that I will show you doesn't have a good track record in my opinion and will really miss things…the problem is it's a model that goes out for months at a time and there aren't that many models that do this. So it's worth looking at and not really counting on.
First the deficits from a snow standpoint…this is courtesy IA state (I've used them a lot lately in the blogs)…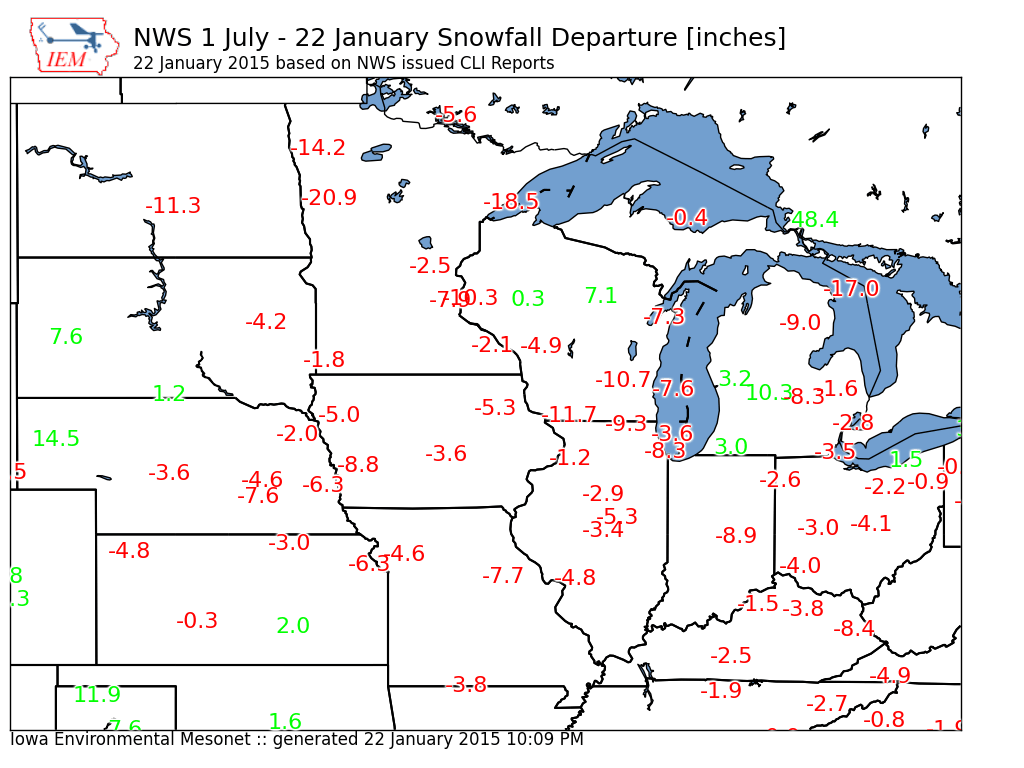 The data was through yesterday so it's close…but the deficits are a bit higher today because of the dry weather conditions. Notice the green numbers representing the above average amounts thus far including OK/TX and parts of the western Plains.
So I bring this up because I got a gander at the CFS model today for snow totals through February. As I mentioned I place little confidence in this models camp but by the same token it was tragic if you're a snow lover…because of the various versions of the model that were run, most of them place KC in a "sno-nut" hole when it comes to snow (h/t NWS-Pleasant Hill for the term). The graphics go essentially week by week. Click on the images if you want to sneak a peak at the "accident" along the side of the road.
Notice how most of the time in most of the panels there is little snowcover. In some cases there are actual holes in the snowcover around KC. Again don't put a lot of faith in this…but I'll tell you what…a tear came to my eye and I saw that…
Something that will perk up most spirits…and I sort of fall into the "if it's cold let's get some snow…if not it might as well be warm outside" camp…it's going to warm up again.
There will be a clipper passing through tomorrow night into Sunday…this energy passes to the NE of KC…here is the NAM model…showing the flow aloft at around 18,000 feet or so. The GFS and the EURO model are somewhat stronger with the wave passing through
Should the stronger solution pan out…we'll tug down some chillier air (compared to SAT) and that will bring highs down on Sunday to near 45°.
Don't get used to that though, because Monday will pop well into the 50s and potentially into the 60s as what may be setting up is reminiscent of the day we popped to 64°.
Another minor setback on Tuesday then another big warmup comes on Wednesday before a more significant chuck of colder air (of arctic origins) moves in towards NEXT weekend.
Our latest EURO model shows the anomalies at 5,000′ for NEXT Sunday…those purple colors are nasty cold…think highs near 20° with lows near 0° but what's interesting is that it would then spin away towards the east.
The map above is the GFS model…and it's crazy cold (I think overdone). Both maps are valid NEXT Sunday at 6AM…again this is for 5,000 or so feet up. On the ground…this is the GFS model forecast highs for NEXT Sunday.
We'll see about all this…the GFS ensembles are chilly for the 1st few days of FEB…but really nothing too drastic. My guess is that we've got a couple of colder days coming.
I should update the blog at least once over the weekend…but like I've mentioned before there is not a lot to write about these days…maybe I'll get an inspiring thought.
Joe