Joe's Weather Blog: Snow Fades Today…Watching Saturday (2/19)
Good afternoon…
Some snow is moving through parts of the area (radar shows the haves and the have nots through the metro)…shouldn't amount to much more than a 1/2-1″ or so especially towards the I-29 and I-35 corridor and I-435 on the east side of KC…just pay attention to any changing road conditions again up to the north of KC.
Forecast:
Tonight: Not as cold with lots of clouds and pretty steady temperatures with lows in the teens.
Tomorrow: Variable clouds and more seasonable with highs well into the 30s. It's important for us to warm up tomorrow because that will help the cause in terms of what the roads are like on Saturday morning. Should temperatures somehow pop into the 40s (not totally out of the question IF we get enough sunshine) odds would then favor more liquid rain as opposed to freezing rain on SAT AM.
Saturday: Some rain or freezing rain is possible before daybreak till about 9AM or so. Then drier during the afternoon with highs into the 30s. Should we not warm up enough tomorrow afternoon (we'll probably be pretty steady temperature wise FRI night) we may see slick spots develop overnight FRI into SAT AM. Bridges and overpasses might be more vulnerable than the regular roads. Something to monitor.
Discussion:
Sort of an interesting morning as radar was lighting up, but yet, for awhile, few were reporting any snow. That's because the morning balloon launch from Topeka indicated some pretty dry air below 10,000 feet or so…that allowed the flakes that did fall to evaporate. In the meteorological world we call it "virga". Sometimes, like today, enough falls so that part of the atmosphere that was dry…gets saturated and as a result then the flakes make it to the ground. We're seeing that out there as I type this. here is weather radar from the NWS in Pleasant Hill.
Accumulations for most should stay under 1″…and many won't even get close to that.
The other interesting thing about the morning were the low temperatures in the region. St Joe dropped to -10° which tied a record low set back in 1978. KCI dropped to 3° which missed the record of -3° set in 1936. In reality that wasn't such a hard record to get to…but we fell short.
Some of the other lows in N MO were -10° in Hamilton…and -6° in Kearney, MO. Cosby, MO dropped to -7°. Leavenworth, KS dropped to -3°. So pretty chilly!
Our average monthly temperature @ KCI is now down to 4.2° below average and sinking. With cold weather essentially int he forecast through the rest of the month…it strongly seems like the last half of FEB will be enough to overcome the DEC>JAN warmth anomalies…and either give us "average" temperatures or even slightly "below average" temperatures for meteorological winter (DJF).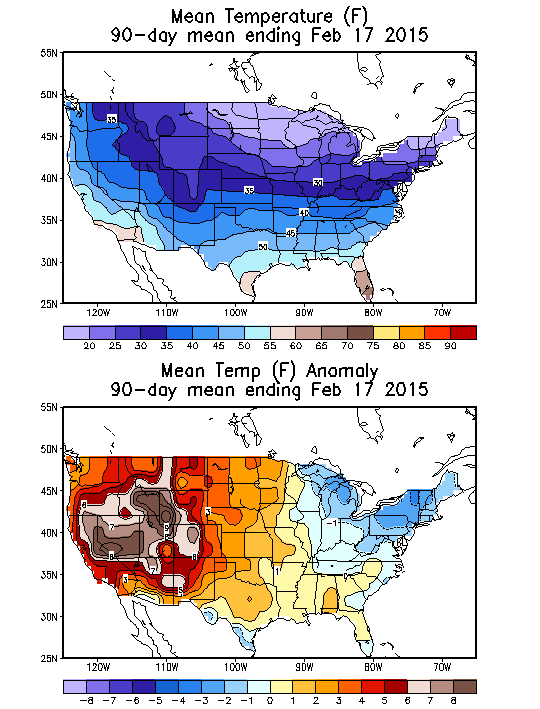 Interestingly…despite all the cold weather back east…they (as an average) aren't that far below average over the past 90 days. There is a New England bullseye of cold (some 4-6°F) below average…but with ALL the cold weather there…I would've thought it would be much more apparent on the maps. Granted though there are still 9 days to go…and most of them look rather frigid for the eastern part of the country.
About the weekend situation…
Needless to say the winter has been a tremendous disappointment for snow lovers out there including one meteorologist who predicted a lot of snow this winter. This next storm which looks somewhat more functional a couple of days ago now looks like a mess of disorganization and it won't really strengthen a lot as it zips through the region on Saturday morning. As a result it appears (unless something really changes) that we will not have a snowstorm over the weekend.
There is still an issue though concerning what type of precipitation we do see…odds favor something happening later FRI night into SAT AM…and while it won't be a lot…there may still be issues on the roads in places.
Let's take you up to about 18,000 feet and show you the flow up there. What I want you to look for are the RED blobs moving through the Plains…
Notice the one for SAT (and for timing purposes 12Z is 6AM…18Z is Noon…0Z is 7PM and 6Z is 12AM). The RED blobs represent areas of "vorticity"…which means that there is broad circulation in the atmosphere. this creates lift. One of the many problems is that the lift is so minor and so fleeting…that a lot of precip is tough to come by for us. Once again things look much better the farther east into the TN Valley you go.
The other issue we have is what will the atmosphere look like from a temperature standpoint when things start to happen later tomorrow night into SAT AM? Odds are the atmosphere may be above freezing above the surface…enough so that IF there were flakes upstairs then would melt before reaching the ground. Could they refreeze as sleet before getting back the ground? Potentially yes that could happen. Could we see just some freezing drizzle to freezing rain…yes. Could we see just plain rain with temperatures 31-34° like we've seen so often this winter it seems…that to me looks more likely at this point.
So what this all means is that the snow accumulations from KC southwards don't look to be that big of a deal, whereas the freezing rain (should temperatures be below 32°) could be more of a road issue, especially the bridges and overpasses. A lot will be determined by the warmth we try and achieve tomorrow afternoon. The warmer we get and thus the warmer we stay on Friday night…the less likely there will be road issues SAT AM. Again though we need to warm up tomorrow. IF we only stay near 32° in the afternoon that could lead to more issues SAT AM.
Here is the way the NAM model shows the precipitation type…
Again by Saturday afternoon things should be markedly better based on the latest timing of things
I'm still adding more…
Joe