Joe's Weather Blog: More Rain + Flooding Concerns (FRI-5/22)
Good afternoon…not exactly a Chamber Of Commerce type day out there today with lots of clouds and struggling temperatures in the 60s. The holiday weekend is getting underway and there are lots of great events going on this weekend. Odds are you have some outdoor events planned as well…and it appears that we'll be dodging rain for the weekend. It won't rain all weekend, obviously, and there will be times that many hours may go by without you getting rained on. The discussion part of the blog will detail the better chances of less rainy times in the KC area.
Forecast:
Tonight: Cloudy skies. A few sct showers are not out of the question but overall pretty dry. Temperatures should be steady in the 50s
Tomorrow: As the morning wears on showers may develop. Not all will get the morning rainfall however…then during the afternoon more showers will develop. Coverage should increase through tomorrow night. The heavier rain will be Saturday night into Sunday it appears. Highs on Saturday may again struggle in the 60s.
Sunday: This may be the day with the most rain at various times. Highs again only near 70°
Monday (Memorial Day): There is some hope that instead of dealing with a lot of rain…that the activity may be somewhat more spotty in the later PM>evening. One thing to consider (depending on the instability) is a little better chance of some isolated strong>severe storms developing. Something to watch for. Monday looks to be the warmest of the holiday weekend with highs 75-80°
Discussion:
It's NOT going to rain all weekend! With that said rain chances are in the forecast all weekend long. Have a plan B ready at all times…especially later SAT into Sunday…and potentially later Monday into Monday evening. Monday may actually be an OK day…pretty muggy overall though.
Right now it appears we could salvage at least the 1st part of the day on Saturday. Then from there it begins to head downhill in the afternoon and especially tomorrow night into Sunday. Off the 3 weekend days…Sunday may be the worst overall. Monday may be the best overall and Saturday may be in between.
Over the next 24 hours a significant sure of moisture via the Gulf Of Mexico will be moving up the I-35 corridor into the KC region. While perhaps not as much atmospheric moisture as last weekend…it will still be a lot and with the flow aloft becoming littered with disturbances coming out the the SW part of the country…it will take very little to spark areas of rain. That combined with the moisture in the atmosphere should enable locally heavy downpours over pretty saturated soils. The main concern from a flooding standpoint would be tomorrow night into Sunday.
How much rain are we talking…well through Monday…potentially 2-4+" in areas. Considering there are rivers/creeks already in flood stage, with all the runoff…that problem will get worse.
The severe weather threat though overall is low through Sunday. We won't be getting warm enough and there won't be a lot of instability out there to fuel strong>severe storms in the KC area it appears. Monday might be somewhat different IF we can get heating (near 80°). Storms that form Monday will have a little more atmospheric shear to work with. Something to pay attention too later in the afternoon/evening.
I mentioned earlier the disturbances that will be coming up from the SW towards the KC area. I wanted to show you a map of the waves that will be in the Plains on SAT and SUN…this is a map of the flow at around 18K feet…the 1st map (click on it) is valid for SAT at 7PM…
The map below is for SUN at 4PM
Those little areas of green/yellow/red are areas of positive vorticity. Vorticity are areas where the air tends to rise…rising air + atmospheric moisture (a lot this weekend) = waves of rain moving through…
Specifically timing out those waves though is a tough thing to do…they'll be flying in and out at 40-50+ MPH. they don't even really exist yet…so again the timing aspect of the forecast will be changing I think over the weekend.
I saw this forecast today from the folks at the Climate Prediction Center…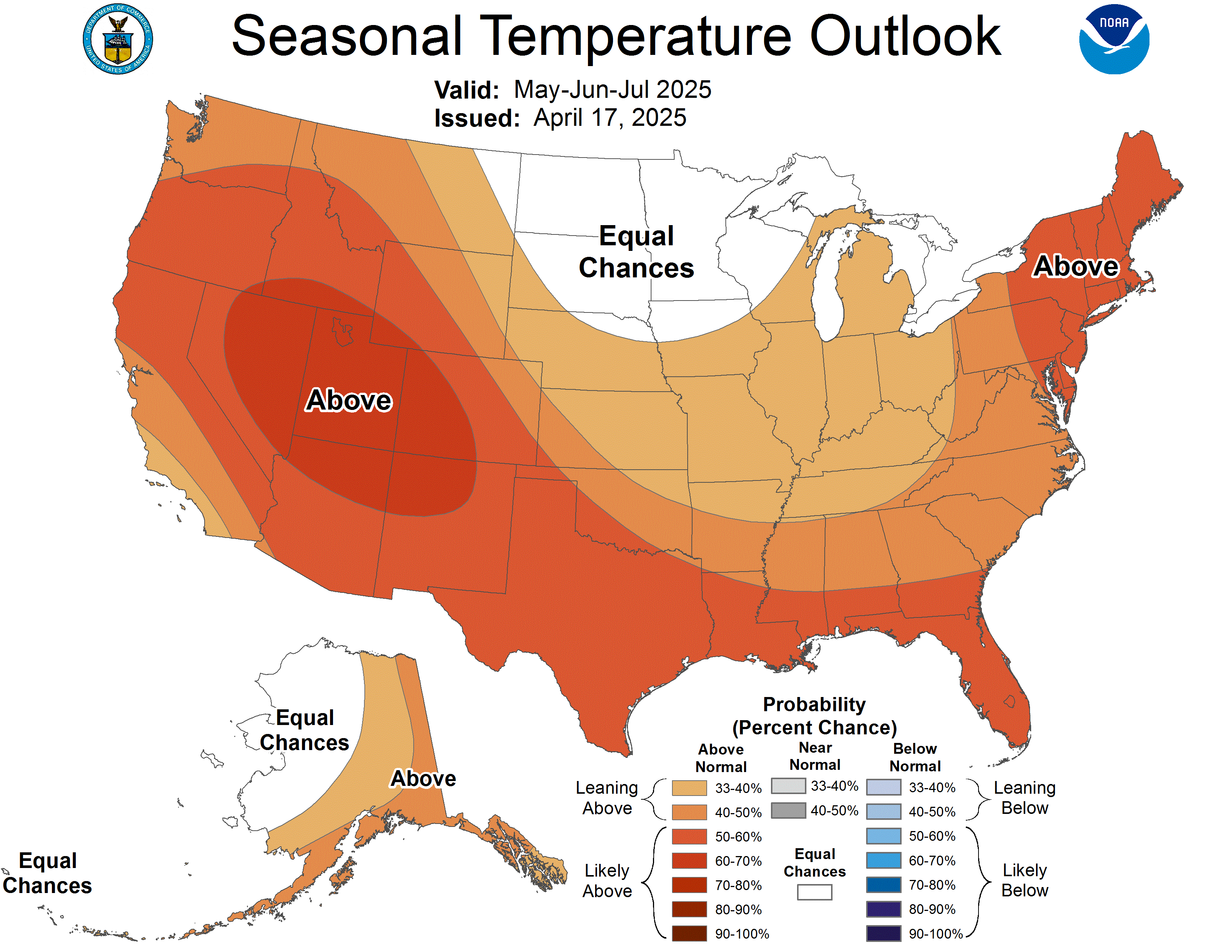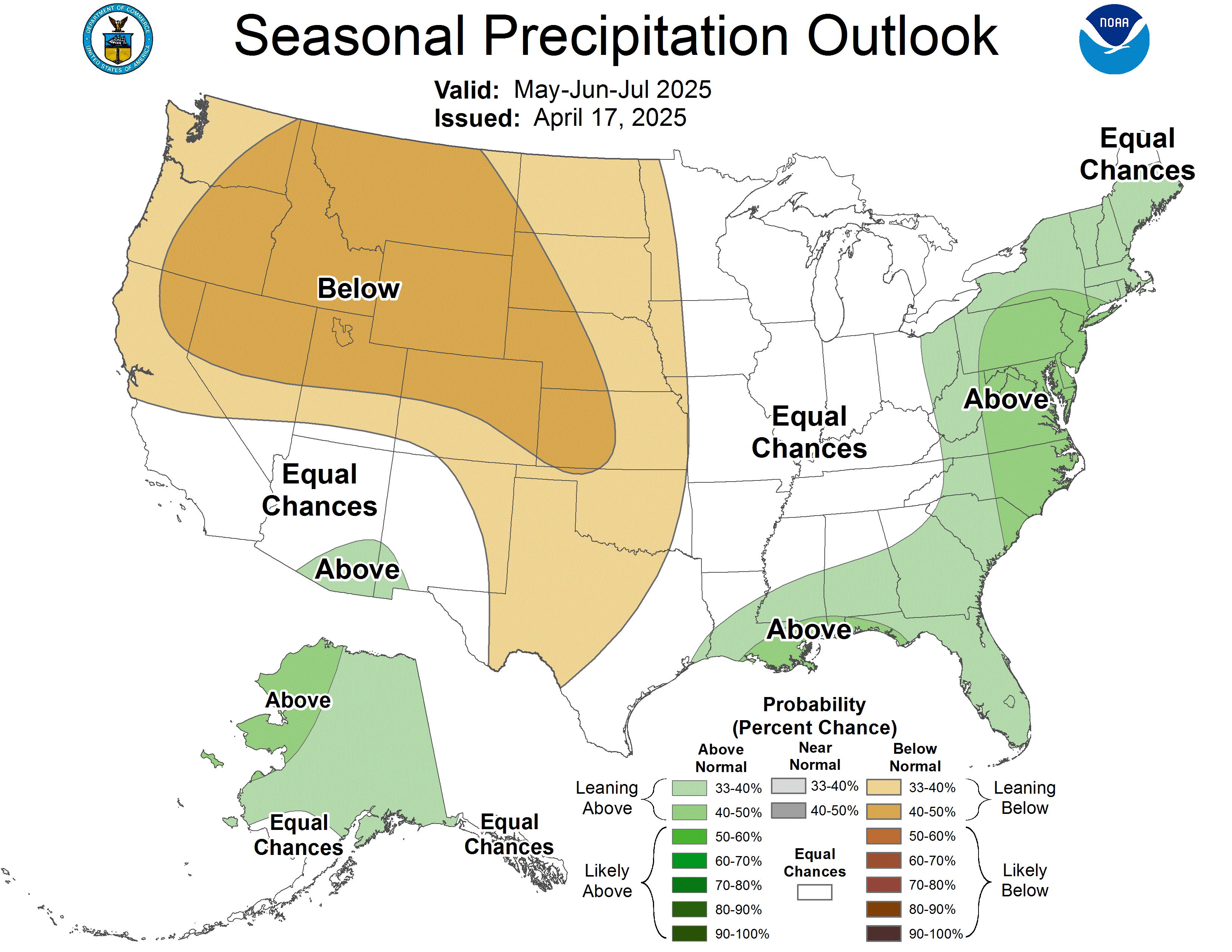 It's the summer forecasts above…essentially saying higher chances of "cooler" than average temperatures and above average rainfall.
Have a great weekend and stay dry!
Joe