Joe's Weather Blog: I'll trade you the heat for … (SUN-7/26)
Seems like that's a catchy headline in keeping with the sports headlines of the day right. Personally I'll take a 70° low humidity and sunny day for 3 mid 90s high humidity days right now. Can we make that trade? Is Mother Nature willing to send us some future coolness for some right now heat…I digress.
Forecast:
Rest of today: Hot and humid with highs around 90° and heat index values popping to 100°+
Tonight: Sultry but dry with lows in the 75-80° range. There may be a rogue storm somewhere but the vast majority should stay dry overnight
Monday>Tuesday: Hot and humid with highs near 95° and heat index values surging to 105-110°
Wednesday: Hopefully a front will move in and 1) give us a chance of rain and 2) drop highs back into the 80s.
Discussion:
Once again morning showers/storms were around at least parts of the area this morning…it seems areas south of I-70 have been getting less and less rain since the big rains earlier last week. N MO on the other hand has been getting smacked around pretty good lately. Over the past 24+ hours rainfall amounts have been highest to the north of KC according to doppler radar measurements. Click on the image below to make it more readable
Today I have a feeling that the storms are going to be fewer and fewer compared to yesterday. There was some outflow that moved through part of the region earlier today…that has fallen apart but the early afternoon satellite pictures are showing a large clear area right now through most of the region. We'll keep an eye out towards the Lakes region for the potential of some renewed convection later this afternoon.
Our next developing weather story will be the increase in the temperatures. All these storm complexes and clouds that we've seen for the past 36 hours or so has helped to barely take the edge off the heat around here. Now though the complexes will be avoiding our area and with that comes less cloud cover and fewer to no outflows to create subtle differences in air masses in the region. Now we just get hot again.
Indications are that Monday and Tuesday should be close to, if not above, 95°. Dew points may not be to the extreme levels of this past Friday (80°+) but will still be in the 70-75° range. This should sent the heat index in the afternoon hours to around 105-110° which will be miserable. I would expect an upgrade to the warnings regarding the heat from the NWS before the afternoon is done. From a climate perspective, after Thursday, our average temperatures start their slow decline into the winter season, although from a high temperature standpoint that decline starts on 8/7
A cold front will move through the region on Wednesday during the 1st part of the day. We should get at least some rain with it…we'll see about how much since the front is moving through during the more "stable" part of the day. IF we can slow that front done a bit, 1) it would be hotter on WED and 2) the storms may be more intense/heavier rainfall.
On the subject of rain…there is no doubt it's been a rather wet last 3 months around these parts…others have been even wetter but for KC (KCI) here is the way the rain has gone. Notice that we really turned the tide in early May in terms of the dryness around this part of the country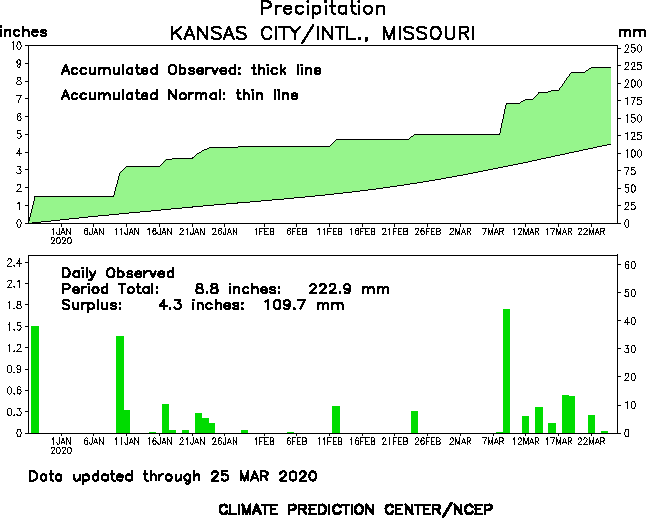 For the year we're right around 29.4″ of moisture with the vast majority of that (23″+) coming since May 1st.
This month, we're still wetter than "average" but things are so much wetter across the southern part of MO compared to average at least…with almost 3 times the amount of average rainfall.
NW MO is also an area that's been pounded by heavy rainfall…especially around Nodaway county.
That's it for today! Stay cool and stay hydrated!
Joe