Joe's Weather Blog: Comfy cozy weather (SUN-8/23)
Good afternoon…earlier blog that normal on a Sunday because I'm heading to the Air Show in downtown KC in a couple of hours…so no nappy for Joey this morning, which means I may be a bit weirder than average by 10:45 tonight. You're forewarned now for your protection.
Forecast:
Rest of today: Perfect with NW winds of 10-20 MPH fading in the later PM hours. Highs in the 75-80° range…nicely below average.
Tonight: Clear and crisp (for August) by morning…lows 50-55° with some 40s in the outlying areas possible, especially closer to the MO border
Monday>Tuesday: Sunny and perfect! Highs near 80° with lows Tuesday morning in the 50s
Discussion:
Well the thunderstorms last night finally came together for some but many missed out on any real rainfall. I was up at about 2AM with some significant rumbles of thunder on the southside. I checked radar and it was clear that the best rain would just miss to to the south…and that's what happened in the end. It seems the better rain totals were south of 159th street in JOCO. Some areas had well over 1″ of rain…and some got close to 2″ of rain overnight.
Doppler estimates are below through 11:30 AM…impressive totals into Bates County.
For the metro however, despite all the rumbles overnight, again the rain was paltry. I was doing a lot of nowcasting last night in reaction to how the radar was looking and not really filling in as many were hoping. As I mentioned yesterday evening via twitter, if the two areas of storms (north central KS and SW IA) didn't fill in many would go lacking with the rain from this round of storms. That's what happened.
I did think in the afternoon and on the blog that we'd see more widespread storm coverage…it just didn't happen. Should it happen, we'd also be under the gun for some isolated reports of severe weather.
The SPC was also watching things and perhaps overdid what they went with with several tornado watches covering many areas of the I-29/35 corridor from KC northwards into MN…that;s a lot of real estate. The end result of ALL those watches…
Look carefully for the RED dots…yup you won't find any.
The tornado watches farther north weren't that bad…the tornado watch though for the KC area was really a stretch and it wasn't the 1st time this season that this affected our area.
Look I totally get busting a forecast…happens all the time and it will continue to happen. With that said though, at least for our area, there was NOTHING wrong with issuing a severe thunderstorm watch for most of MO and NE KS. I had several people ask me at dinner last night what the heck was going on, considering there wasn't a cloud in the sky for awhile yesterday evening…not that that should be the criteria…but it was pretty obvious to me, and some of my colleagues that this was being overstated by SPC.
The good news about the forecast is at least there were some severe weather reports in the areas they were watching the most…so that's a positive.
It was ironic that this tweet came out yesterday evening that I found fascinating…basically it has to do with whether or not an actual tornado warning is issued from a local NWS office when a tornado watch is in effect.
Now this isn't a perfect thing…there could've been a few tornados over the years that didn't have a warning connected to them…but I think those would be few and far between.
This is also a nationwide chart…
So basically about 21% of ALL tornado watches don't ever see a tornado warning within the watch area. You may need to re-read that a couple of times with all the watch/warning references.
I'm trying to figure out if this is a good stat for SPC or a bad stat for SPC. It's a bit surprising to me I guess. A lot of real estate is often covered by tornado watches…you would think at least a tornado warning would come out of all that real estate…
Then again it ALSO means that 80% or so at the time a warning does come from a watch…that's good right? Now that doesn't necessarily mean that a tornado actually touched down. Remember the vast majority of tornado warnings that are issued don't actually have a confirmed tornado. Most (not all) come about because the doppler radar is detecting the rotation, capable of producing something on the ground.
Tornadoes though in the big scheme of things are still not that common compared to reports of severe weather in general. Sp far this year there have been about 1000 reports of tornadoes through August so far…that number will come way down as the duplicate reports of June/July (pretty active this year) are eliminated…but for simplicity lets say 1000 tornadoes.
Through July 31st there have been about 10,000 reports of severe weather (of which we're saying about 1000 reports of tornadoes) so that leaves 9000 other reports out there…and that doesn't include the August reports.
That leads to this tweet in my timeline (@fox4wx) from Daryl Herzmann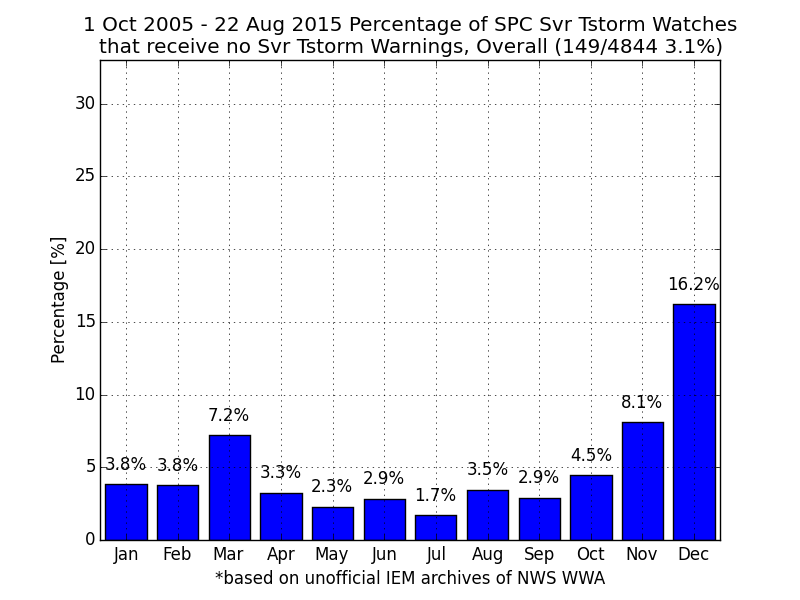 OK now we're in business…overall only 3% of severe thunderstorm watches go without severe thunderstorm warnings…that to me is excellent. It basically means that with all the real estate covered by a watch..at least there was one warning connected to it. This too is not perfect…suppose a watch covers 100+ counties across several states…and there are only 1-10 counties covered under a warning at some point within that large watch area…that's a lot of counties that don't get storms that meet warning criteria.
Interesting to note in the above chart the significantly higher chance of busting a watch box forecast as we head through the fall and early winter season.
Just to reiterate…this is not a condemnation of the job SPC does…not my style, and many of them know a heck of a lot more about severe weather than I do…but by the same token, I think there are times, like yesterday, when an severe thunderstorm watch is a great, or at least better forecast, whereas a tornado watch covering so much real estate is a bad or worse forecast. The former would've verified nicely in SW IA and N KS among other areas whereas the tornado watch was going to be a push, especially for areas south of the 36/136 highway corridor in N MO
I didn't even get to write about the tropics…there is a weakening Danny that will hopefully give Puerto Rico some much needed rain (severe drought continues for the eastern part of PR)…and then there is Kilo that is south of HI…only a depression as of this writing…but it has days to develop and a more favorable pattern will get established allowing for development.
OK that's it for this beautiful afternoon of weather in KC…maybe not the greatest day to be in the pool, but a nice day to be outside.
Odds are no blog tomorrow because of the tranquil conditions expected through Thursday.
Joe