Joe's Weather Blog: Enough moisture for the month (MON-12/14)
Good morning…another soaker of a storm over the weekend with widespread 1-3″ rain totals in the region. KCI on Sunday alone had 1.77″ of rain, the monthly average for rain/melted snow is 1.53. So we've already had a month's moisture just from that one storm system. Not a lot of moisture is coming for at least a week though so we'll start drying out bit. Oh and we may not be done with the 60s either.
Forecast:
Today: Cloudy with occasional mist at times. More rain across NW MO. Highs will struggle in the 40s
Tonight: Cloudy and cool with lows in the 30s
Tomorrow: Variable clouds with highs potentially in the 50s with enough sunshine
Discussion:
Another fully wound up storm system is bring mostly rain and some some to parts of the central US. Where these systems do "cool down" the atmosphere enough, the snow dumps down. Parts of western KS had heavy thunder snow last night including well over 7″ out towards Dodge City, KS. The geographic area is not large for the snow aspect of these warm pacific storms but it is impressive in the totals aspect.
Will KC ever get into one of these areas this winter…I still think yes…but it won't be in the next 7+ days…that's for sure. If you remember from my winter forecast I said winter wouldn't really get going till JAN/FEB…I also said there would be many times this winter folks would be saying "this is winter"?…well so far so good as far as that goes…now lets see what happens in JAN/FEB…
We just concluded 5 straight days of highs at least 60° or above in DEC. That is not exactly a common occurrence and it's only happened 7 times before…so I decided too include when they happened and how much snow fell that winter.
2012: 31.8″
2001: 8.6″
1998: 11.8″
1946: 20.6″
1941: 11.6″
1939: 22.3″
1916: 9.7″
So snow lovers can either cry or rejoice because there are still some good snow totals in there..1 way above average…2 near average and 4 below average. Let's not throw in the towel yet (considering the winter season astrnomically hasn't even started yet!)
The weekend storm is moving into the upper Midwest…
ahead of this storm warm air is being brought up. We enjoyed it for several days and while we didn't see any records for warmth in KC, many cities back east saw record highs yesterday.
So one strong storm moves away, here comes another through the western part of the country.
You can see it towards the Desert SW…
This storm will pass, mostly harmlessly, well towards of KC…and will more importantly drag a cold front through the area. This will usher in about 3-4 day stretch of (shocking) typical December temperatures with highs in the 30's/40s and lows in the teens/20s. Although it will start to put down some snow cover across the upper Midwest for a change. Here are the highest probabilities of at least 4″ of snow over the next 3 days…click  on the image below to make it larger.
Don't fret warm weather lovers though…because when this seasonable air mass moves away early Saturday we should see a fast recovery back into the 50s over the weekend (at least) with 60s possible on Sunday…again. So far we've had 5 days this month with highs 60°+…the record is 11 set back in 1965. The last time we had more than 5 was back in 1984.
By the way, so far this month, we're running an amazing 10.9° above average for temperatures…just think about how much money we're NOT spending on home heating so far this December. Take a look at where KC stands over the last few days/months/years…our weather here is actually more comparable to Charlotte, NC in DEC.
Granted the month is half over…but when you see this as a long range forecast for the next 8-14 days…it's not exactly teeth-chattering.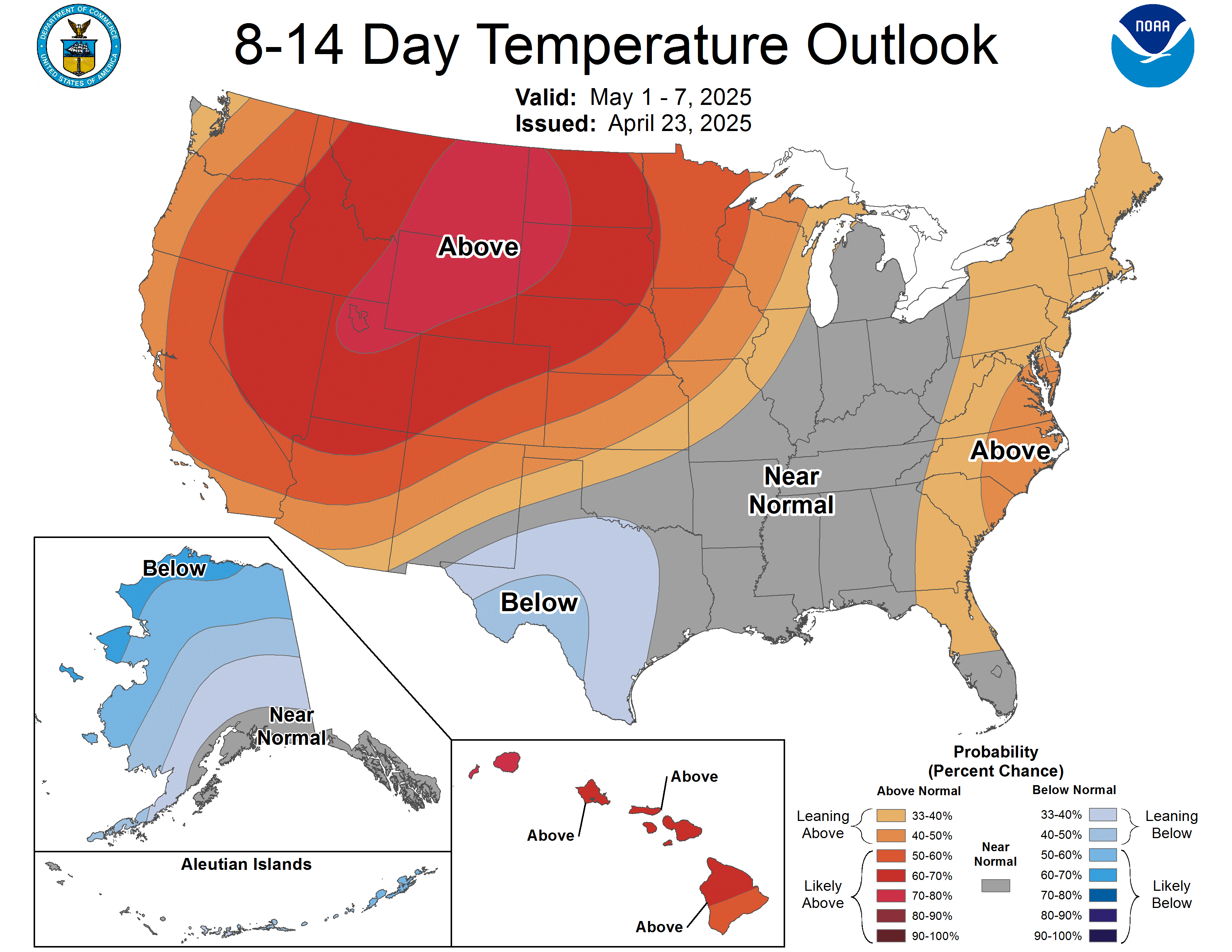 I just don't see any snow happening around here for quite some time…
Joe