Joe's Weather Blog: Cold blast first then better (FRI-2/12)
Chilly air is seeping through the region this afternoon and while we're going to have some cold weather into Sunday morning…this will not last too long in the big scheme of things. The worst of the cold weather will be towards the NE part of the country where this air mass (at least above the surface) will be one of the coldest air masses in their recorded history…going back to the late 1940s! When things like that happen it's always noteworthy to me. Meanwhile out west it's been warm for awhile, and I'm hopeful a taste of that air mass will be moving into the Plains later next week.
Forecast:
Tonight: Clear skies this evening but a cloud deck in the mid levels should move into the area after 12AM or so and that will slow the temperature drop it appears. Still cold though with lows dropping to 10-15° with the potential of near 5-10° lows up towards the IA border.
Saturday: Clouds in the morning hours then potentially more sunshine in the afternoon and chilly with highs into the 20s. The winds won't be too bad so there won't be that much of a wind chill factor but still a pretty chilly day
Sunday: Mostly cloudy with an outside chance of some freezing drizzle or a few flakes of snow. Lows in the morning will be around 20-25 with hopefully some sunshine coming through for the afternoon warming things up well into the 40s. For areas towards the IA border there may be some areas of light snow. I can't rule out some accumulations up there in the dusting to 2″ range for north-central and NE MO.
Discussion:
Lot's of ups and downs are coming to the forecast into next Wednesday it appears…and while there won't be any strong storms to really get excited about, there will be temperature bounces that will keep us hoping in terms of trying to figure out the day to day forecast.
Right now we're starting to see the slow seep of cold air dribble down the state line. As of this writing though, it's more or less seasonable with readings int eh 35-40° range in KC…but to our north, and up towards the I-80 corridor…it's getting colder and that colder air will move our way overnight.
Notice on this surface map of the northern Plains…the black lines. Those are called isobars or lines of equal pressure. The core of the high pressure building southwards is near the US/Canadian border area. You will notice your barometer needles at home trending way up over the next day or so…that is the cold and dense air settling on top of the region. it will start to move away tomorrow evening.
For those who tend to suffer from migraines and aches and body pains…you may want to take some preventative medicine to ease things a bit. Atmospheric pressures will be rising and falling quite a bit over the next few days.
At 2PM the temperatures are rather chilly up there. Here are the temperatures in RED…
It's cold, but in all honesty for mid February…it's NOT that bad.
Let's track this cold air mass over the next 3 days…by going up to about 5000 feet or so and looking at the temperature anomalies…
On Sunday there is going to be a disturbance moving north of the area and it will try and tug up some moisture as the cold air is starting to depart. The best lift for this wave will be well north it appears. There is another wave out in the Pacific Ocean that may impact the weather will a slight cool down on Tuesday
AFTER that Tuesday wave zips through, seasonable air will come into the area for WED before the milder air comes in later next week!
The trick about the warmth later next week will be 1) how much cloud cover will or won't filter out the clouds (these would be very high cirrus type clouds) and 2) will there be enough wind to stir the atmosphere up and allow us to realize the warmth that is moving in overhead. The potential for 70-75° weather is there for either THU or FRI…there MAY be a wind shift coming through on Friday that could also temper the highs a bit…bit no overly colder weather is expected with that.
So again lot's of downs then ups then downs then ups!
Here are the probabilities for the temperature trends from the 20th through the 26th or so…notice the higher chances of warmth in that time frame.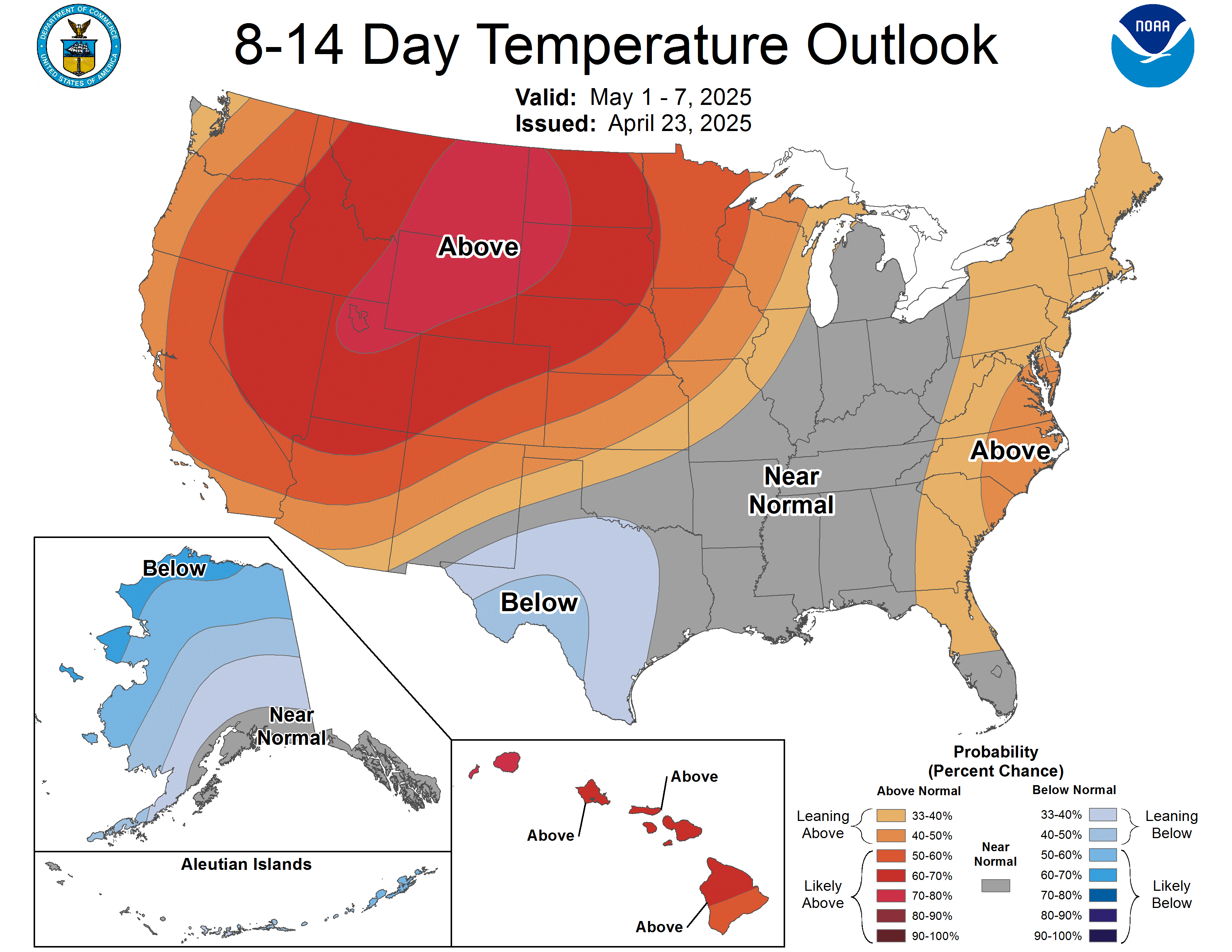 What the forecast doesn't have much of is snow…and like I mentioned about a week ago I didn't like the trends I was seeing through the 3rd week of February and that seems rather prophetic at this point. I still don't like what I see for another 10-14+ days at least. By then now we're almost talking the last few days of February. How long will we be stuck at 5.3″ of snow. IF the snow season ended today (which it doesn't) this would be the 3rd lowest snow total in KC weather history going back to about 1890.
and so it goes…
Joe