Good morning…a very intense storm is going to develop today across the deep south…as a matter of fact this storm will be one of the strongest surface storms (in terms of low pressure) in that part of the country in weather history. That is an impressive stat…and with such a strong storm comes the potential of a nasty severe weather outbreak, especially overnight tonight into tomorrow morning down towards the Gulf Of Mexico.
With that said for us…it means mostly just a lot of clouds…with remote chances of a sprinkle south of the KC metro. The sprinkles or whatever forms will not do much to ease this temporary dry spell we're in now. No snow and little rain has been a theme here for awhile. Remembering that this seemed to have happened last winter as well…we really at this poijt can't jump to many conclusions about what could happen this spring in terms of moisture.
El Nino continues to teeter between strong and very strong conditions. It's slowly fading…emphasis on the word slowly…and it's becoming more focused towards the west in the equatorial Pacific Ocean…I wrote about that last week I think.
When I was in Higginsville last week talking to farmers…they were curious about what spring is like during these transitions with a slowly fading El Nino. I thought you as well might be interested in what weather history tells us about fading El Ninos and spring time weather in this part of the country. This blog is dedicated to that research…there are a ton of maps on the way…but if you know a farmer or anyone with agricultural concerns…you may want to alert them to this blog today or tomorrow…so they can judge for themselves…
Here is what I did…I looked at previous strong to very strong El Nino March weather months and spring conditions. I then broke the temperatures down for March…then March and April combined…then the precipitation anomalies for March April and May and then I closed in on the western MO and eastern KS area. All the graphics were provided by the MRCC (Midwest Regional Climate Center)
I had to limit this to the 5 strongest El Nino years…just for the sake of brevity. This El Nino has been an interesting one so far…in terms of the LACK of moisture that some expected across the SW part of the country. CA in particular had such high hopes for moisture and time is running out…and they're actually drier, as I wrote about last week, compared to last year I think. The Sierra Mountains are doing well…but aside from that, most of the state is still being ravaged by a drought with little improvement over the past few months…likewise through AZ as well…so this El Nino is "different" and my thought is that the spring will be different as well.
So here is the data…the strong to very strong El Nino years were 1957-58, 1965-66, 1972-73, 1982-83, and 1997-98.
First temperature anomalies for the month of March…
Photo Gallery
Result: inconclusive for prediction…there were 2 rather chilly March months…and 2 mild to warm ones…one was more or less indifferent.
Now let's move to temperature anomalies for March and April.
Photo Gallery
Result: Things start getting a little more interesting with adding in the month of April into the mix…notice the green coloring getting more territory…indicative of a growing cooler than average conditions through the Plains. Something to keep an eye on as we move through the next couple of months…
Now onto the precipitation situation…this is in the farmers wheelhouse…because they have concerns about too wet conditions like last winter interfering with getting into the fields to work and or to get seeding done.
Photo Gallery
Result: somewhat inconclusive with a drier than average tendency perhaps.
Finally I looked at the same data above, specifically for the KC region…
Photo Gallery
The bottom line is that it's really tough to gather any conclusive connections between El Nino and what happens in the spring in terms of temperatures and precipitation. There have been some very wet years and some really dry years. I think it is interesting though that it was either one extreme or the other…perhaps that can be the takeaway in the above information with regards to precipitation…not sure if that's going to make the farmers happy though…they would just like timely moisture…more than the extreme nature of the El Nino springs with regard to mostly rainfall.
For what it's worth…here are the forecasts from the Climate Prediction Center…for the next 3 months.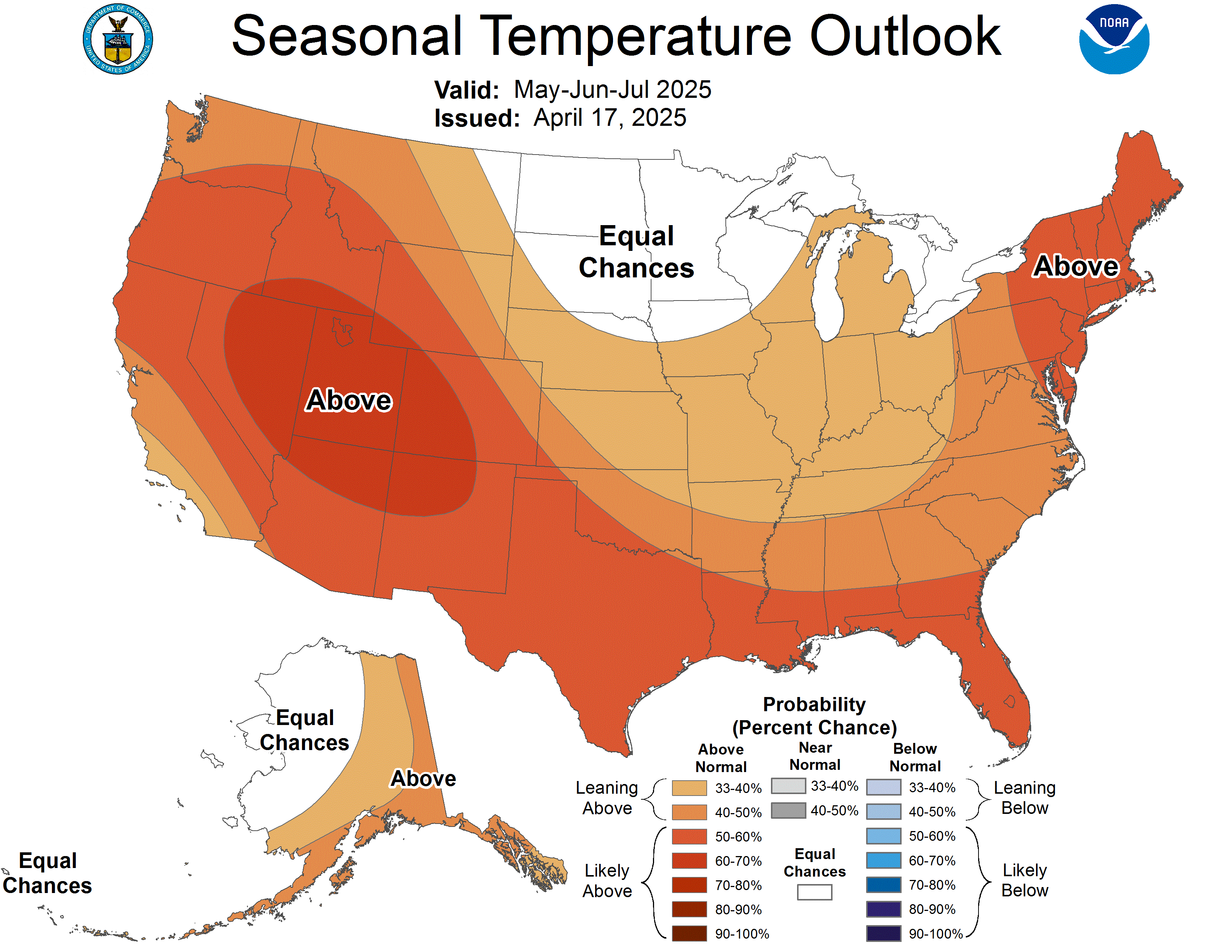 and for precipitation…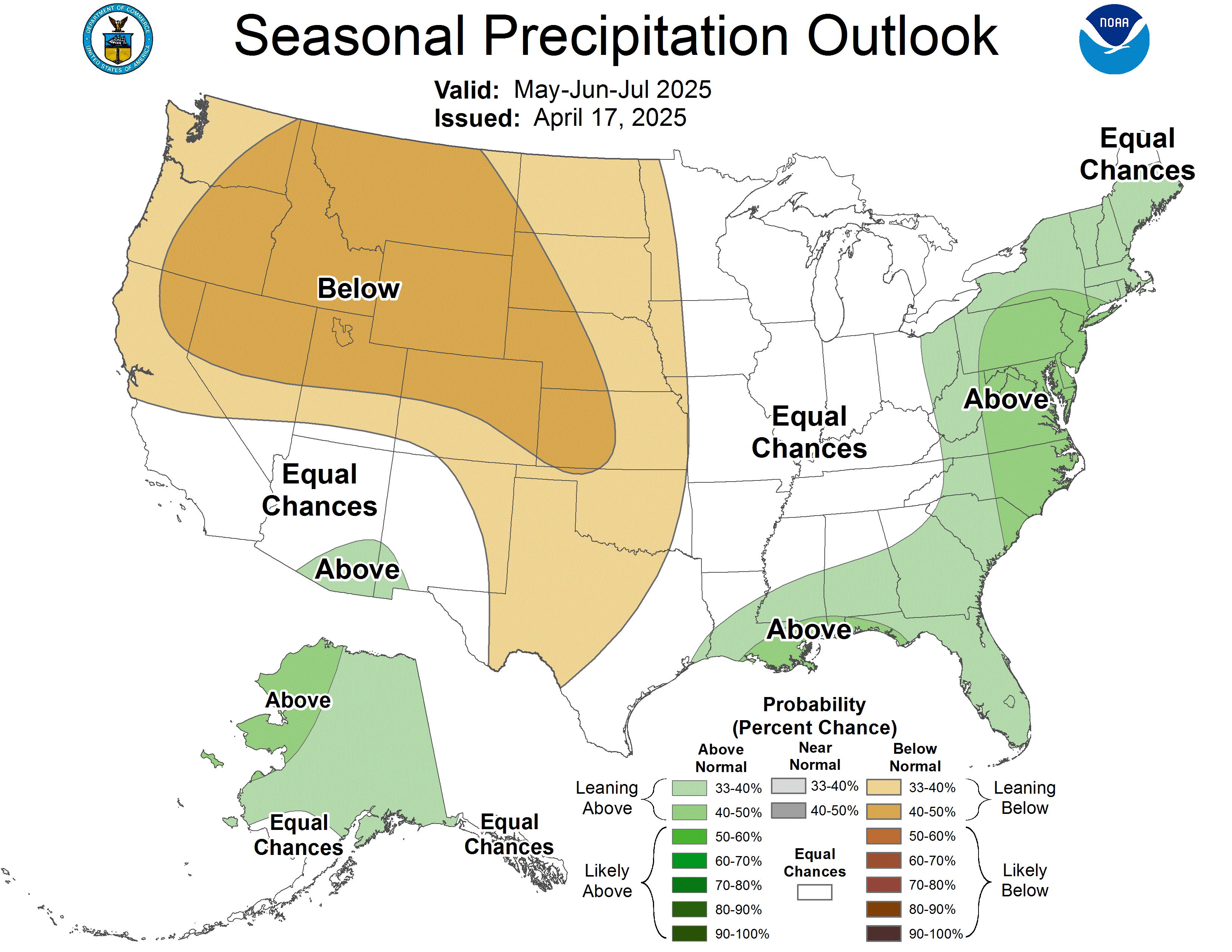 These precip forecasts have been awful for the SW part of the country I think…again they're probabilities and for our area…they indicate a slightly better chance of above average temperatures with no signal for tendencies of above or below average moisture.
So there you go…have a great Tuesday and another blog update will come either Wednesday morning or Thursday afternoon.
Joe