Joe's Weather Blog: Small setback in a sea of Spring (TUE-3/1)
So that was winter huh? Granted according to the calendar there are still about 2 1/2 weeks to go for the astronomical season to finish…but in looking a the maps, there isn't much, if any, winter coming to the KC region for quite some time. Granted today is a more seasonable day (a bit below average at that) but after today there are more warm days than cold coming for the next 10 days or so…and that puts us very lose to mid-March.
Forecast:
Rest of today: Variable clouds and chilly. Highs only around 35°
Tonight: Clearing and cold with lows in the 20s
Wednesday: Partly cloudy, breezy and warmer with highs around 60°
Discussion:
Well we just finished the coldest 3 months of the year and for KC at least…not so cold. December was more than 8° above average…January was about a degree above average…and February was about 6° above average…your gas bills shrunk compared to other winters…and it wasn't only us in KC…virtually nationwide…it's been a mild winter.
It's worth looking at this chart to see all the above average days in KC…unfortunately the scale uses °C but you still get the idea…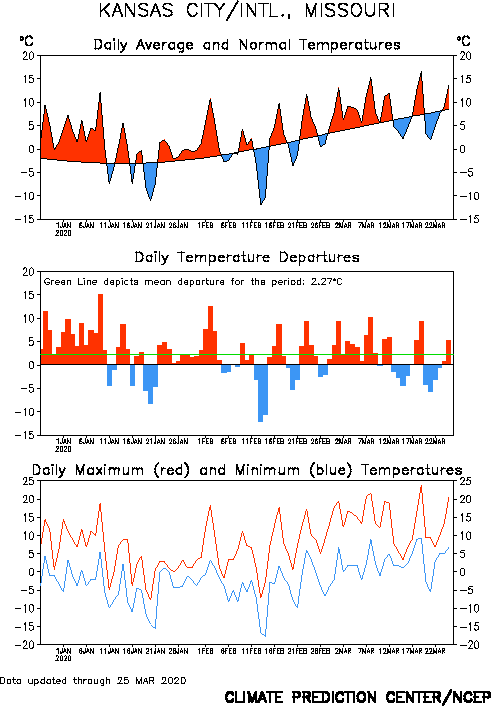 The middle graph shows each day since 12/1 in relation to average…and notice ALL the orange…those are above average temperatures (max + min/2). 66% of the days this "winter" were above average…about 27% were below average and 7% were average.
The snow was woefully below average…and while their is always a chance for the rest of the month, in a warm pattern with cold air displaced farther and farther north this month, it will get almost impossible to get accumulating snow in KC, unless there is rogue storm that can take the perfect track to generate it's on weird source of cold air.
Precipitation though is a bit lacking…not unusual for the winter, which can be dry in these parts, especially when the snows don't come.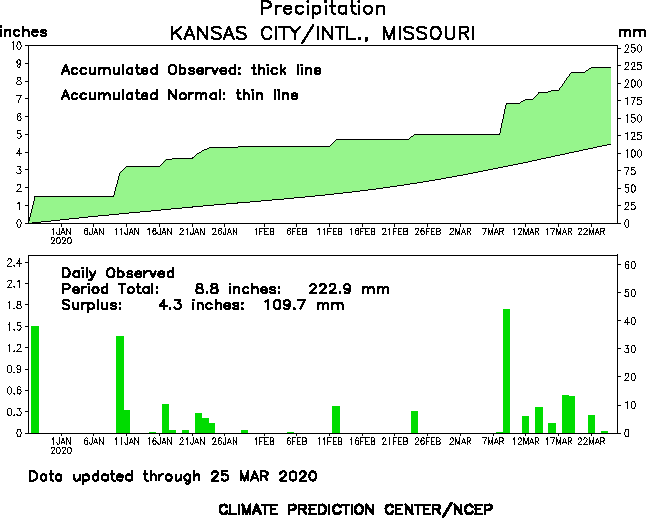 Notice in the top graph…the green areas represent times when we had an excess of precip compared to average and the brown areas are times when the precip accums were below average…those are running totals. The bottom line is that the last decent moisture storm we've had in these parts was back around Christmas time…so we could use a soaker…and it WON'T be coming this week.
The pattern overall is a warm one…especially next week it appears. We may have various low cloud issues early next week, but I don't see any sign of any cold weather outbreaks coming our way through the middle of the month
While the pattern is a warm one overall..today is the "speed bump". Colder air is filtering southwards. Yesterday was another day with highs in the 70s
What about March? Well it's a transition month…
Actually the weather action may be shifting towards the western part of the country again as substantial moisture is likely especially for central and northern CA…how will southern CA fare from this remains to be seen but they should get beneficial rains…not drought busting rains…but helpful moisture.
Here is the GFS forecast for the next 7 days…
Now take a look at the 7-14 day forecast…
That could be some big-time mountain snows out there…which would be great for the reservoirs in northern CA especially…
OK that's it for today…another update tomorrow afternoon
Joe