Joe's Weather Blog: Football weather today…improving weekend (FRI-4/1)
So it's 4/1 and as you know it's April Fool's Day…so I was the "fool" this morning. At around 7:45 when I woke up and as I was trying to shake the cobwebs from my head, I popped on FOX 4 and there was Nick Vasos updating me about the Royals. Literally the 1st thing  I heard and processed was the Salvy was hurt (he's not) and would miss the season. Then Karli chimed in about the back-up situation and mentioned that Alex G was injured as well (he's not)…I was like !@%$!. Then I yelled down to my wife if she had heard anything. She said #$%&! Then I processed what was going on. They had me going for a few seconds. NOT NICE!
Forecast:
Rest of this afternoon: Some scattered showers/sprinkles moving through parts of the area. The temperature of the air aloft is below freezing roughly 5000′ up…so yes..it's possible that some small ice pellets/graupel/hail could come down from these "showers" as well! They will be brief and not produce much rain. Highs 50-55°
Tonight: Clearing out and colder with lows in the 30s. Some frost in areas is possible
Saturday: Sunny and seasonable with highs near 60°
Sunday: Sunny and windy. Warmer too with highs 75-80°
Discussion:
Feels like football weather out there today with a chill in the air and a blustery WNW wind blowing. To add a bit of insult to injury…there are some light showers/sprinkles moving through as well. Overall something closer to November 1st weather as opposed to April 1st weather I guess. Better times for the weekend.
Only issue for Sunday will be the gusty winds. We're going to see a significant warm-up aloft Saturday night into Sunday AM. This warmer air aloft will be brought to the surface thanks to the increasing morning winds in the region that will stir the air up quite a bit.
Wind gusts may approach 35 MPH Sunday afternoon for the tailgaters. Temperatures on the pavement will be closer to, if not above 80° in the bright sunshine. Phenomenal for Opening Day for sure.
A seasonably strong front will move into the area later Sunday night or Monday AM dropping temperatures about 10+° on Monday. But overall nice weather is expected for awhile…also pretty dry weather as well.
I wanted to share with you some additional information regarding severe weather season locally. As you know, it's been quite some time since the immediate KC area really has experienced some important tornadoes. We've had some weaker and brief touchdowns and more than a handful of tornado warnings for many areas…but thankfully, what other parts of the country have experienced we really haven't since 2003. Granted there was a nasty tornado out towards Orrick, as well as a few others scattered about…but in terms of "biggies" we're wayyyy overdue.
Let's put a little perspective into things…how many tornadoes on average hit each state per year?
You can see TX leafs the way. This data is for the 30 year period ending in 2010. KS actually sees the 2nd highest amount.
During the month of April, severe weather season can tick up quite a bit. Really at any time, but especially towards the end of the month.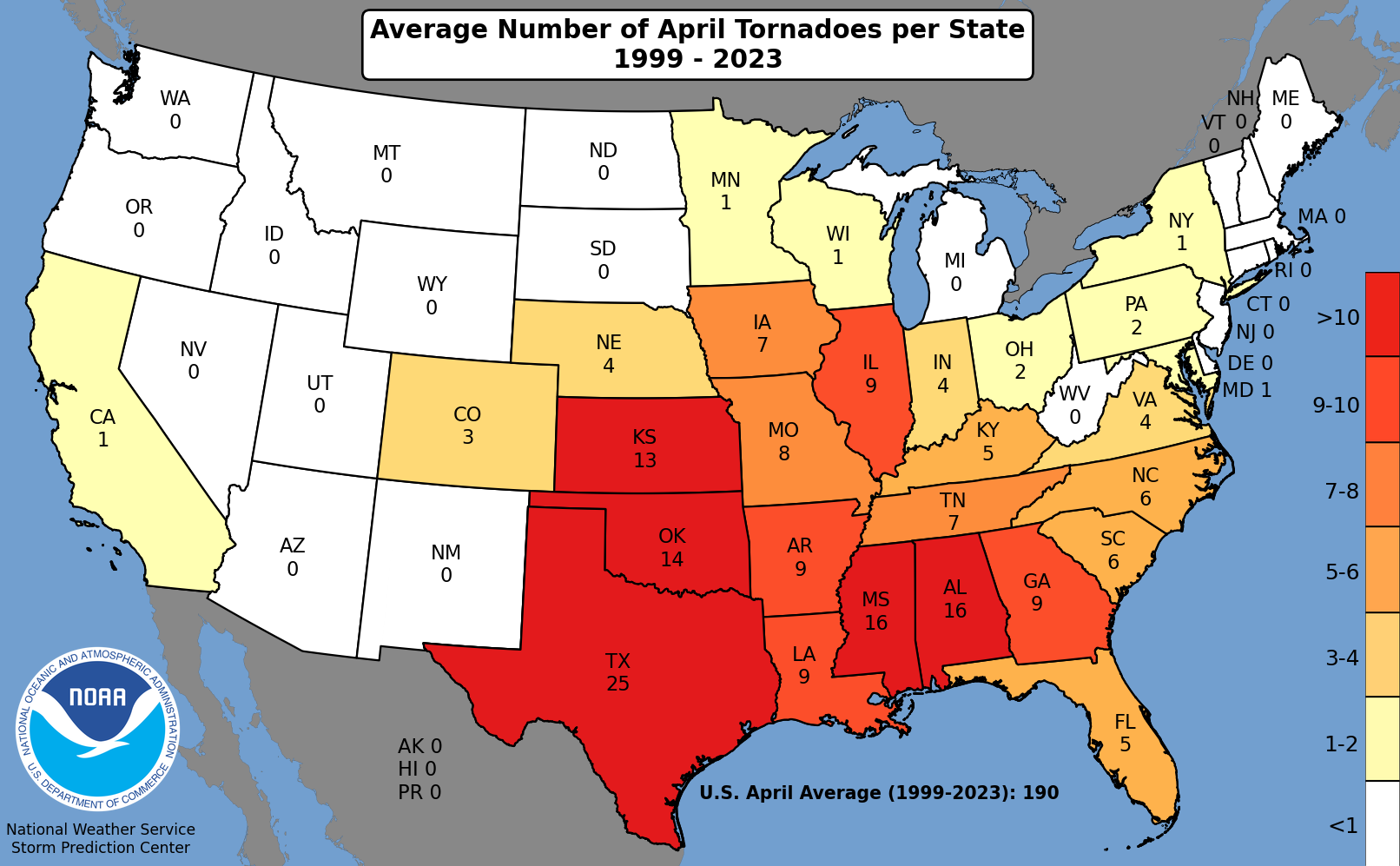 Once you get into May, the more potent set-ups start to occur…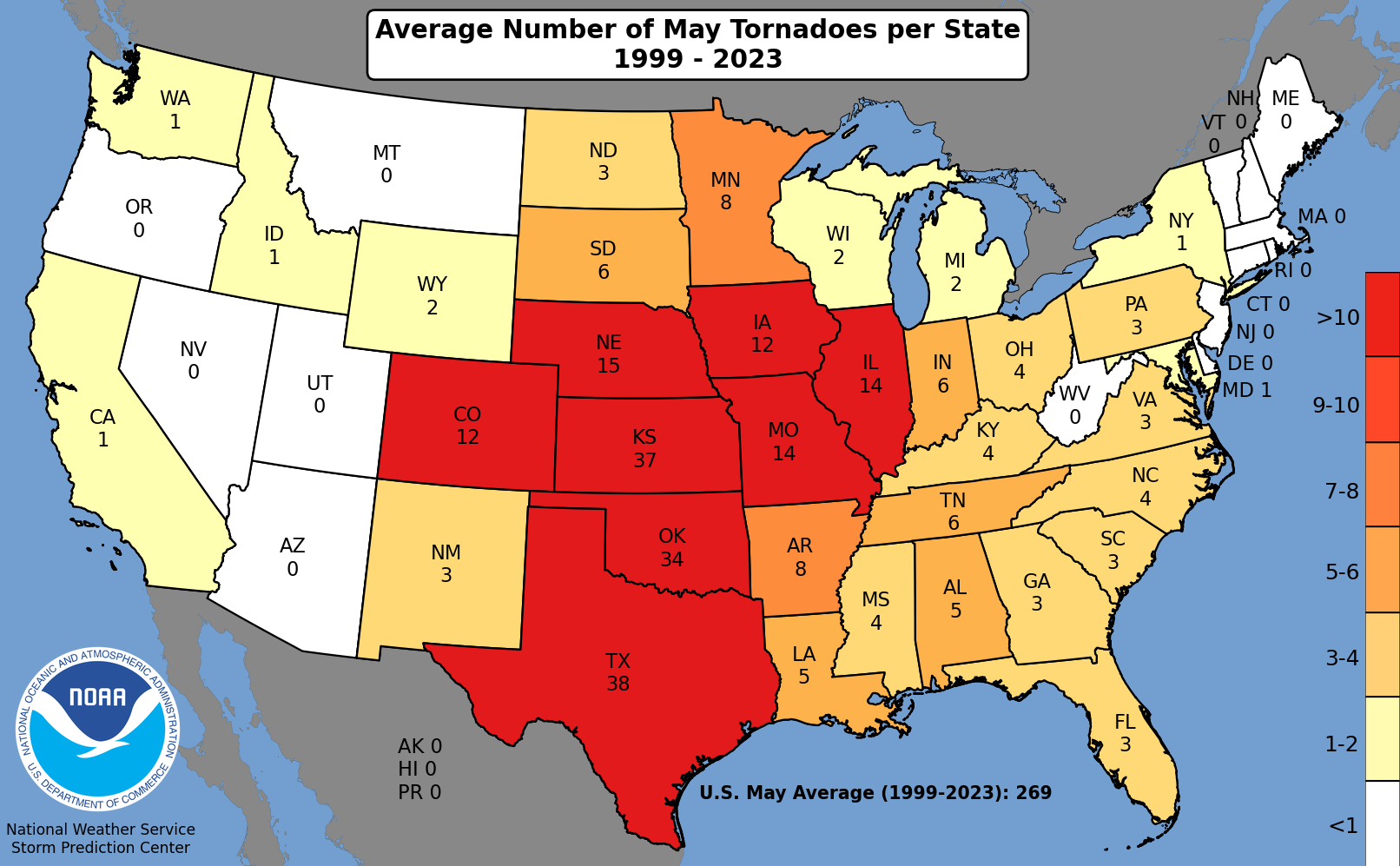 Then in June the tornado numbers start migrating farther NW into the upper Midwest…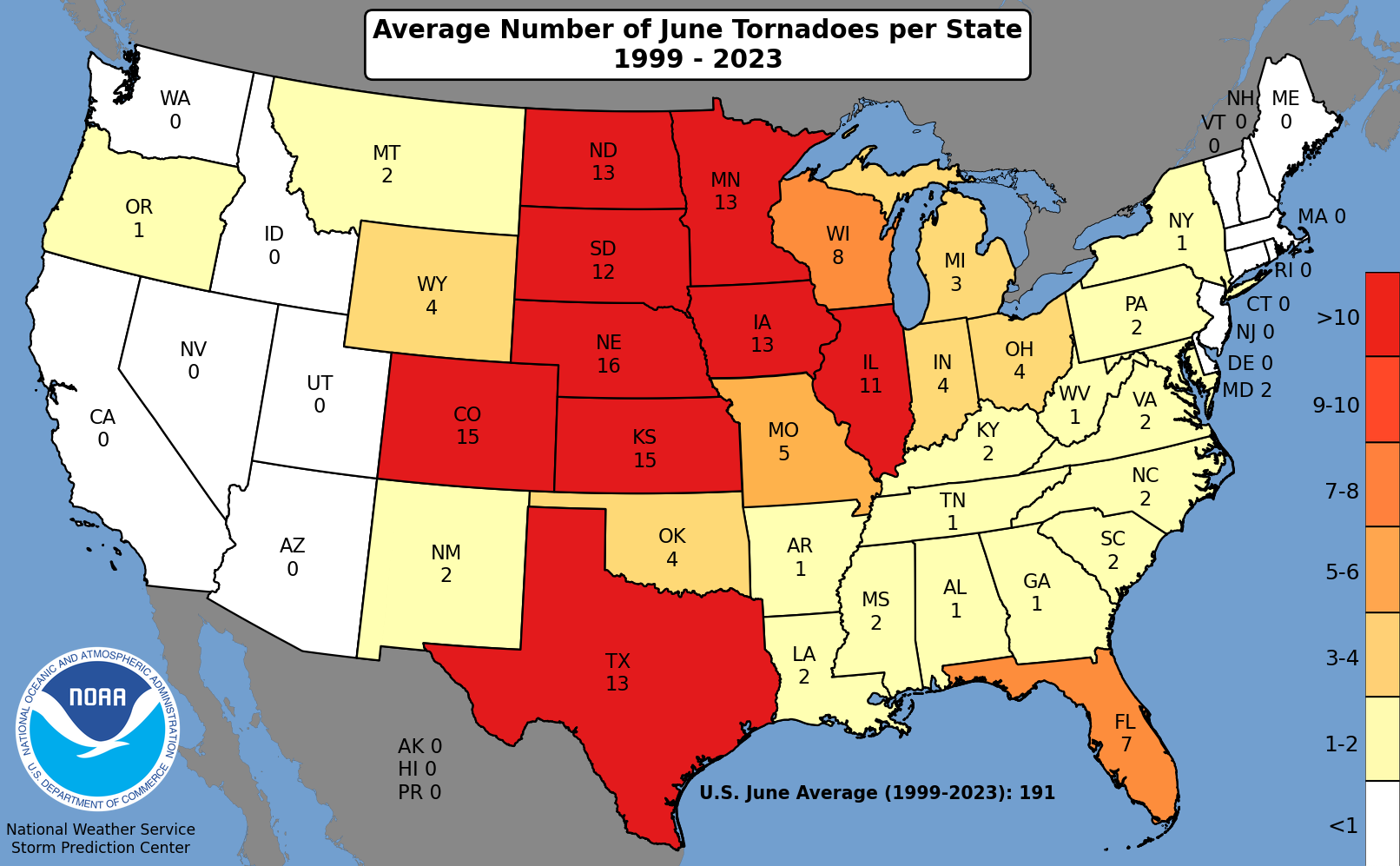 The graphics above are via the Storm Prediction Center (SPC).
In terms of when the last Tornado Warning was issued, county by county, it may surprise you that for our area…it was mostly last year!
The point of all this is that while we've had quite a few counties have tornado warnings…I still have this nagging feeling that we're letting our guard down in terms of advanced preparedness. Our local EM's preach this quite a bit…and it's worth thinking about.
As we always say…HAVE A PLAN.
Have a great day and enjoy the weekend!
Joe