Joe's Weather Blog: Blue skies to stormy skies (THU-5/5)
Happy Cinco De Mayo KC! Another beautiful day is on tap for the region as temperatures will finish somewhere between 70-75° and the winds today will be lighter. Overall just another perfect 10 weather day in KC. A big thank you as well to all the students (over15,000), teachers, and educators who came out and supported School Day yesterday at the K. Too bad the Royals had a miserable game…but it's baseball and not football. Just one of another 125+ to play…it would be nice though to see the offense start to fire on at least a few more cylinders.
Forecast:
Today: Perfect…highs 70-75°
Friday: Warmer with sunshine highs 80-85°
Saturday: Warm and more humid with highs into the 80s and SW winds of 15-25 MPH. Let's watch the progress of a front that will be creeping towards the I-70 corridor. Odds are somewhat better for a few storms farther north of KC…but it's something to pay attention too since we will be getting more unstable AND we have the race out at KS Speedway
Sunday: A chance of thunderstorms with highs in the 80° range again depending on the amount of clouds
Discussion:
Some perfect San Diego type weather is at hand in the KC area today…just spectacular.
Typically this will happen several times during the spring season as the combination of blue skies and low dew points along with light winds create perfect conditions locally.
What then happens is the area of high pressure responsible for the great weather then slides off towards the east and return flow sets up. This means a wind shift towards the south and not only warmer temperatures move into the region but also the dew points increase.
So here is where we stand this morning…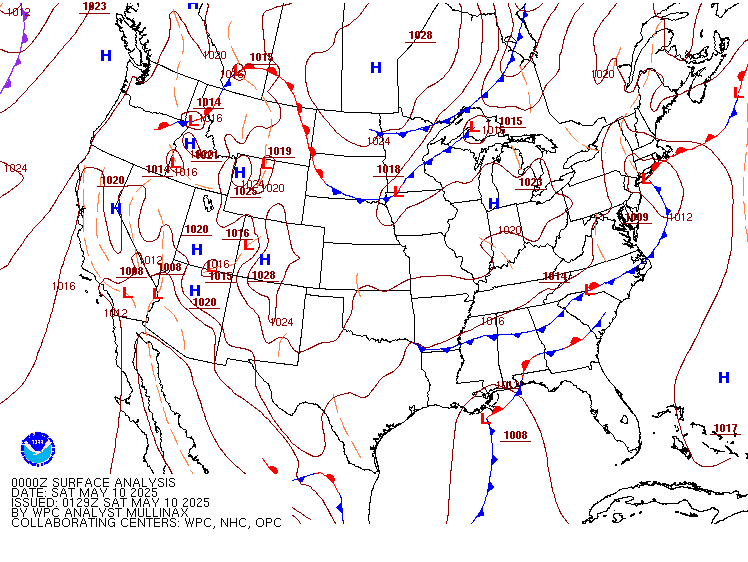 High pressure is in the Plains. It came down from the norther part of the country and it has cool pleasant spring air with it. Temperatures are in the 40s this morning (47° @ KCI for a low). If you read this blog later in the day though…the combination of sunshine/dry air and just enough of a light breeze should allow a 25° warm-up this afternoon.
In the top part of the graph notice the green line…that is the dew point…and that number is very tolerable right now but will be changing (increasing) over the next 48 hours or so.
Look at the green numbers in the following map…they are the dew points and while not overly impressive by Texas, they are certainly a bit higher than around the KC area.
There are some near 60° dew points along the TX coastline. This moisture will slowly start too return northwards later tomorrow into Saturday.
As the moisture returns northwards…there will be a southward moving cold front that will get to near the KC area later Saturday and waffle around the region on Sunday…perhaps to the north of I-70. Fronts in May with somewhat higher dew points are always concerning for forecasting perfectly dry weather and I wouldn't be surprised if there are a few storms running around Saturday night. Whether that impacts KC proper or areas somewhat north remains to be seen. I'm not totally sure how much moisture we'll actually have to work with for this front coming southwards on Saturday…but it's worth at least a mention at this point. The one thing about the above map that is encouraging is that there are still off shore flow occurring on the TX coastline so the Gulf moisture return hasn't started yet…and I wonder if some of the model data may be over generous with this forecasted dew points in the region on Saturday.  If so perhaps those same models are over generous with the thunderstorms.
Of course persistent moisture return will eventually get the dew points higher…and by Sunday we should have dew points at least close to 60°. Combined with highs into the 70s…we should be unstable in the afternoon/evening.
There will be an upper level storm moving slowly through the SW part of the country and will eventually get into the Plains. This should provide a more unsettled pattern into the area, combined with warmth and higher dew points…means storm chances will really be increasing.
We'll have to see the daily set up from Sunday through Tuesday. The threat of rain will be there each day/night but I doubt the same areas will get the rain each day. Some severe weather will be possible. Parameters may favor a somewhat better chance towards northern MO on Saturday evening…then the area from KC northwards on Sunday then area wide on Monday and or Tuesday. It's not the greatest set-up for a lot of severe weather but it's certainly worth a mention as something to just file in the back of your mind.
This potential will actually continue into Wednesday (perhaps the best chance of something a bit more widespread) but that is certainly a long ways away.
Finally some cool video…a slow mo of the nitrogen experiment that we did yesterday. That is one of my favorite ones because you can really feel the heat from that if you're in the area.
That's it for today…I'll try and get a blog update out tomorrow. Enjoy the great weather. I'm off to the golf course this morning!
Joe