Joe's Weather Blog: Severe storms out west and Matthew (THU-10/6)
Good afternoon and thanks for reading the FOX 4 Weather Blog. A busy day for meteorologists in the Plains and elsewhere are there are two big weather stories. One will end later this evening (our storm chance) while another gets worse and worse (Matthew). I have to talk about our situation first but I have a passion for updating Matthew as well.
Forecast:
Tonight: A line of storms will be forming west of KC as the later afternoon moves along. These storms will then come towards KC with an arrival between 8-10PM or so. Our atmosphere may be trying to stabilize after the sunsets so I would expect the storms to lose some of their bite as they come into the metro area. There will be a risk of strong gusty winds and some hail with this but the tornadic risk appears to be farther towards the west of the KC area and also more towards far NW MO and NE KS. Temperatures will start tumbling before 12AM. Readings by daybreak in the 40s
Friday: mostly sunny and markedly cooler with highs 60-65°
Saturday: Sunny and cool with AM lows in the 40-45° range and afternoon highs will be near 70°
Sunday: Variable clouds and seasonable with highs near 70°
Discussion:
So a Tornado Watch has been issued for areas west and NW of KC proper. This DOES NOT include the KC metro area.
That would be the area that has the better potential for the strongest stroms. Already there have been some strong>severe storms develop east of Wichita. Those storms will move into rain cooled air and weaken considerably.
Additional storms will be developing as the afternoon moves along farther west. These will be the storms that are the most concerning. There will be a chance of tornadoes out there but the chances are more focused towards NE KS/SE NE and NW MO north of 36 highway in my opinion.
Locally whatever develops out there will come together as a squall line and move towards KC. The main threats locally I think are strong winds with the storms. That would be our main severe weather risk. The line will be moving along, so while there will be some locally heavy rains…it shouldn't last for too long. IF the storms don't get here till much later this evening..they may weaken even more before arriving. Areas farther east of KC should see a weakened line of storms move through later this evening. Hopefully not severe.
Here is the 2PM surface map showing the developing situation. The cold front is a real deal front. I've circled in blue some of the snow(!) reports in Nebraska.
The surface low will be moving towards the NE this afternoon. Near and E and NE of that surface low, should storms get feisty…would have the tendency to rotate. That's why I could see how there may be an isolated tornado as it moves into NE KS and far NW MO into SW IA.
I'm adding in the HRRR model and I think it has a good idea for the timing of the storms…somewhere in the 8-10PM window for the heaviest activity in KC proper.
I'm just not as sure how strong those storms will be when they get to the state line at least. Like I mentioned I could see how they would be packing some substantial winds of 50-60 MPH or so. there will probably be some severe thunderstorm warnings with the line moving through.
One thing that continues to irk me though is that our instability on a local scale may not be overly high when the storms come eastwards. That would mean a weakening line coming through the KC area. again for areas NW of KC and west of KC…there are some other factors in play for more substantial storms…
One way we measure instability is by looking at the CAPES or Convective Available Potential Energy values
When you see blue areas…that means that we're capped. Where you see the RED areas without the blue and especially when those values are above 1000-2000…that is building instability and as of 3PM that instability was really building out in central KS.
So with the fiercest of storm potential west of KC and NW of KC…odds are we may be placed under a severe thunderstorm watch for the mid-late evening hours. Just be aware of this and follow along with MT at 5 and 6…then with the storms moving through between 9-11PM tonight.
Matthew:
Let's start with this graphic…read it through because the language the some of the local NWS offices are using in their discussions is like the phrasing used before Katrina.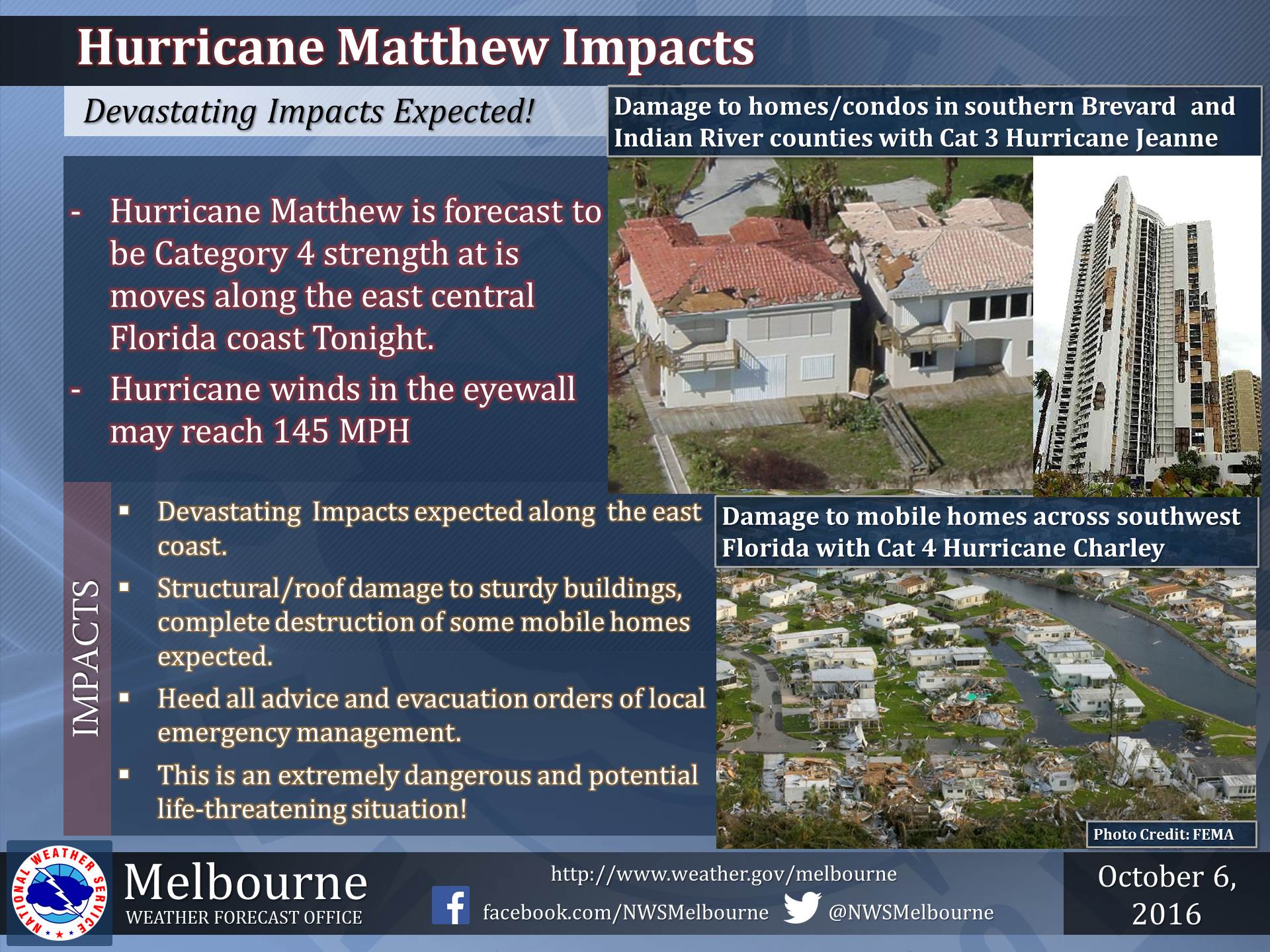 Now a graphic from the NWS in Jacksonville
As I've talked about…this could be/will be a MULTI-BILLION dollar disaster. Odds are 100s of thousands may be without power for days and perhaps for over a week. the destruction with a storm like Matthew going up the coastline has never before been experienced by those living in that region. There are no comparisons or parallels. it will be bad.
The ONLY hope…is IF the eye of the storm and the immediate eyewall, which is where the strongest winds are located can stay off the coastline by about 25-50 miles. It's an option that is still there but the chances appear to be dwindling. Should this occur however the damage will be considerably less that the other most extreme scenario.
More than 1.5 million have been told to evacuate. Thankfully most are…some aren't and in many cases their being asked for the names of the next of kin.
Storm surge is also a huge issue and one that is getting worse. Many of the coastal barrier lands are only a few feet above sea level. As the strength of Matthew increases…the storm surge potential increases. Depending on the high tide timing things could be even worse.
The damage in Titusville/Cape Canaveral areas are especially concerning.
The news isn't much better moving farther up the coastline towards Jacksonville and into SE GA and SC either where storm surges could inundate coastal areas.
Unlike Katrina which came ashore initially in a lower populated and less upscale area…Matthew will be doing it's damage in an area that has lots of higher dollar coastal homes that have been built along the Ocean and on the various barrier islands. This is where the damage $$$ really can get to be incredible and potentially MUCH higher than what Katrina ended up being. It really just depends on the eventual track of the eye of the storm.
Here is the radar from the NWS in Melbourne showing the situation. The eye of the storm can be seen
Here is the latest information about the wind fields of the storm from the Tropical Prediction Center. Watch that area of dark RED.
That dark RED wind swath is the area that will do the wind damage as it moves up the coast. Again the storm surge will also be a BIG player in the unfolding disaster in eastern FL.
To make things worse…small short-lived tornadoes will be possible too in the bands of storms circulating around the eye. Here is one computer forecast for 4AM Friday morning…again you can see why the track of the eye is so important. Slightly farther west and some of those strongest winds are onshore moreso than IF the eye is 25 miles farther off the coastline. The core of the strongest winds with the hurricane is "relatively" small. 25 miles will play a major role in how things play out from a wind standpoint although it may not help the storm surge situation.
Meanwhile let's go out to western NE near Alliance and see what's going on out there…
On second thought…
OK that's enough for now…we'll keep an eye out for our skies locally in KC.  Our feature photo is from Todd A Surprise and was taken up in Platte County.
Joe