Joe's Weather Blog: Brutally cold morning + snow update + Christmas Miracle? (SUN-12/18)
Wow it's still cold out there. As I type this up we're 3° at KCI and I've underestimated the power of this cold air mass. The snow which measured at 1-4″ in the viewing area, combined with a brutally cold air mass that moved in yesterday sent morning lows to -5 to -18° in the region. I was expecting some areas to drop to -10°…I didn't think KCI would tank to -9° though! VERY impressive.
Forecast:
Tonight: Clear and bitterly cold…lows will again drop to -5° potentially but may recover a little bit towards daybreak Monday as SW winds may try and help bring in "milder" air.
Monday: Sunny and cold but not as cold as what we're seeing out there today. Highs 25-30°
Tuesday: Partly cloudy with highs 40-45°
Discussion:
Well let's start with the snow that fell yesterday. The forecast worked out nicely. Here is a look at the Saturday morning update map that I sent out after the AM shows…
Here is the rough reality of what happened.
It's extend that 4″ line towards Trenton and Chillicothe though as both had 4.3″ and 4.0″ respectively. Trenton was the snow jackpot winner as near as I can tell.
Overall good forecast. On Friday I had that heavier snow band south of KC. We always have to be ready for these northward/southward late movements of heavier snow bands. The RAP/HRRR models did well with the idea of heavier snow potential that AM…and were helpful to me creating my graphic for the morning show.
Now the cold….wow!
The morning low @ KCI was officially -9°. This is tie coldest temperature in the month of December this century (December 22nd, 2000) and it's the coldest low we've seen since January of 2014. It was the 3rd lowest temperature for the date. The record low is -15° set in 1983. It was also -12° in 1981. Last winter the coldest we ever got was -3°.
Needless to say…when you look over the last 3 months..a.ll the reddish areas representing above average temperatures in the middle chart below…have flipped to blue and cold this month (so far)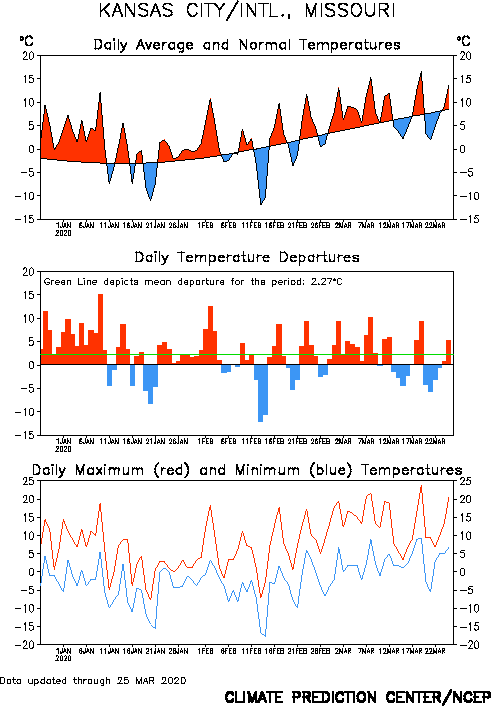 Our 850 mb temperature this morning (which was about 4000′ above us) from the sounding at Topeka checked in at -18.1°C or -.6°F. That barely cracks the Top 50 of coldest temperatures at that level. So the air mass above us was not close to record-breaking locally.
There were records though elsewhere…
Snowcover is pretty extensive now…but a LOT is going to melt by the next weekend.
Now will it be replaced? I upped my chances of a White Christmas to 10% this morning…and that is because the model data is suggesting some sort of storm to move into the Plains states on Sunday. The GFS would have a cold rain to snow potential…while the EURO has a warm (60s!) rain scenario for Christmas Day. We're about 3 more days from really getting into the speculation part of this…so I won't waste your time BUT IF you want a White Christmas…at least there may be a player on the table…somewhere that is.
That's it for today…I've done so much blogging lately…I think I need a couple of blog days off…so let's plan for a new blog on Wednesday afternoon.
Our feature photo today comes from…Art White of Pleasant Hill, MO. Great shot from inside the house!
Joe