Joe's Weather Blog: Wet weekend at times but a perfect Friday (THU-8/3)
Don't hold me to this but I think the longest stretch of dry weather we've had this year was about 30+ days from 2/3-3/7 with precipitation amounts of a Trace or less. It seems like yesterday when there were folks clamoring about how a drought was going to take over the Plains. Well here we are in early August. There is no substantial drought locally although there are areas that need some rain in the viewing area. There are areas that have had a ton of rain this summer. Even in our viewing area though there are some dry patches (contrasted to the flooded areas)…and we'll see if we can get those dry patches some needed rainfall over the weekend.
---
Forecast:
Today: Variable clouds with some scattered showers/storms possible through early this afternoon…then the trends should be shifting south of the metro towards Clinton/Sedalia/Butler/Pleasanton etc. Highs today near 85°
Tonight: Clearing out and turning delightful. Lows towards daybreak in the lower 50s and very close to tying a record low of 52° set in 1974.
Friday: Perfect weather for August or any time of the year with highs in the mid-upper 70s
Saturday: Dry through mid morning with increasing rain chances during the day through Saturday night. Highs in the 70s by lunch but potentially dropping into the coolish 60s in the afternoon assuming there is rain in the area.
Sunday: Any leftover rain exits in the AM then cool and partly cloudy in the PM with highs in the 70s again.
---
Discussion:
The overarching theme of the last few months has been it's tough to stay dry for any real length of time in KC. That is a bit unusual for the summer months especially when we should be dry for several weeks at a time with only localized areas of rain. It seems that when it wants to rain…it's raining pretty good in many areas. The latest drought report came out this morning and shows most of MO doing OK. There is an increasing area of drought towards the St Louis area however.
On the KS side the drought situation isn't that bad either (overall). Sure there are places that need a big drink of water…but that is virtually the case every single summer across the Plains states.
While the chances for today are fleeting at best and really don't look that healthy…the chances will be ramping up rather significantly over the weekend. as we get into Saturday I'll be watching an area of rain expanding on the KS side and moving towards the east. This rain will eventually get into the area during the day and while we may be able to warm up a bit before the rain moves in…once it does so, considering the dry air that will be in place as the rain arrives…and considering that the dew points will be low-ish as the rain comes in dropping the temperatures (thanks to evaporation)…IF that rain arrives early enough…I can see an easy way that temperatures in the afternoon are only in the 60s. Interesting to this weather geek because the record low HIGH temperature for Saturday is 67° in 1993.
For that matter the record low for the day is 55° in 1994 and that could be in play IF we have clear skies overnight into daybreak Saturday which is possible depending on whether or not the clouds hold off for a few hours.
As far as the rain situation goes…while still a bit muddled (timing wise) we should get into things later in the morning and into the afternoon. at first the rains may not be as widespread but as the afternoon and evening moves along the rains should start to increase in coverage and potentially in intensity as well. There are signs of a low level jet kicking up. This means that some stronger winds about the surface will be blowing over a weak front nearby. Assuming that front sets up to the south of KC…that would place the KC metro area somewhat under the gun for the potential of some locally heavy rains later Saturday into Sunday morning. While NOT a repeat of what happened last night when a low level jet stream set up…it may be a prolific producer of rains…in excess o 1-2″ for some areas at least. It's worth monitoring.
The jet stream causing this will slide away from the area on Sunday morning and that means we should see improving (drying) weather on Sunday with more cool-ish weather for August.
As a matter of fact, and I agree with this forecast…temperatures (as I mentioned in yesterday's blog) look to be below to well below average around the region till at least mid month. This is a pretty stunning 8-14 day forecast…considering the time of the year at least.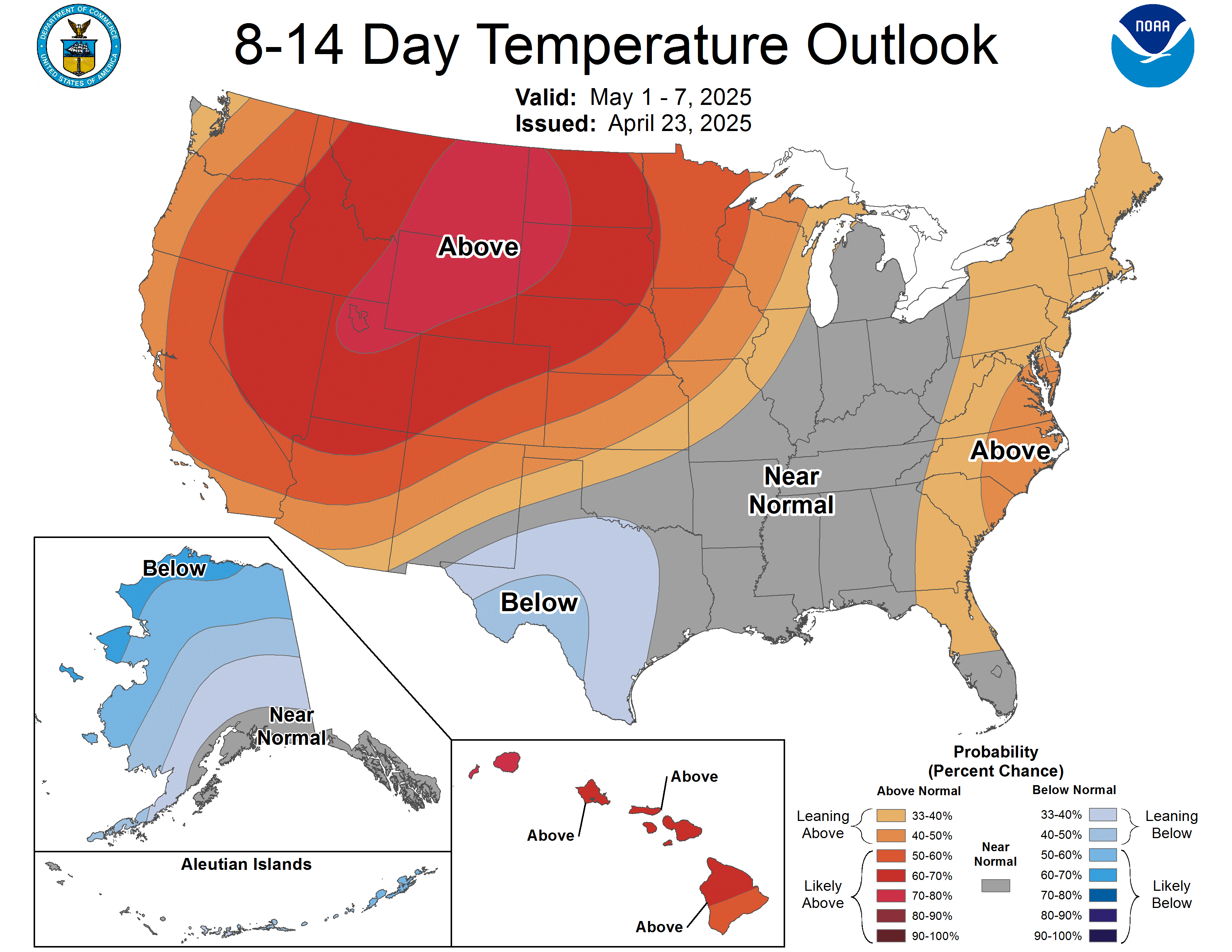 This "coolness" may last for awhile. There are signs that as we head towards the last 10 days or so of August that we'll heat back up again to at least seasonal levels if not above. By then it should be noted that the average highs are coming down a bit (2-3°) compared to today's averages. It doesn't mean though we can't make more runs towards 95-100° with high dew points (like we've seen so far this summer).
One other note…you may have noticed a certain "haze" in our skies lately. It's very visible again this morning to sunrise watchers. That's because of smoke in the atmosphere from the fires that are burning in Canada. This happens often when we see a prolonged period of NW or WNW flow through the Plains region. It's much worse across the Pacific NW though…especially in the Seattle area.
A couple of weeks ago I mentioned this same phenomena…we had a sunset that looked like this from grain Valley, MO shot by Beth Maher
Have a great day and I'll see you tonight on Fox 4 News at 5
Joe