Joe's Weather Blog: I thought I saw pairs of animals looking for the ark! (SUN-8/6)
My goodness…it's one thing to be super hot and humid and then see the release of energy in the form of powerful thunderstorms…it's another to be cool and unseasonably dry (Friday) and then see another big release of energy in the form of storms. Regardless our 3rd big event in terms of storms has ended…in it's wake more big rain totals…flooding…water rescues and closed roads. Things coming back to "normal" today and it should be quieter out there for the next few days overall. In time, whenever we start to get hotter again (not anytime soon) this will likely turn into steam heat again…and that may set the stage for more big storms again this month.
---
Forecast:
Today: Variable clouds with cool temperatures…highs in the mid 70s depending on the amount of sunshine today for your area. There is a lot of clouds up north that may fill into the area later this morning.
Monday: Partly sunny…there is a small chance of a few sprinkles or lighter showers, mainly towards the NW of KC. Highs in the 70s
Tuesday: Looks nice with highs in the 80° range
---
Discussion:
Well I think the forecast from several days ago worked out about as perfectly as a forecast can work out. The set-up was recognized and actually more or less came together as expected. There are always little wrinkles that have to be figured out as the event unfolds…but I was impressed by the extreme rainfall rates that occurred with the storms last night. Areas that initially didn't have a ton of rain for most of the day…got blasted in the early evening with an additional 3-5″ of rain…areas on the south side that had more AM rain…got blasted by an additional 1-5+" during the mid evening hours. Overall…widespread 2-6″ totals around the KC metro area (more specifics to come) and 6″+ totals towards the SE of KC.
I can't stress enough the importance of following me on twitter at @fox4wx. You know that is my favorite SM platform and I share soooo much relevant and breaking weather information there. It's immediate and so timely to what I do and provide..so this is just a friendly nudge for you
So with that said…let me share some interesting nuggets from my twitter feed last night…regarding the "coolness" of the day that was…this was information that because it was so busy with flooding last night that I couldn't even talk about on the air…it was also information that I blogged about on Friday I think…in anticipation of the possibilities.
Indeed we set a record cold high for 8/5. So to recap the last few days…a record low FRI AM…near record low SAT AM…record cold high SAT…and one of the coldest highs in the entire month of August…as shown by this tweet.
So that is just the temperature aspect of this…I think most enjoyed the cooler day overall…the rain situation though was impressive. Rain rates exceeded 5″ in about 3 hours time in some areas yesterday evening…that led to runoff issues and road flooding. Despite the continuous reminders to NOT drive into high water…some did. This resulted in numerous water rescues…and flooded out cars. In some cases though, to be fair, it happened just because of where cars were parks.
Then there was pictures like this…
As far as the specifics go here are the totals…via Stormwatch.com
1st the northside of KC…
Now central KC…into JOCO KS…look carefully down the I-35 corridor…some 6″ totals around Merriam
Finally on the south side…
Interesting to see the variability…from a good for August 2″ total in there to the almost 5″ total…all over the spread of about 15 miles or so.
Storm totals on a wider scale were also impressive. Ground truth reports indicate over 6″ in areas…some with close to 8″. Doppler totals were underestimating this rain event, due to the high efficiency of the storms to produce heavy rains…
It does sort of show the idea of what happened though towards the SE of KC in particular with the heavier totals. There was an axis of near 6+" totals towards JOCO MO and SEwards it seems. Here are some of the higher totals via CoCoRaHS in the state of MO as of this morning…
Here is a look at some of the flood and rain reports that came in since 4PM Saturday…
The green icons…represent the high water/flood reports that came in.
Meanwhile…farther south there was a rare tornado in Tulsa, OK last night around 1AM or so…this happened towards downtown Tulsa…only the 2nd August tornado in the county since 1950.
With the lead up to what happened last night…I haven't even really been able to write about this unusually cool weather pattern that is more or less locked in through at least the middle of the month. I'm seeing no signs anytime through the next 10+ days of any real intense heat in the KC area. Temperatures are forecast to be below average for quite some time. Odds are towards the 16th onwards we'll at least get a bit closer to average…but nothing too extreme is foreseen at this point. Granted the sample size here is only 5 days of data for August…but still I find this interesting…
HIGHS             LOWS              AVG               RAIN
On another note…the tropics are about to be kick started it appears to some degree. There are a couple of systems out there that will be monitored. This is the usual August uptick in tropical activity as we head through the next 6 weeks or so…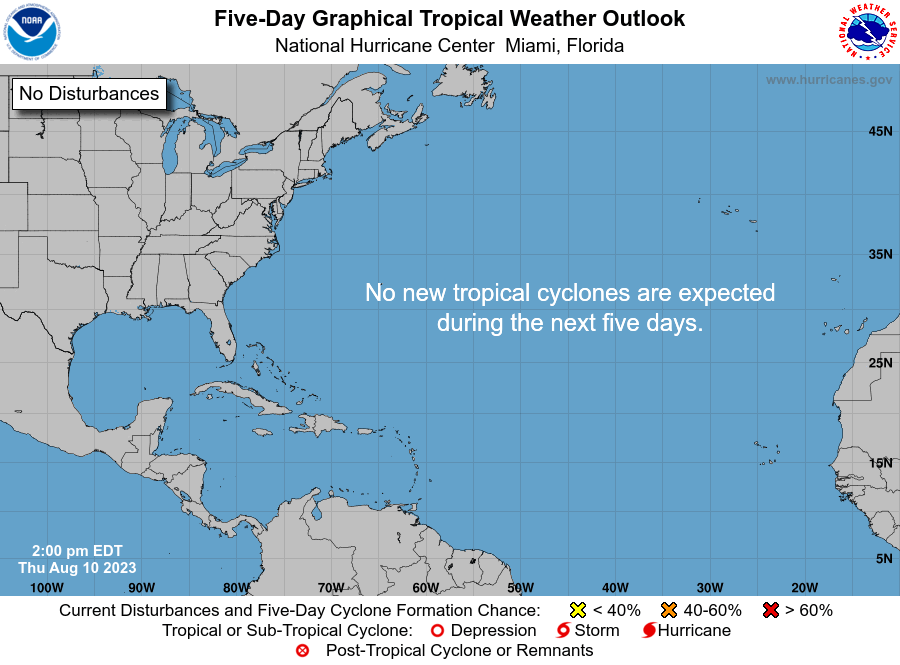 Our EURO model is showing a SE US potential threat towards mid month…we'll see about that but IF anything is out there the upper air pattern is forecast to be more conducive to eastern US tropical threats…how close they can get to whatever may or may not forms though remains to be seen obviously.
OK that will do it for today…I may try to take a couple of blog days off…we'll see.
Our feature photo today is a pretty one from Savannah Whitesell down towards Spring Hill, KS…from the end of July.
Joe