Joe's Weather Blog: Our rain-free streak will likely fall over the weekend and next week (FRI-9/15)
Good morning…it's a bit of a milder start this morning and the weather overall is starting to feel more like late Spring as opposed to late Summer. By the way, since we're in the seasons talk…Fall starts on the 22nd…next Friday…so summer will be winding down…but as i mentioned in the weather blog on Wednesday, overall the pattern is a milder than average one. The dry stretch today is now at 19 days…there have been only 3 other years where the 1st 15 days of September have been rain-free…1893…1908…and 1919…so this is somewhat unusual. It hasn't happened in almost 100 years. Radar this morning is showing a wave with some rain in central KS moving NEwards…I'll monitor that for you but it should weaken over the next few hours.
---
Forecast:
Today: Partly cloudy, breezy and warm with highs 85-90°
Tonight: Fair skies and mild with lows around 70°
Saturday: A small chance of some isolated showers in the AM then partly cloudy and warm. Windy too with highs well into the 80s
Saturday night: Our better chances of rain/storms will be increasing, especially after 9PM or so.
Sunday: Scattered showers/storms possible…still hopeful that this is a more morning type thing…but there are some signs we could be in and out of some rain through the afternoon. Highs will be cooler with readings only in the 70s.
---
Discussion:
As we start our Friday there are some showers moving through KS…I want to watch these…odds are the reason they're still churning along this morning is that there is a bit of a low level jet stream which should gradually weaken as the day moves along.
They should slowly move NNEwards and perhaps affect NE KS as the die out later this morning and early this afternoon.
Tomorrow should overall be dry…although with the warm air in place and moisture increasing…it really wouldn't take much to create some scattered showers or isolated storms in the region…so while I won't promise perfect conditions…it will be windy too (gusts to 25+ MPH).
The conundrum to the forecast begins later Saturday evening as more storms are expected to form towards the west of the area associated with a cold front…that front will be moving through the area on Sunday morning…and will slowly sag south of KC during the day. As this process occurs on the surface, above the surface the winds will still (more or less) be out of the SSW/SW…this creates an "overrunning" situation where the winds run up and over the surface cold front…this generates lift.
That lift could create additional or longer lasting areas of rain The timing would be suggestive of a winding down of the rain in the afternoon on Sunday but obviously with the big game starting at Noon…it's going to be a morning of radar watching just in case things linger.
At this point I might suggest thinking about packing some rain gear just in case for the game. It also appears that regardless of the rain…it will be cooler and temperatures during the day may only be in the 70s for the afternoon (assuming clouds are a bigger issue).
Then on Monday the front that comes through Sunday will begin retreating northwards…and that too may generate additional storms/rain…so Monday is a bit questionable.
You can see how things are looking a bit wetter in the big picture over the next 3+ days.
Over the weekend I'll need to bring you up to date on Jose which is in the western Atlantic Ocean…it's going to meander off the mid-Atlantic coast early next week…and potentially off the Northeast coast towards the middle of next week.
More on that later in the weekend…there are also a couple of other systems in the tropics that bear watching as well including a new depression towards the African coastline.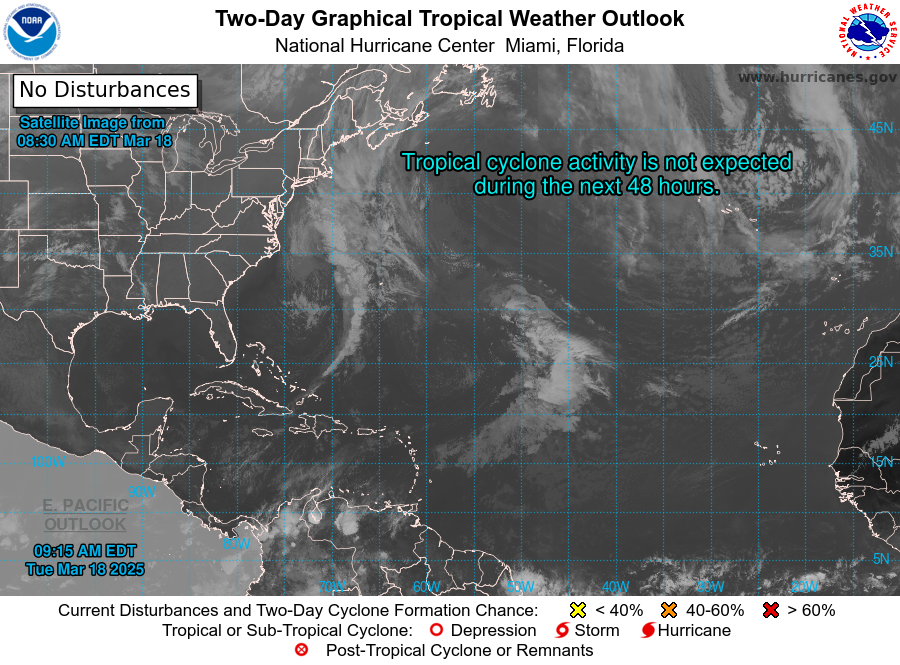 That's it for today…have a great weekend and Go Chiefs!
Our feature photo comes from tom Calvert of a smokey sunset a couple of nights ago.
Joe