Joe's Weather Blog: Some good napping weather coming (WED-10/4)
Good morning…today is a rather interesting day in weather history…more on that below. It's also a day that will be markedly cooler than the weather over the past few days…the warm and humid air mass of Monday and Tuesday is now being pushed southwards…as cooler air is moving in. The push isn't the greatest but this morning from KC northwards a cooler air mass has settled into the area. There are a few sprinkles/showers out there and those will be around as well as the day moves along. The better chances of heavier rains will be later Thursday into Friday. Good news…the weekend looks really nice!
---
Forecast:
Today: Cloudy and cooler. Highs steady in the 60s for the KC area. There will be some showers around…but the entire day will not be wet. Have an umbrella…
Tonight: Cloudy and "mild" with essentially steady temperatures…lows in the 60s it appears. Some fog is likely as well.
Thursday: Cloudy with some showers possible…especially towards the afternoon/night. Storms are possible especially Thursday night. Highs in the 70s…muggy too.
Friday: Variable clouds and muggy. Storm chances increase towards the evening and overnight again. Some locally heavy rains are possible too. Warmer with temperatures 75-80° IF we get enough sunshine.
---
Discussion:
I'll be on a "staycation" for the next couple of weeks…but I wanted to update the blog every so often as I'm always looking at the weather and the weather data…it's what I am I guess. Some folks can just step away…but this is in my blood and I can't…it's worked for me for all these years and it's what I am. You'll NEVER hear me say "I'm on vacation so I don't know the weather forecast"…what can I say!
So last night when I was looking at the model data…I was struck by a wildly wrong GFS forecast for the area…I posted it on FB and some shared it…this model is pretty bad, in my opinion, in so many ways. It occasionally does hit one over some other model forecast…but during this time of the year it can be a comedy of errors in the longer range…
Yes the model is wrong! I highly doubt it will be snowing on the 15th-16th of the month…as a matter of fact the chances are it will be rather pleasant in that time frame around these parts…
The model is funny sometimes…it does though bring up a point though…once we get into the more volatile season changes…the models will (especially in the longer range) "freak" out like the GFS model did last night. It's a common occurrence  when the air masses start their seasonal battles.
For example on the 10 day forecast off the EURO model last night (for the evening of the 13th)…it has a strong arctic front up towards the US/Canadian  border but on this model at least…it won't get down towards the Plains…as a matter of fact beyond that time frame we'd probably really warm up heading towards mid month.
Is this model correct? Probably not…but it would make more sense than a snowstorm in the Plains on the 15th or so like the GFS model portrayed.
Onwards…
Today is an interesting day in weather history…how many remember what happened on this date in 1998?
There is a small backstory to this…we often consult with the Chiefs and the Royals about the upcoming weather. On this night…I was on the phone with the Chiefs that afternoon and evening as we were expecting severe weather with flooding rains to move into the region that evening…I distinctly remember talking to the game official minutes before kickoff as storms were raging on the KS side and moving towards the Stadium Complex…I told them dangerous lightning and flooding rains were coming in…notice though in this link, the cutoff to the heaviest rains…it appears areas SE/E of most of the I-35 corridor got little to no rain that night…
Anyway…I told them within a few minute time frame what was going to happen. I was somewhat surprised by the delay (in my opinion) of stopping the game to get the fans into safer confines away from the lightning. When it did open up though…it opened up as the pictures above show…my goodness it rained…water was cascading down the stairwells of the stadium.
This does show you though…that Fall can be "weird" around here sometimes as the seasons fight it out in a sense. All sorts of weird things can happen…do you remember the October Surprise (snowstorm) back in 1996?
Meanwhile back to the current weather situation…
The latest surface weather map shows the changes that have occurred overnight into this morning…a cold front has managed to sag through the Metro…I'm not shocked but by the same token…somewhat impressed that it managed to do this despite NOT having a lot of convection to push it southwards…
So we're in the cooler air mass for today and yet I'm still a bit surprised that there isn't more rain showing up on radarthis morning closer to the KC area..,(it should be noted that there does seem to be an increasing coverage this morning at least).
N MO and far NE KS have had about 1/2-1″ of rain so far…and more is coming for them.
For the KC area…we're just sort of in a weird area where in this case the rains will be a bit more inconsistent for the next 36 hours or so…eventually though, we have to get some heavier rains moving through the region…and the timing on that may be more towards Friday into early Saturday morning.
That is going to be connected to a rather strong wave moving through the Plains states later Friday…that should proved plenty of "lift" when combined with a push of somewhat cooler air…into a region where there will be the remnants of a front, and moisture just hanging around…that we SHOULD get some heavier rains and storms move through at some point before the weekend gets going…that wave shows up rather well in the forecast for Friday evening…
I still think 1-3+" of rain is possible for the KC region when things are all said and done…
More on this tomorrow…hopefully with a bit more clarity…
The tropics, which have been tranquil (for a change) for the last several days are starting to get going again. as we head through October the focus typically shifts towards the Gulf Of Mexico and the Caribbean area..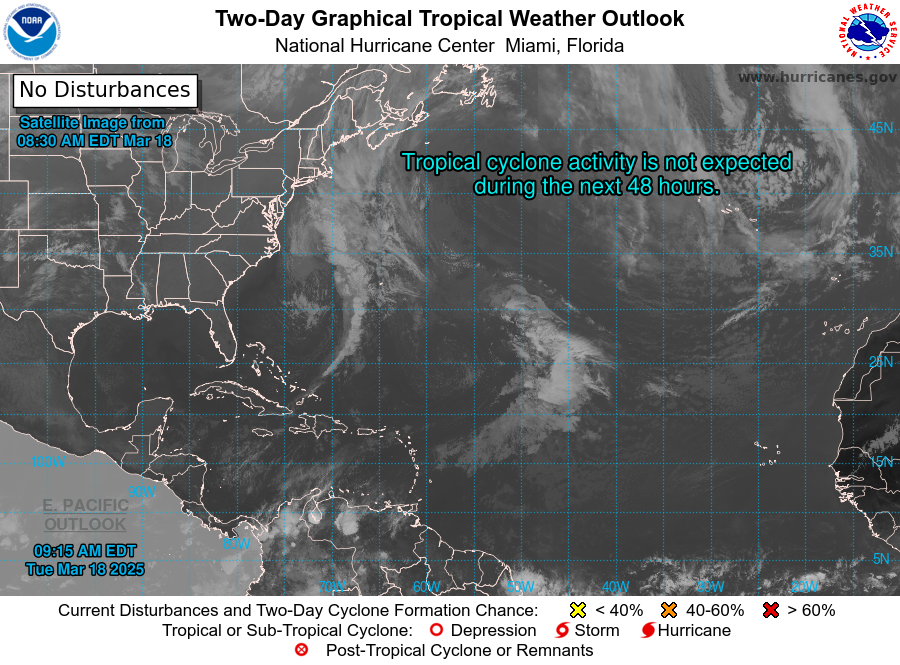 Keep an eye on the #1 region.
For those who talked to me out at the Scouting 500 a couple of weeks ago…we talked quite a bit about the tropics and I mentioned that in about 10-14 days something would probably brew in this area…and sure enough…
IF something gets named from this area…it would probably be Nate
Next up…winter…it's been snowing pretty good lately in the Rockies…
34% coverage is pretty impressive for Early October out there…
About a week ago I posted the Farmer's Almanac forecasts for the upcoming winter…now here is a new one…via AccuWeather.
Like I said at the beginning…always interesting battles during the fall.
Our feature photo is from Dan Dundon Jr out towards Piper, KS last weekend
Joe