Joe's Weather Blog: Blizzard rakes the Plains…but we get snow showers (SUN-1/21)
Good afternoon…mild to say the least today…and this mild weather will continue through the night into early Monday morning. This is coming about because of one of the stronger Plains storms that we've seen in quite some time…developing as I type this…but moving towards the north of KC. That means we stay on the warm side of the storm into Monday with colder air wrapping into the region as Monday unfolds. Yes we'll get some rain…maybe a rumble towards the east of KC…and even some snow showers..but a lot of precipitation is not expected despite the closeness of the storm.
---
---
Forecast:
Tonight: Some showers are possible (fast moving) between about 6PM-1AM or so with a few rumbles of thunder possible on the MO side especially. Pretty steady temperatures overnight in the 50s dropping to about 50° near daybreak. We'll have a 12AM high (for Monday) well into the 50s
Monday: Falling temperatures from the 40s to the 30s to near 32° by Monday evening. Initially dry but rain showers will move in which will mix with snow showers and or bands of afternoon snow rotating in from the west-north-west. Those will need to be watched for minor accumulations.
Monday night: Snow showers possible till 9PM or so…temperatures drop to the mid 20s by Tuesday AM. We need to watch for refreezing in the evening and overnight
Tuesday: Nice with OK temperatures and highs into the 40-45°
---
---
Discussion:
For weather enthusiasts this storm is going to turn into meteorological eye candy. It's just now starting to get it's act together and the water vapor satellite loop will be telling over the next 36 hours especially.
Take a look at these images from Rutgers
It doesn't look like a lot now on radar…but it will…give it some time tonight and Monday. This radar sector will always update for you.
This storm should be a whooper BUT there are snow enthusiasts to the north of the area…that may be on the edge of getting just a taste of the storm…and something huge…we're talking 12-18″ worth…and the exact path of the bulls-eye of heavier snows is shifting north and south a bit.
Let's start with Goodland, KS…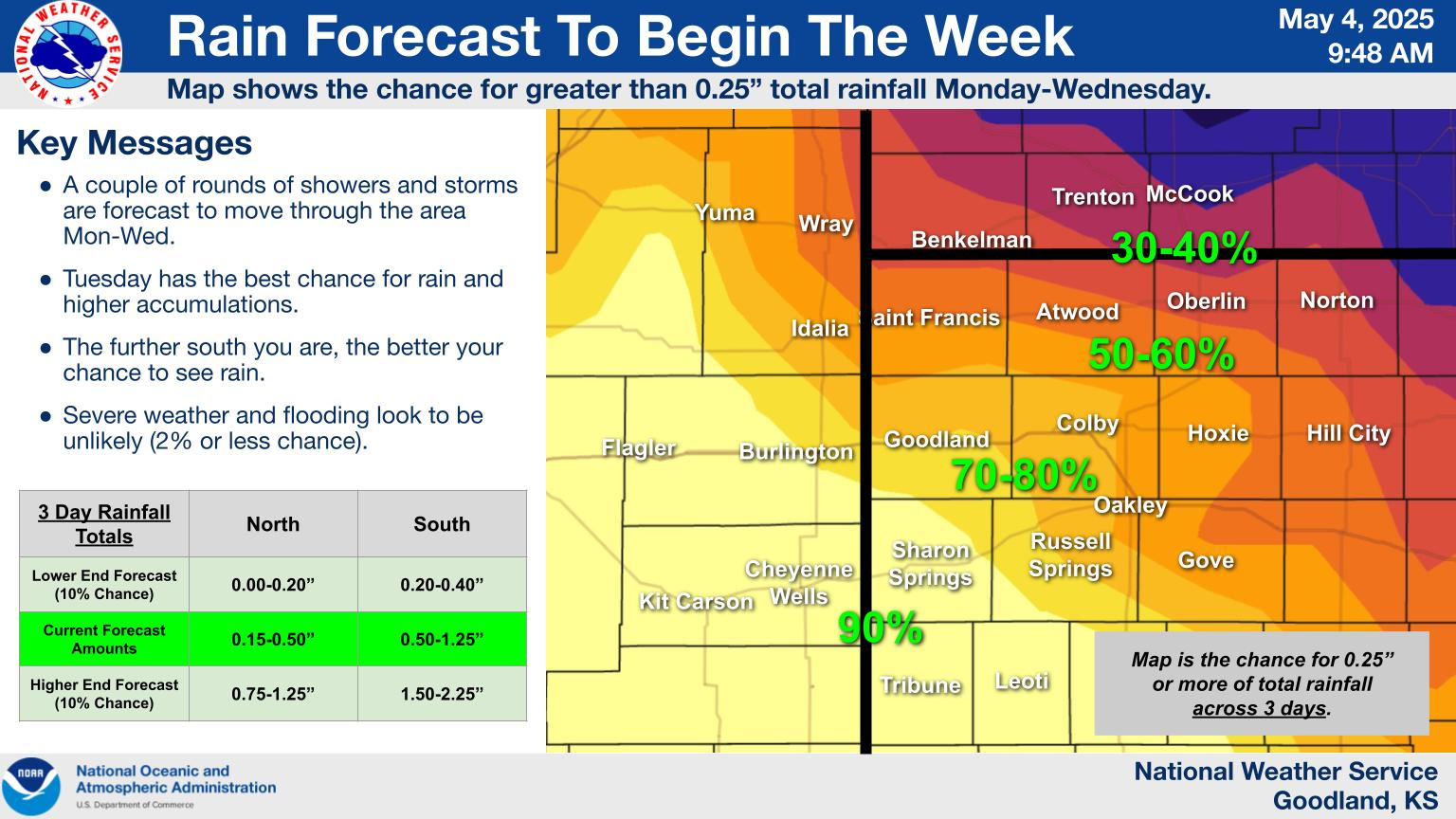 Now Hastings, NE
Next up is Sioux Falls, SD
and finally the Twin Cities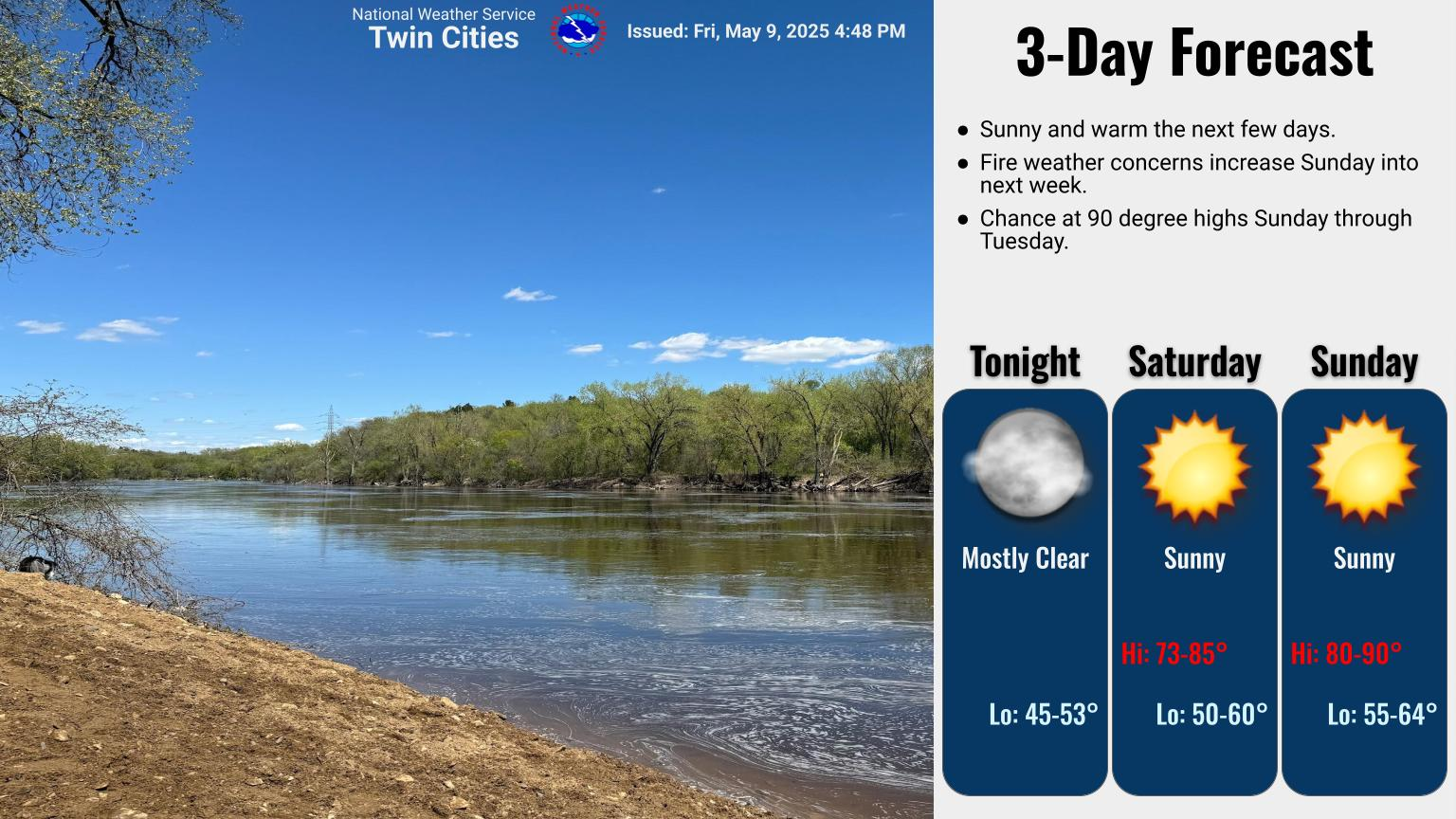 There is going to be a pretty sharp northern cut-off to this…the Twin Cities are dabbling between a nuisance snow and something nasty…tough for forecasters up there.
The folks at Pivotal Weather have the latest warnings/watches for you…notice western TX as well…that is a lot of wind down there…gusting to 40+ MPH and blowing dust is an issue through western TX.
Needless to say…travel in that direction isn't going to happen after tonight.
Meanwhile…farther south…there is the threat of severe storms…
The potential of a few tornadoes is there as well down towards NE TX and SW AR.
Interesting facts about the "lateness" of the 1st potential watch issuance.
For KC…well we look from afar on this one. The storm itself (at the surface) will be organizing tonight…as low pressure winds up towards southern KS…the map below will auto-update as the storm intensifies. It should track into NW MO Monday…
The black lines above represent what we call isobars or lines of equal pressure. Where the lines are close together…that means there is a large change in air pressure in shortened distance…that equates to more wind.
Take a look at the model guidance showing the path of the surface storm…
The blue areas represent precipitation…the darker the colors into greens represent heavier rates of precipitation. Look also at the more solid RED line. That is an approximate rain/snow line. Notice that line sweeps across the area tomorrow at around 15Z or close to 9AM or so. Again this is an approximate thing…other factors including our temperatures near the ground, will influence when we can see flakes…and we'll still be "mild" for a few hours after daybreak I think. So rain will gradually change to snow but in reality…the better snow chances come on the backside of the storm which won't move in till tomorrow afternoon/evening.
Another item about Monday…winds. They will be increasing as the day moves along to 15-25 MPH…then perhaps 20-30 MPH Monday night.
My concern about the snow is not so much the snow totals…which shouldn't amount to more than a coating for most areas…but what happens when that snow melts and then the temperatures drop below freezing later in the day or in the evening…IF there are wet roads in the area…we'll need to pay attention to some ice potential, especially on bridges and overpasses.
Another warm-up to near 60° is possible later in the week ahead of another cold front which will drop the temperatures next weekend.
Our feature photo comes from Travis Wessel…and oh my it's one of the best ones ever! This was taken in a drone above Riverfront Park…love it!
Joe