Joe's Weather Blog: I'm wondering about a chilly early April (FRI-3/23)
Good morning…it's been an interesting week of weather from the west coast…through the Plains…towards the eastern US…and pretty much almost everywhere in between…except maybe the desert SW. Rain…flooding…incredible hail…tons of snow…and a few tornadoes. Late March can be wild and wooly in the US and I think this was one of those types of weeks. A lot to recap in the weather blog today plus a look ahead into early April as well. Hint: Don't put away the heavier coats yet.
---
---
Forecast:
Today: Mostly cloudy and mild than Thursday with highs closer to 60°. The thickness of the clouds will determine if we can get a few degrees warmer or only stay in the 50s. East winds of 15-20+ MPH
Tonight: Some rain is likely in the area…especially from KC northwards and even more especially in northern MO Lows in the 50s BUT…
Saturday: Variable clouds and chilly with a near daybreak high of around 50° BUT dropping into the 40s first thing in the morning…and struggling from there in the afternoon. Blustery as well
Sunday: Variable clouds and chilly with a chance of some showers in the afternoon or towards Sunday evening…highs near 50°
---
---
Discussion:
The week actually started with a lot of rain in the KC area with 1-2+" of rain through the Metro on Monday. That system ended up helping to create the big NE snowstorm that impacted areas from the nations Capital northwards into southern New England. Some areas had over 18″ of snow from the snowmaker. Some areas on Long Island had over 18″ of snow…very impressive. NYC though didn't get as much…closer to 5″ while in the Queens…amounts were over 12″.
This same system helped create nasty storms a couple of nights ago in the southern US..especially from N MS eastwards into FL. Some 220 reports of tornadoes were received…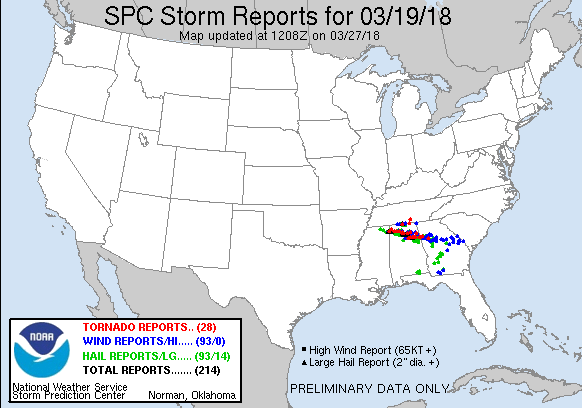 The bigger tornadoes were in N AL…as a matter of fact the season's 1st EF3 tornado in over 300 days (a record) was reported in N AL.
Large hail was also a big issue with those storms. This wasn't ordinary hail either. AL may have very well set a state record for the largest hailstone in their history…5 1/4″!
It had a circumference of over 13″ and weighed almost 9 oz. Here is more information from the Cullman, AL area.
What's fascinating about these stones is the velocity they come down…well over 100 MPH! There are some assumptions I believe with that calculation including the shape and "smoothness" of the stone itself but golly. Then you see pictures like this…
Very impressive stuff.
Then for the last 48 hours CA has been it by torrential rains…especially central and southern CA…that leads to flooding. All because of a storm that has a nice "atmospheric river" flowing ahead of it into the mountains of central/southern CA…that moisture is lifted up the slopes and that process creates heavy precipitation sometimes with the right set-up.
There were also a couple of reports of tornadoes..and yes during this time of the year especially, cA gets a handful of tornadoes.
What is interesting is that the moisture that turns into the heavy rain/mountain snows then goes over the mountains and into the Central CA Valley region…as this occurs the air sinks and a lot of the heaviest precip falls apart. As a result rain totals will vary widely in a short distance.
Next up is a look into early April. We are getting more more data that indicates the 1st week-10+ days of April my be colder than average…
The EURO ensembles from the 1st though the 6th (up at around 5,000 feet or so at least) show some pretty cold air, relative to average moving through the northern US and into the Great Lakes. Those temperatures are in °C by the way.
There would likely be a rather strong reflection of this on the surface…so it may be a rather cold start to the new month around these parts.
Last but not least. On Saturday there will be a severe weather seminar in Jackson Co, MO out towards Blue Springs. This seminar will start at 9AM and will be held at Central Jackson County Training Center 4715 W US 40 HWY, Blue Springs, MO. There will be a variety of speakers including the NWS talking about severe weather spotting. This will be your last chance to see this presentation in the KC Metro area.
Also of interest is how the seminar will start…with ME! I will be dusting off an old research project I did about 10 years ago…it involved what would happen IF the Greensburg tornado (rated EF5) hit the KC Metro area…in other words what would happen IF you took the same weather set-up and moved everything ENE about 240 miles. What would happen to us…how bad would things have been…how much damage would've been created by what was a series of over a dozen tornadoes. It's amazing stuff really and I'm looking forward to revisting that presentation again to "bring home" the severe weather threat that we endure each year. Thankfully it's been almost 15 years since the last big outbreak of tornadoes in the heart the immediate city. We're now venturing into the "overdue" side of things for KC proper. I hope it is of some interest to you.
The session is free I believe and there will be lunch and booths to visit with different representatives. 
Our feature photo comes from our own Nick Vasos…cruising through NM on Thursday he noticed these lens shaped clouds…their called lenticular clouds and are common in more mountainous areas. The fancy name is Altocumulus lenticularis and typically they're stationary. They typically also mark an area of heavier turbulence in the atmosphere so you typically won't see pilots bringing their aircraft near there.
Joe