Joe's Weather Blog: So much gray weather + nasty cold Easter? (TUE-3/27)
Good morning…not a lot of sunshine in the forecast for the next day or even two days. Tomorrow's hope of warmer weather may play out…but these low clouds that are hanging around today are notorious for lingering longer than expected…and with light winds in the lower part of the atmosphere on Wednesday…I wonder just how much sunshine we will get on Wednesday. Another note…man it looks cold on Easter Sunday…like 30s cold. If we're not careful…something else could happen too. I don't think the Easter Bunny will be happy with me on Sunday.
---
---
Forecast:
Today: Cloudy with occasional patches of drizzle/mist and perhaps actual light rain patches in some areas from KC southwards this morning through lunch. See radar below for updates on where the rain is and where it's going.
Tonight: Cloudy with steady temperatures in the 30s
Wednesday: Mostly cloudy…hopefully we'll get sunshine in the afternoon. More clouds…only in the 40s…enough sunshine…55-60°. I'm rather pessimistic about that chance though this morning
Thursday: I think we're OK for Opening Day. A mix of clouds and sunshine with highs into the low 50s or so. It will feel chillier though with the winds out of the north at 10-20 MPH.
---
---
Discussion:
Let's start with radar this morning…
Again the better chances of rain will be south of KC…the I-44 corridor will see more rain and some flooding again today. Boy southern MO has went from drought, at the beginning of the year to floods now.
You can see the rain heading up that way…
and you can see the HRRR model indicating that there is 1-4″ on the way there today into this evening… (via Pivotal Weather)
So more soggy weather on the way for them…in what has been a soggy month down there.
Then there is the curious case of N MO…from about St Joe to Mound City MO>NE KS and then into parts of central KS. You cant help but notice that they have NOT gotten the rains (again) so far in 2018. This was the same deal for many of those areas in 2017 too. One of the curiosities of precipitation over the last year or so.
This month will probably end up trending near to slightly below average. As of yesterday we're .4° above average for March. Our saving grace, while the days are chilly…the nights aren't really that cold right now because of the same reason why the days are chilly…clouds. The clouds keep temperatures down during the day…but up at night.
At 8AM this morning we're 39° which is about average for late March. Unfortunately the highs today in the 40s will be about 15° below average for late March (average around 60°)
I wanted to jump ahead and talk about the weekend…and especially Sunday. Yesterday I mentioned that one of our models was generating a near snowstorm on Friday. That same model now has highs into the 50s for Friday. So that sketchy thing was sketchy.
The main thing, whether or not we have to worry about more snow or not, and that same model is showing snow now on Sunday (Easter) is that Sunday looks to be very chilly for the area regardless of whatever sketchy snow the model (EURO) is showing. I'm wondering IF Easter Sunday may only be in the 30s this year for highs…perhaps 40-45° with some sunshine IF we get sunshine.
This the is colder weather that I told you about last week that would be an issue for the 1st part of April. When I notice the model trends…and I see this…for the 1st week+ of April…it's not too encouraging.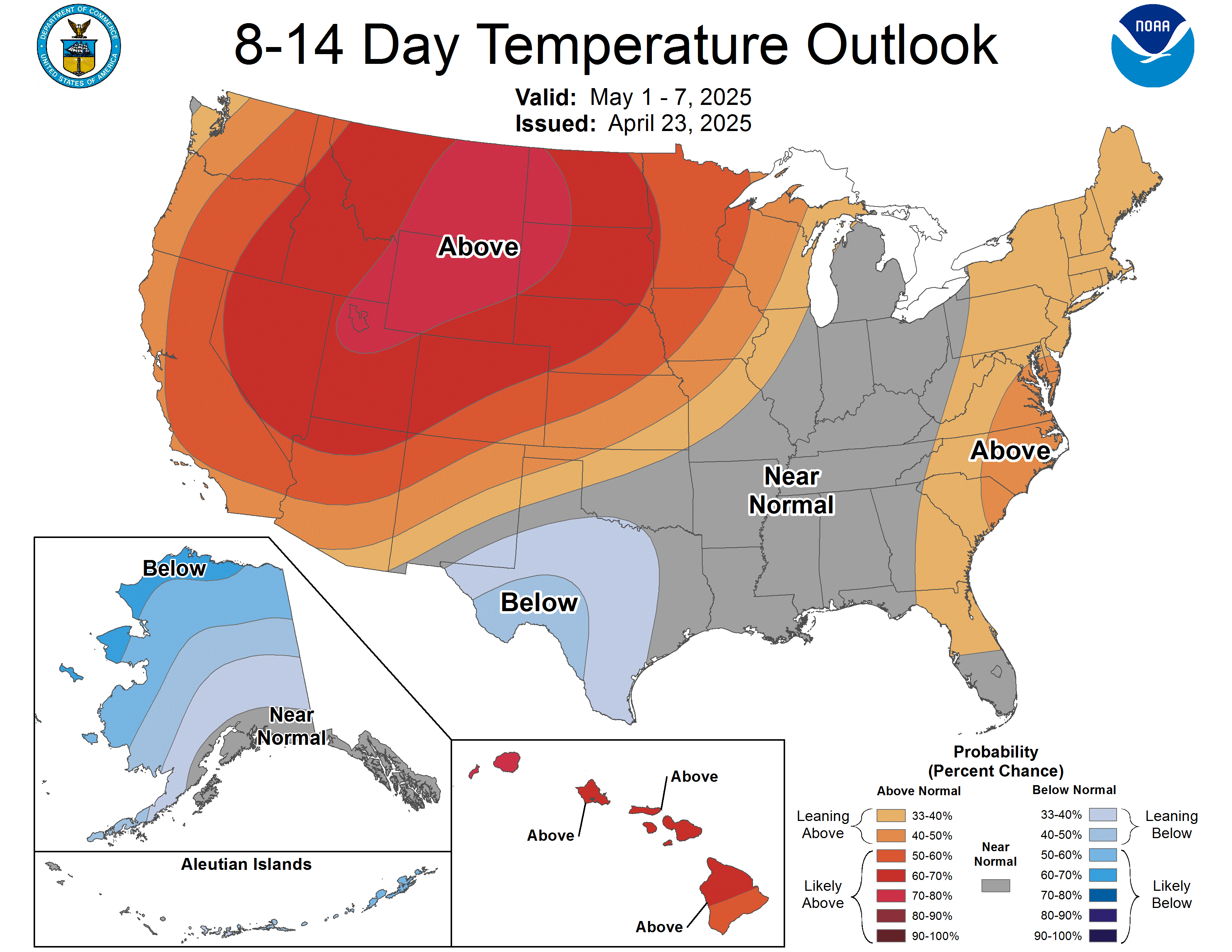 The map above indicates the highest risk of colder air…and you can see that except for the far SE part of the US and the SW part of the US…we're not looking to great. There will be a day or two of more tolerable weather in there…but overall the 1st 10 days of April look to trend colder on average.
With that chilly look to the pattern into April…that probably means a somewhat "slower" start to tornado season in the southern Plains states…we're behind average (a good thing) right now…
104 so far in 2018 vs 194 on average.
Last year had a busier start to the season with some bigger outbreaks in late March and early April too.
Finally a look at how much snow has fallen nationwide this season…here in KC we're had 5.8″…nationally look that the snows back east and into the SE part of the country…
and a look into the middle part of the US…via IA State.
and some more specific numbers of the eastern part of the US…
Here is another look at the US as a whole…
Our feature photo comes from Matthew Reinschmidt via Twitter…up towards the Liberty area…
I'll probably take a blog day off on Wednesday.
Joe