Joe's Weather Blog: A damp day…but a nice weekend (WED-4/25)
This will be one of those days where doing something inside will be the best route to go. Not that you haven't had a million of those this spring already…but there is a payoff coming and that's more rather nice Spring weather over the next 5-6 days. Temperatures are going to be very pleasant…and next week looks more Spring-ish, but with that comes an increasing risk of storms…how that exactly plays out and whether or not we have to start to concern ourselves with severe storms remains to be seen…
---
---
Forecast:
Today: Gray and wet with highs in the 40s
Tonight: Chilly with lows near 35-40°
Thursday: Mostly sunny and pleasant with highs well into the 60s
Friday: Nice with highs well into the 60s
---
---
Discussion:
Rain today will be intermittent…and not overly heavy. Radar is below…
There is an upper level wave spinning through central KS this morning…you can see that in the model forecast data.
This wave will move towards SW MO tonight and away from the region.
Aside from a weak cold front later tomorrow…not much coming our way through the weekend…temperatures will be gradually warming up as well into next week too.
So far this April…temperatures are running 9° below average. This is the 2nd coldest April in KC weather history (so far) and it will be interesting to see where we finish the month after next Monday.
I wanted to take a look at 1983 in particular…since that currently is number 1 in terms of coldest Aprils. Odds are it stays that way too I think. Anyway…what I wanted to see back in 1983 is what happened in May of that year (May 1983).
It was another cool month.
I hate that they use green for their temperature anomalies…but it is what it is. It was cool though…not only here but through the Plains states.
Much of the country was chilly as well.
Here is another perspective with some prettier colors…that was one cool month of May nationwide.
As we say…past performance does NOT equal future results necessarily.
For what it's worth…the latest longer range forecast models show May has an increased chance of being above average for not only temperatures but also rain.
Temperatures…(probability forecast)
and rainfall…
The news isn't as positive for most of TX.
We'll see how this all plays out…I'm not the greatest fan of this model. Although it did pick up on the "coldness" of April in late March when it was cranking out forecasts during the last week of March.
It does appear that the 1st week of May should be milder than average mostly…
As May gets going we will see an increase in thunderstorms and also the risks of severe weather, not only here in KC but through the Plains states. Today OK will set a record for the latest date of NOT having their 1st tornado. Tomorrow they will break it. The record goes back to 1962. Important to note about these records…spotting tornadoes has come a LONG ways since the mid 1990s. There weren't a lot of folks out there looking for tornadoes back in the 60s and 70s. So this record should be taken (somewhat) with a grain of salt in my opinion. With that said though it is pretty impressive!
Another record that may be broken is the fewest tornadoes in April there. The record is 2 in 1988. There may not be anything there through the weekend.
Gulf moisture will be returning to the Plains however next week…so that is one of the main ingredients, combined with the heat, to get things going. Now we'll see how some upper level energy comes into play…where the cap sets up and how residual clouds and rain-cooled air from previous storms influences the various set-ups next week.
Where KC comes into play is far too early to speculate at this point. We should have a better chance of something on Tuesday of next week. Beyond that…we'll see.
Climatology says the southern Plains in particular get rather active…take a look at the risk of ANY type of severe weather.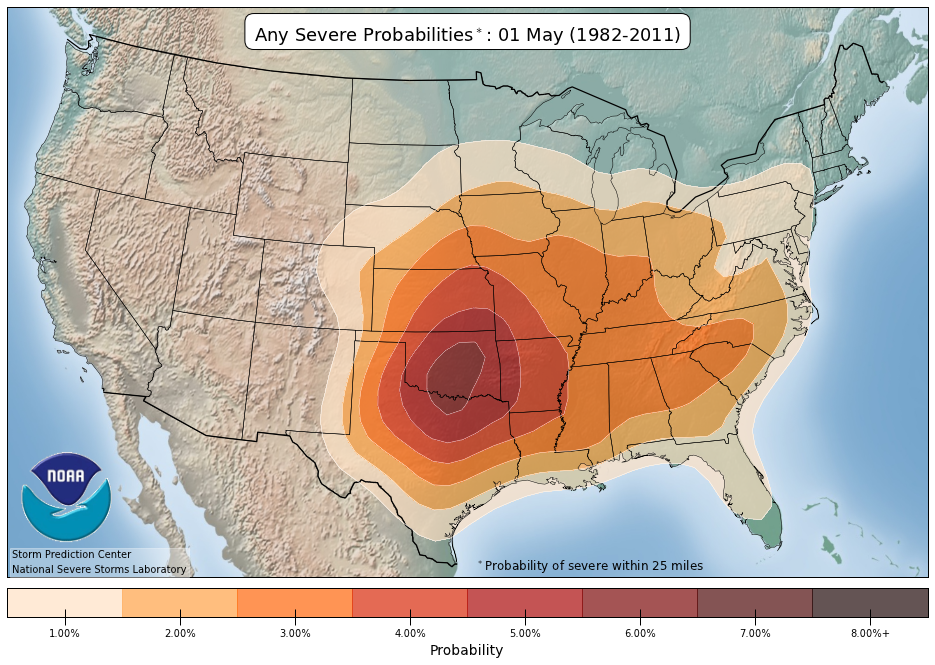 This area gradually migrates north through early June into the Plains states…
So that by the middle of June…the central Plains are targeted.
The maps above are averages obviously…
Locally in KC the tornadic risk sort of maxes out around the 3-4th week of May into the 1st few days of June…which makes sense,
Rob Reeves has the feature photo today from Olathe yesterday
I've got a bunch of things going on tomorrow…I may be able to get a blog update done in the morning before lunch. We'll see.
Joe