Joe's Weather Blog: The leap into Summer (WED-5/9)
I think there was a Spring…wasn't there? I mean for a few minutes at least…right? This weather has been fascinating. The 1st 8 days of April were the coldest in KC weather history…the 1st 8 days of May are the 12th warmest.  Almost 37° warmer, on average, each day compared to April. The problem with that is that we've made a jump from Winter to Summer just like that. The mornings are nice but the A/Cs are humming pretty good in the afternoon and evening around my house at least.
---
---
Forecast:
Today: Mostly sunny and warm with highs 85-90°
Tonight: Fair and mild with lows in the 60s
Thursday: Partly cloudy and warm with highs well into the 80s
Friday: Highs near 90°
---
---
Discussion:
This is a bit weird I must say. It's been a warm start to May…and it's going to stay "generally" warm for quite some time it appears. There will be some weak fronts coming through…but nothing overly dramatic. It appears that we've seen the end to the frosts and freezes till next fall.
Nationwide this is the warmest start to May since 2015.
Meanwhile we're just looking back at April and laughing.
Granted the color tables are different but this month is soooo much different (so far) than the way April started.
We did get moisture earlier in the month…some 2+" or so…but May NEEDS to be wet. We get, on average, over 5″ of rain this month (5.23″) and June matches it as well.. So we typically need to "make gravy" now before the summer rains get a bit more chaotic (on average).
There are some chances over the next few days…but nothing really to hang one's hat on at this point. There is a weak cold front that will be dawdling across N MO especially into the weekend…so that will need to be monitored. The folks at SPC have a slight risk of severe storms in far NW MO for Friday evening. There will be some strong instability aloft on Friday…but there also may be capping issues too below that instability
and the cap may be an issue into the weekend as well despite the front being nearby and gradually washing out somewhere in the region. It would be unusual for this to happen without getting rain in the area, in my opinion. So let's watch the trends, especially for Mother's Day.
On the subject of severe weather…with the cold temperatures in April knocking down severe weather occurrence and a lack of real "flow" so far in May keeping severe weather concerns low to start the month…it's been a real slow start to the accrual of tornadoes so far in 2018. This map should get updated in the next few days…it's about 2 weeks old now…
The trends map though are updated..and the trends, so far this season, are rather low for tornado counts. The baseline is the number of tornadoes from 2005-15…and so far this year…we're just above 300
Average is over 550.
So from that standpoint…things are "good", I guess.
May though is the most active month for tornadoes…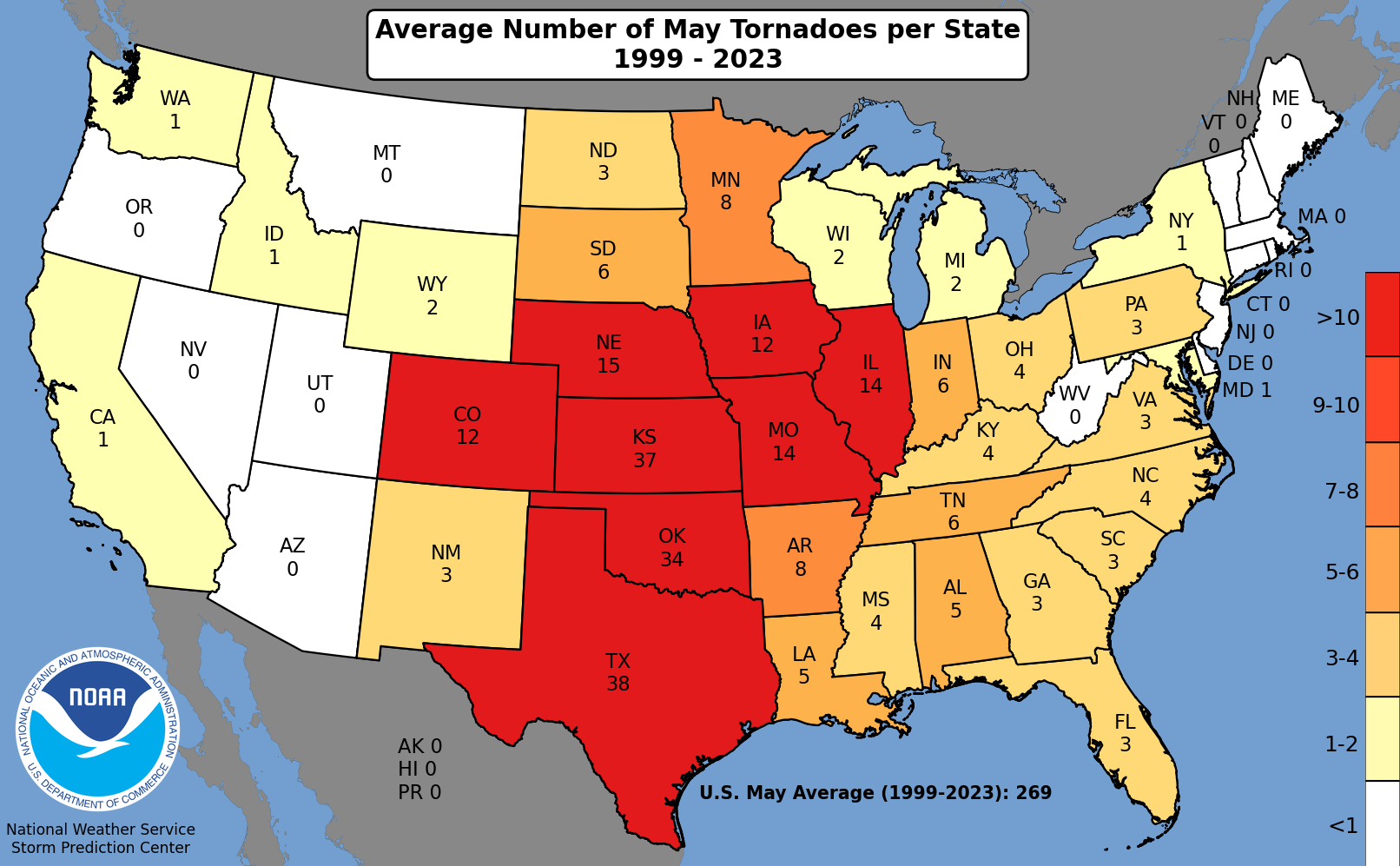 It's not that June is "quiet", actually around here, we've seen some pretty decent outbreaks of severe storms into June as well over the years.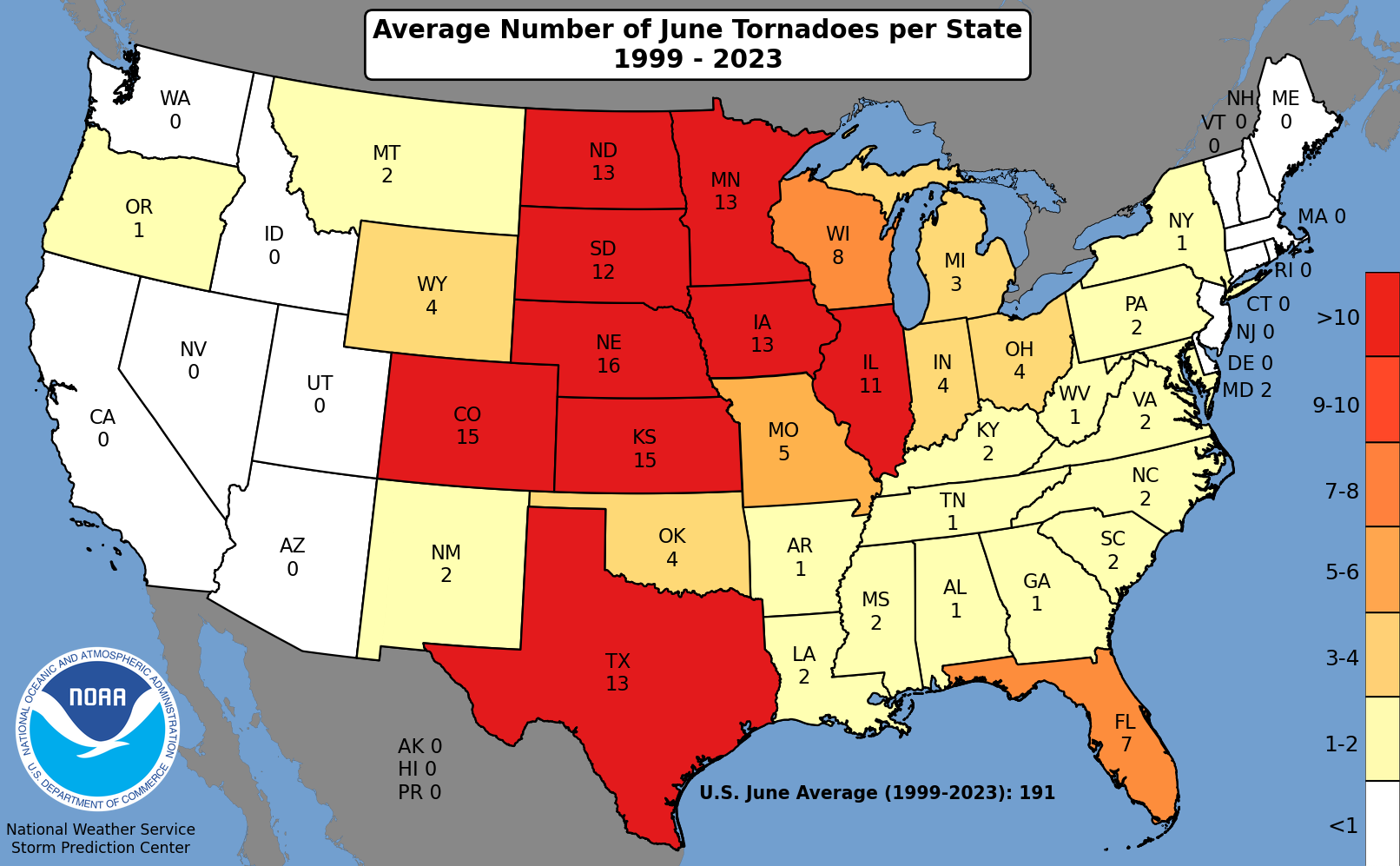 There is no doubt though that after having a late season running the furnace, now we're flipping to an early season running the A/C.
Right now, at least for the next 7-10 days, there are NO signs of any major "outbreak" type set-up. Let's see how, or even IF that changes after the weekend. I'm a bit suspicious of something happening somewhere in the Plains next week.
Our feature photo comes from Mason Rose…a student at North Platte HS…took this shot a few weeks ago.
Joe