Joe's Weather Blog: Heat bursts…heavy rain…summer heat…tornado? (SUN-5/20)
Good afternoon…yesterday ending up to be a mess in the atmosphere…this was blogged and talked about on the news in the morning and also in the blogs…the atmosphere doesn't do well when it's messy…sometimes you need things up there to really click together and the morning rains from Saturday and the various ways that rain altered the atmosphere around us ended up killing the bigger threat of severe storms…but…
There was large>severe storms on the KS side…as a matter of fact a rather pronounced wall cloud was reported with a storm in Douglas County. Karli and I were watching that on radar…that would be the 1st step to tornado formation (in a sense)…it really wasn't rotating though (2nd step)…it didn't produce a funnel (3rd step) and it didn't produe a tornado (last step).
It did produce some larger hail though near Emporia (golf balls) and into Douglas County (slightly bigger than quarters). All told there were 7 severe thunderstorm warnings issued from the NWS in Pleasant Hill with additional ones coming from the Topeka office. So something happened…but it just didn't really happen in KC proper, aside from dying rains in the Metro.
Earlier this morning…before 1AM up in Sullivan County, Glen Briggs (from Trenton) alerted me to some damage reported up there. He felt as though a possible tornado had hit up in northern MO. Looking at radar…it certainly is possible. The radar beam shoots very high into the sky by the time it gets from Pleasant Hill to northern MO…we really need another radar site in NE MO to cover the bases up there. The beam shoots so high because of the curvature of the earth. Anyway…I went back and looked at the radar data via NEXLAB and grabbed this gif for you.
Interesting…some damage was reported as well.
Meanwhile something else happened yesterday…a somewhat unusual, timing wise at least, heat burst. This was felt in parts of Jackson County and Lafayette county as some dying thunderstorms around 11:15-12 PM were moving through. Nick Vasos 1st alerted my to this possibility. I checked the data from the airport in Lees Summit and sure enough…note how the temperature goes up then goes right back down. Also note how the winds increase and the dew points go down.
date/time/temp/dew point/wind direction/speed/gusts
Sure enough…a spike from 66>76° then a drop to 69° between 11>12PM…interesting.
I also received an email from the Higginsville area about the same type of phenomena…so leave it to me to dig into the data to confirm the event.
So what creates a "heat burst"? Well 1st you need to have dying thunderstorms and you also need some warm/dry air in the middle part of the atmosphere. The moist air in the top part of the thunderstorm is falling down towards the ground and moves through the warm/dry air…it starts to evaporate which makes that air even cooler and it falls even faster BUT in certain situations ALL the moisture is evaporated and it stops cooling off and then it starts to warm up as the air falls and compresses. Then this warmer and drier air comes towards the ground causing the temperature spike and the dew point fall.
They typically occur at night and OK sees a lot of them during the late spring and summer when storms are decaying. A daytime event is somewhat unusual. We've had nighttime ones in our area before but I don't remember too many daytime events. You can get some 50-100 MPH winds from these events…and all of a sudden at night the temperature can spike to close to 100° in rare cases.
Today is a special anniversary and perhaps the most significant single day weather event to happen to at least part of the KC Metro area occurred on this date in 1957. This is the anniversary of the Ruskin Heights tornado. On the ground for 71 miles…starting in Williamsburg, KS…it carved a path, at times, 7 football fields wide. It killed 44 people, mostly in MO and injured over 500. At the time it damaged over 2.5 million dollars worth of property. Something like that today would do many more millions in damage perhaps, due to development since then.
Graphic via NWS in Pleasant Hill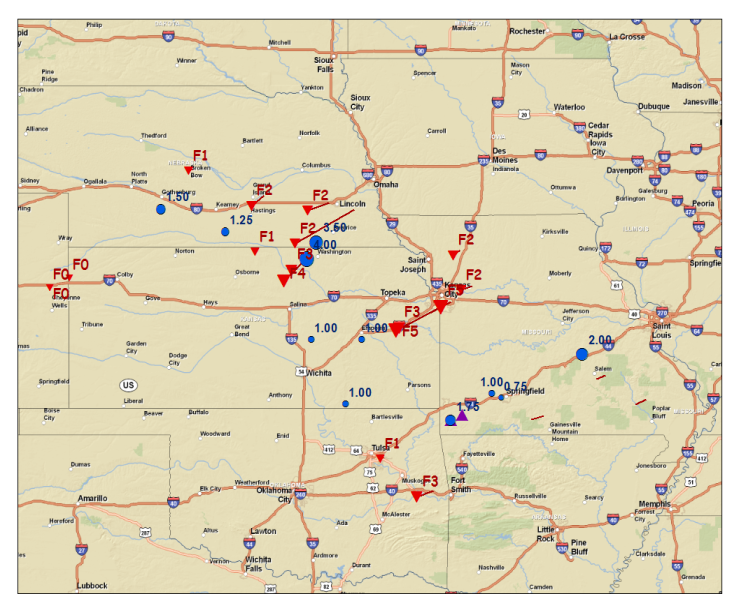 Here is a great article about the event put together by some colleagues at the NWS in Pleasant Hill, MO.
Another warm to hottish week is on tap. Monday looks the most pleasant…there may be some storms around on Tuesday AM, especially in N MO and from there it turns into summer again. We're into the wettest time of the year for the next few weeks so it should take a lot of effort to get rain around these parts but there are no strong signals at this point for anything overwhelming. As we saw this morning though you can get dumped on with little subtle features that really don't show themselves till about 12 hours before they hit an region…so let's be cognoscente of that over the next 5-10 days.
That's it for today…I think I'll take a blog day off or two on Monday and Tuesday.
Our feature photo is from Tami Camlin from yesterday on the northside of KC
Joe