Joe's Weather Blog: Cleaning off the desk time (THU-5/24)
Good afternoon…another toasty day in the KC area with temperatures well into the 80s. This obviously has been a crazy warm month so far and there is no real end to the unusual warmth over the next 5-10 days or so. There may be a day here or there with some slight relief IF we get more clouds or additional rains in the region but there is nothing really glaring in terms of higher coverage or cooler temperatures showing up right now.
So every so often I take a few days off from the blog when there is nothing going on weather wise to fill this space. I don't write short blogs, as you know, and waste your time…so things have a tendency to pile up. Various things really…tidbits…perhaps about KC…perhaps about other things that cross my mind. Usually things pile up in my twitter feed that I want to bring to your attention. So that's why today's blog is called "Cleaning off the desk". It's a way for my to get a bunch of stuff out there. First though the forecast…
---
---
Forecast:
Tonight: Fair skies and muggy with lows in the 60s
Friday>Memorial Day: Hot and humid with temperatures near or above 90°. The thunderstorm risks each day are pretty low but since the pattern says summer there could be some random stuff around in the later PM or early evening hours. The exception is that Friday may bring some increased activity in the area but the data isn't that overwhelming today. IF we get some additional rains on Friday that would hinder the highs and perhaps keep up a bit less hot.
---
---
Discussion:
1st radar for today. the Pleasant Hill radar has been down since WED afternoon…their doing some work on it…installing new hardware and software I believe…so let's show you Topeka radar…because there are bubbles of storms out there.
HRRR short term model has this…via IA State.
Onwards…
My goodness this month…here you go.
The tweets above are pretty startling to see how May has gone at least.
There are no real signs that it's going to change anytime soon…as a matter of fact it's going to get hotter it seems before any relief occurs (for more than a day or two). The problem with that is soon we'll be flipping the calendar to the month of June when it gets hotter anyway.
It's worth noting some record highs as we finish the month of May…just for the heck of it.
5/26: 92° (1985)
5/27: 94° (2006)
5/28: 93° (2006)
5/29: 98° (1934)
5/30: 103° (1934)
5/31: 102° (1934)
Need to watch those on the 26th>28th…we may get awfully close.
Meanwhile…let's get into the randomness of the blog…and I'm going to start out with some not so good news that's been circulating for the last few days.
Remember this launch back on March 1st?
Well as the saying goes…NASA we have a problem.
The satellite has a rather significant malfunction to the main imaging instrument. The good news is the "visible" pictures are still working…the bad news is that the "infrared" pictures aren't. The issue stems from a cooling system problem that helps out with the ABI (Advanced Baseline Imager). Since these instruments can get hot…they need proper cooling to function correctly. This imager is sensitive to light in 16 different wavelengths. 3 of them are OK…the other 13 are not right now. Here is some additional inforamtion via Spaceflightnow.com…
"Detectors for the infrared channels must be cooled to around 60 Kelvin (minus 351 degrees Fahrenheit) to make them fully sensitive to infrared light coming from Earth's atmosphere. For about 12 hours each day, the cooler inside the Advanced Baseline Imager, or ABI, is unable to chill the detectors to such cold temperatures, officials said.
Infrared images from weather satellites are used to monitor storms at night, when darkness renders visible imagery unavailable. The three visible channels from the ABI are not affected by the cooling problem.
"The other wavelengths, the near-infrared and infrared wavelengths — the other 13 — need to be cooled to some extent beyond the capability of the system at present," said Tim Walsh, NOAA's program manager for the GOES-R weather satellite series. "There's a portion of the day centered around satellite local midnight where the data is not usable, and that's what we're addressing."
This is a problem with more ramifications including the fact that a lot of the infrared data is also fed into computer models…which won't help the cause down the road at all.
Now I know what you might be thinking…well let's launch a space shuttle up somewhere in the future…do a spacewalk…and replace the part. You can't. Why?
Because the satellite orbits the earth more than 22,300 miles up. The space shuttle only goes on average about 250+ miles up. That's about a 22,000(!) mile difference! So that though (a good one) won't work. 
So basically IF NASA can't figure this stuff out with various work-arounds and software attempts at a fix/solution…this satellite will not be performing at near it's capability. It cost about $225 million to launch that satellite + about $350 million to build it (along with 3 others-one of which is just fine and we use it every day). That's about a $600 million floating around up there…not doing everything it's capable of doing. Meteorologists shed a small tear (maybe a bigger one for some) when news of this came out the other day.
The area that will be most affected is towards the western US into HI and AK. This satellite was a big deal for them…still is…but now apparently degraded.
NOAA today came out with their hurricane forecast…
There is a system now trying to organize into "soomething"…perhaps Alberto over the weekend.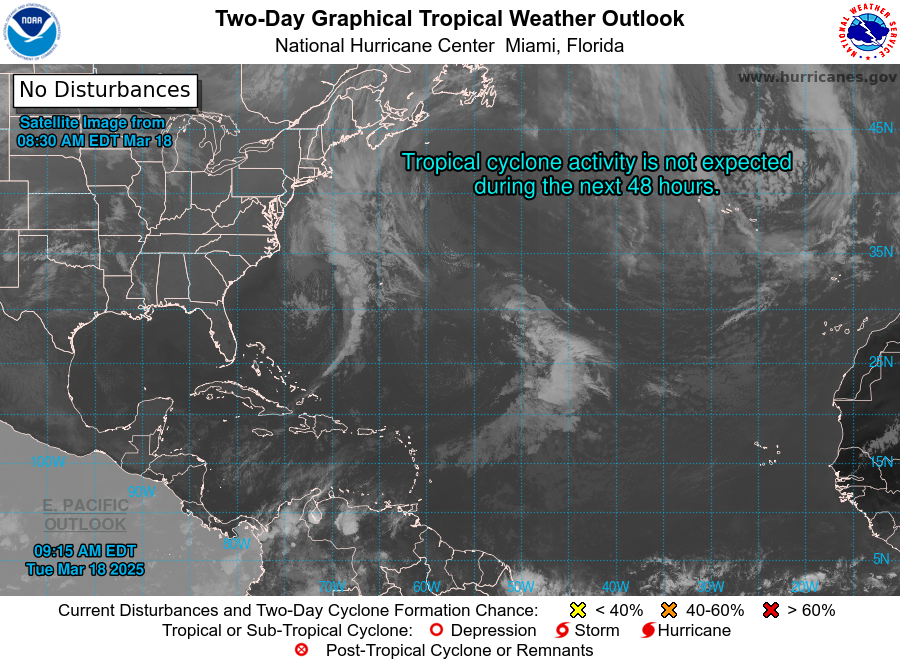 It's off the coast of Cancun Mexico. Regardless of what strength it has or doesn't have…the rain is the main thing with this…and parts fo the Gulf Coast are going to see a lot of it.
The EURO through WED of next week is cranking out in excess of 15″ of rain for some areas down there.
Meanwhile the lack of tornadoes nationwide is rather amazing. This is also especially true for EF4 and EF5 tornadoes. The lack of EF5's overall isn't shocking because typically there are only a couple each season…but the last time there was an EF5 tornado was back on 5/20/2013 (Moore, OK). The record between EF5 tornadoes is 8 years (May 1999-2007)
Speaking of 2013…that's the last time there were so few tornado reports through 5/23.
OK…I'm over 1000 words…so that should tide you over a bit. Another update tomorrow afternoon
Our feature photo is from Wade Welch…showing a nice cumulonimbus cloud out there yesterday…there are more out there this afternoon. Here's hoping you get some rain.
Finally this tweet has aged well…this was from Sunday night when I thought that the rains would be so isolated through yesterday that it wasn't worth getting people's hopes up. I was highlighting tomorrow (FRI) with the best chance of rain…hopefully that part of the forecast works out!