Joe's Weather Blog: Enjoy the brief break because the heat will quickly return (SAT-6/30)
The last day of the month will feature another day  with temperatures at or above 90°. This will be the 15th day of the month…half the days at that criteria. Impressive. It will also be the 21st day with temperatures this year 90°+. That too is impressive when you consider that we have, on average, 41 days each year that we reach that criteria. It's a grinding annoying heat that makes most want to stay inside all day. I've got most of the afternoon off and I don't know what to do. Usually I'd go hit some golf balls at the range. That doesn't even sound good right now.
---
---
Forecast:
Rest of this afternoon: Variable clouds with isolated storms possible. Heat index values near 100°. Actual temperatures closer to 95° with some hotter spots.
Tonight: There is a small risk of some evening scattered storms (keep an eye on radar). Then mostly dry through 2AM or so with storm chances after that. Lows by daybreak near 70°
Sunday: The better rain chances are till about lunch then not as hot but still muggy with highs well into the 80s
Monday: Not bad in the morning then hot and muggy in the afternoon with highs near 90°
---
---
Discussion:
Half the month we've been 90°+. Actually that isn't that much compared to  1952/53 when we did it 24/22 times in the month of June.
Heck in 2016 we had more days with highs 90°+ in the month of June. This does does us with the infamous 2012 drought year though…interesting.
So there are plenty more 90s coming. We should fall short tomorrow…then make a run on Monday back to 90° then be solidly into the 90s next week.
More on that aspect tomorrow.
Meanwhile my focus today is on the cold front to the northwest of the region. It's probably more like a stationary front right now…waiting to get a shove south as new storms develop later today and tonight and generate some cooler air pushing the front southwards in time. The front may not make it to the I-70 corridor till Sunday morning though.
NW of the frontal zone…that is some decently cool air. We'll briefly get into that tomorrow and IF we have enough lingering clouds tomorrow…we may only be in the 80-85° range but IF the sun comes out quicker…we'll be closer to 85-88° I think.
The rain/storm aspect though is the most vital part of this because the forecast is very dry into next weekend AFTER tomorrow morning it appears.
The issue is the timing of the storms and what potency they'll have when they get into the area tomorrow morning.
Some of the short term model data (the HRRR model especially) is rather persistent on latching on to some sort of disturbance coming up from the SW this evening. As I look at the water vapor data…I see maybe one or two waves. One for sure in western TX…and possibly another one in western OK moving towards the NE. It's possible the model has grabbed onto these waves. The temperatures this afternoon will be in the 95-100° range which is would be enough to erase the cap in place right now. One indicator that some storms will be possible (or not) is IF you notice bubbling cumulus clouds developing later this afternoon with increasing vertical development. IF you notice that…it could be an atmospheric signal that the HRRR is onto something and that there could be some scattered activity in the 6-9 PM hours this evening, especially on the KS side. Here is the HRRR model and let's see how well it ends up doing.
The models really have issues sometimes figuring things out when we get into these convective situations.
The area that is still most favorable for bigger storms is towards northern MO and perhaps NE KS as well.
Stronger winds and perhaps some hail are the main issues it appears. In a sense, for those who want the rain in KC, we need more robust activity to develop up there to have a chance of being a bit more robust when it gets to us.
IF this were to all happen before 12AM…I'd be more optimistic…but the rain timing into the Metro may be more towards the wee hours Sunday through Sunday AM…and that is when the instability will be dramatically less than before 12AM…so that's why I don't want to get too crazy promising a lot of widespread rain yet.
The atmosphere, as I've written about for days now, though will be swollen with moisture overnight into the wee hours of Sunday. This is a good thing for rain lovers. It means that IF you're in the right spot you can get dumped on with over 1″ of rain. My thoughts right now are that most won't get that though…some will but many areas may be more in the nothing to 1″ range.
Again aside from perhaps some random stuff Monday night or early Tuesday that may do it concerning the rain for awhile again.
I don't typically have a ton of faith in any model, in convective situations at least in the long term…but as a point of emphasis let's break down the GFS model in 5 day increments over the next 15 days with rain totals.
Now through Thursday AM
Not a lot of the KC region. This is a plausible scenario if the rain tomorrow AM is not decent.
Thursday>a week from Tuesday (the 10th)
There seems to be a blow-up of perhaps 1 storm on the SW side of the metro…good luck with that.
Then finally from the 10th>15th of July…gulp.
So when you see this forecast for the 3rd and 4th week out…it's somewhat concerning…showing the probabilities of less than average rainfall for the mid>end of July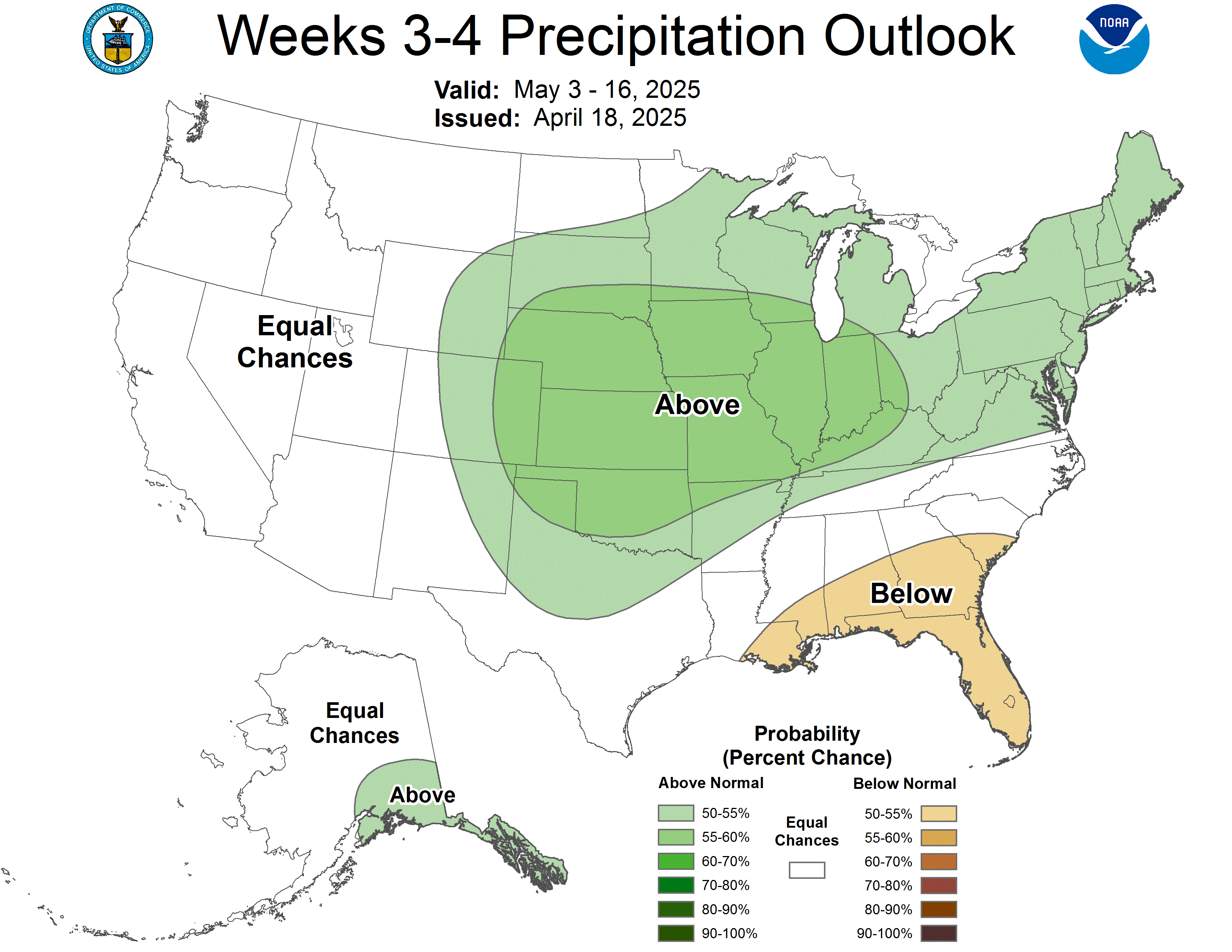 Again one big thunderstorm complex will make that forecast for the KC area mute in a few hours…but I wanted to show it to you at least.
Our feature photo comes from Bridget Evinger‎
Joe