Joe's Weather Blog: The ups and downs of summer (MON-7/2)
It's one thing for May and June (combined) to be the 2nd hottest in KC weather history…but now that July is here…it's supposed to be hot…and it will be this week. I'm not expecting any extreme heat…the lack of 100° readings at KCI should continue for the foreseeable future…the the return of the heat and humidity will be an issue once again. The highest should be around 95° and I'm hopeful for a retreat in those numbers later in the week and into the weekend. Rain opportunities will be there…no promises though.
---
---
Forecast:
Today: Mostly sunny and warmer than yesterday, Highs around 90°
Tonight: OK but muggier with lows in the 70s
Tuesday: Toasty and muggy with highs in the lower 90s and a heat index near 100°
Wednesday (the 4th): We should max out on the heat with highs in the mid 90s
---
---
Discussion:
Not sure I can add a lot today, that I didn't write about yesterday. It's actually a pleasant morning out there with lows down into the mid 60s. Dew points are tolerable for early summer but will be increasing as the day and especially as we get through Tuesday. That will make things feel more uncomfortable and that isn't unusual for early July.
Now that we're really in the summer mode…we start chasing those random storm chances as well. Sometimes they are in abundance…other times they're more isolated. I can't really rule out isolated stuff TUE>WED…but overall dry weather is expected.
The air mass overall won't be as hot as it was last week when highs were above 100° in spots. There are 5-10° differences in the mid and lower level temperatures according to the model data, so while there may be a random 100° temperature on WED>THU…I think at this point that will be the exception rather than the rule.
There also will be a front that will be tracking close to the region later Thursday. Let's see how much punch it has as it gets to us…but it should move through and allow the hottest air to get shoved more towards the south and southwest of KC FRI>SUN. It will still be warm…but I'm hopeful for a more bearable change in the weather regime later in the week.
I do expect some rain from this front as well. Later Thursday into Friday would be our chance. We're not going to be overly capped…there will quite a bit of atmospheric moisture in the region on Friday especially, which means the potential of localized downpours again.
The problem with all this is again, feast or famine when it comes to the meaningful rain amounts. That is typical for summer around these parts. Over the weekend the area that was most targeted was just NW of KC…4-7″ feel in the Weston-Atchison area-SW Buchanon Co area. There were some heavier rains down towards Anderson Co/Linn Co KS area as well as the graphic below shows.
Model forecasts won't handle these future rains that well. There are hints about the potential, especially when looking at the total atmospheric moisture profile…but the specifics, as we saw this past weekend, almost need to be handled by the hour as things develop.
The big picture though isn't overly wet.
Here is the forecast from NOAA for the month of July…for temperatures…again they deal in probabilities…so the white areas are 50/50 and the red areas are where they think the best chances are for warmer temperatures. I'm really not sold on the best hottest risk being more towards the east though.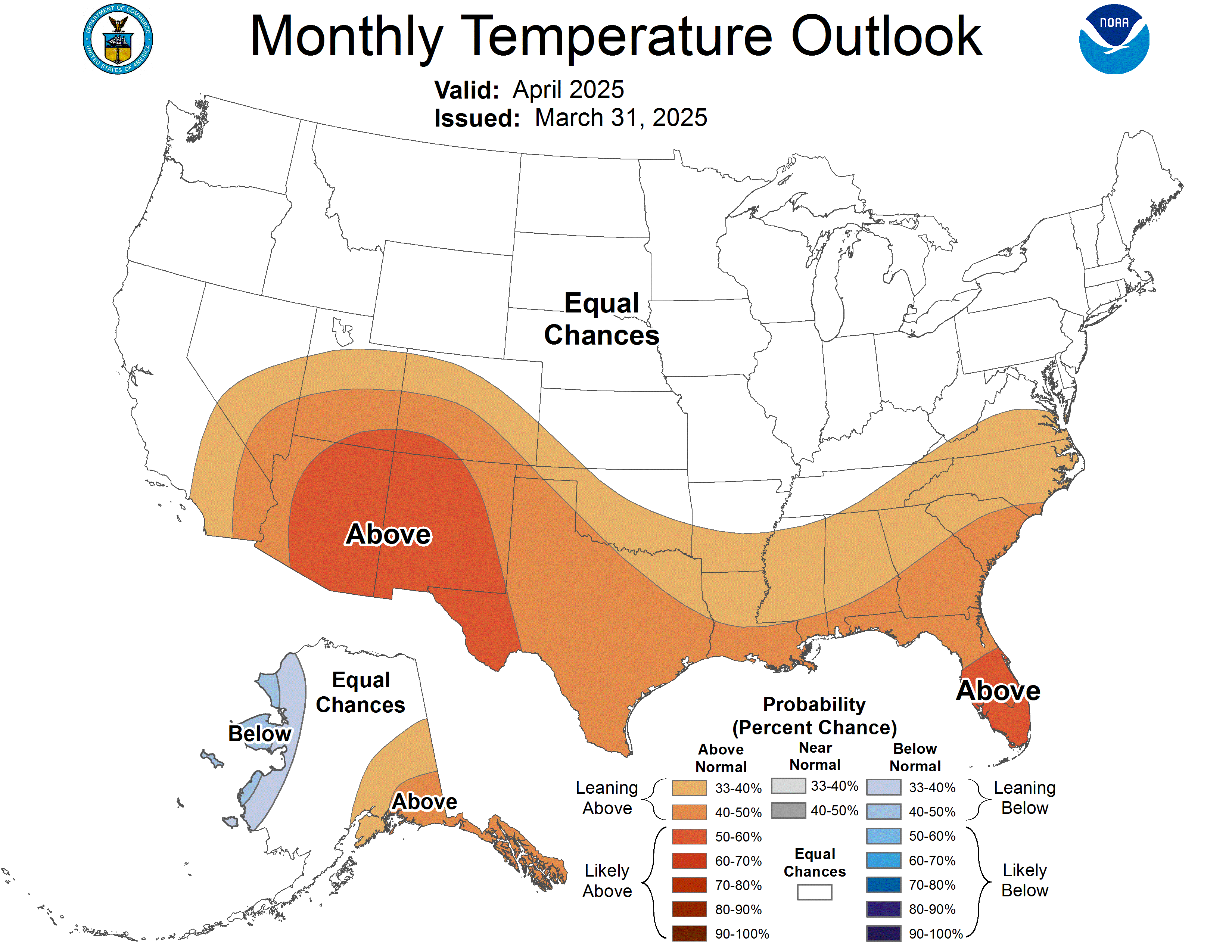 in terms of moisture…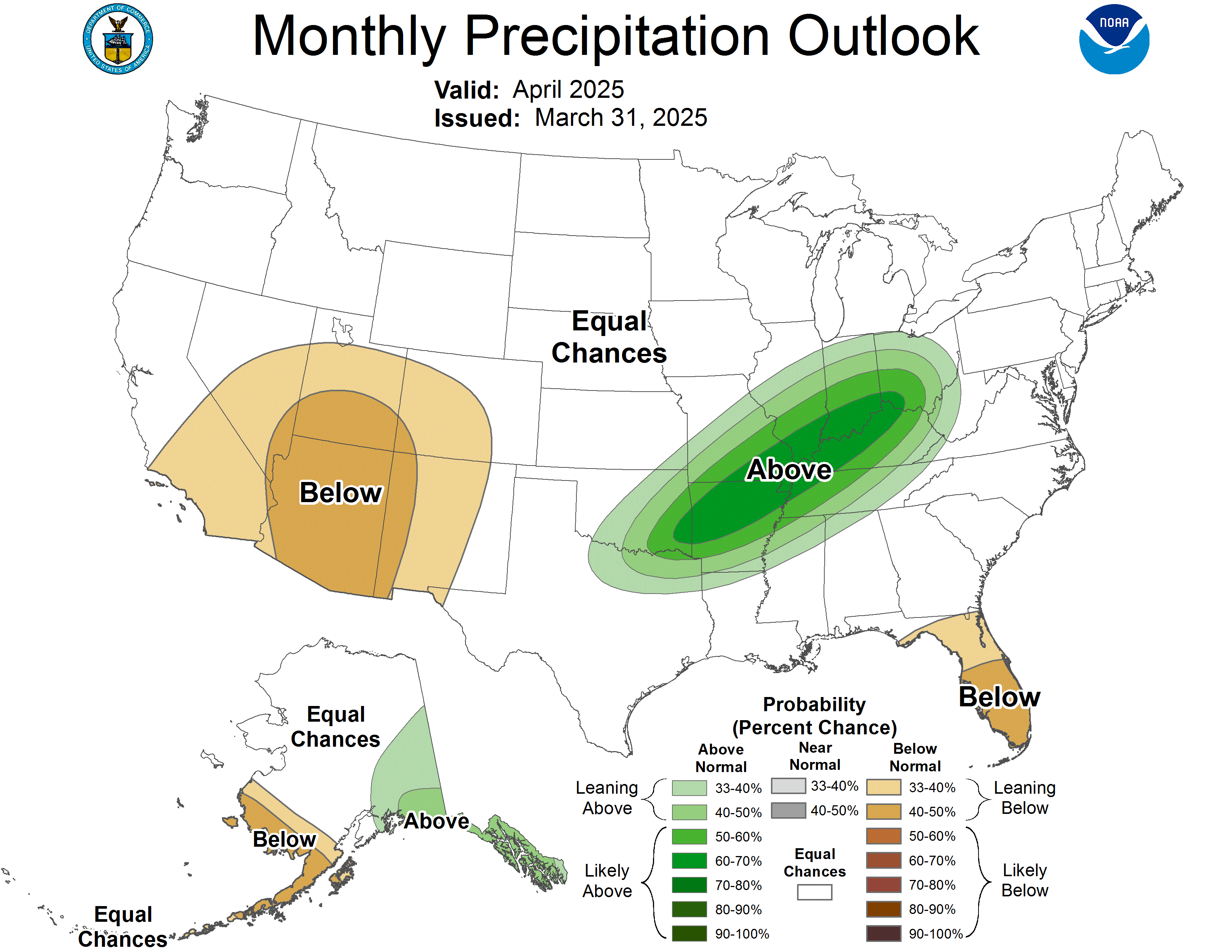 Interesting I think for the western US-4 Corners region…that would seeming indicate a higher and more fruitful monsoon scenario for them. Combined with the temperature map…my guess is that they think that the main dome of heat is more focused towards the eastern US…this would allow more moisture to come into the SW US around the periphery of the ridge on the far western side. Perhaps they're thinking about better tropical storm risks through Mexico which then feeds moisture up towards AZ and UT. I'm not exactly sure that is a great forecast…looking a the data this morning, at least in my opinion…the NE will have occasional hotter days…but they do have relieving fronts heading their way too I think through mid month. I'm also not too thrilled about the increased rain prospects for the area outlined in the SW.
Being out there last month…they need it. I'm very concerned that many areas out there are setting up for big fires (especially N AZ). So the rains would be welcome as long as they're not connected to dry thunderstorms when the rain evaporates (mostly or entirely) but lightning triggers fires.
What's sort of interesting is that IF the ridge is more centered towards the western US…which it sort of is moving towards this week…then that would place our area in a more favorable NW flow regime. When I say more favorable…it means that we would be vulnerable to at least some weak cold fronts…and also thunderstorm complexes rolling through the region as disturbances are generated in the Rockies…sparking High Plains convection that could meander our way (in one form or another).
Now we're going to take a step well into the future…but IF this map is somewhat close (The EURO Ensemble) towards mid July…it sort of shows this. We're going up to about 18,000 feet or so and looking at the main heat dome towards the western US…the main jet stream mostly along the US/Canadian border (or even farther north) and the Plains is quasi WNW/NW flow aloft.
That complex breeding area could be active…and what happens out there will role into the Plains in variuos forms…sometimes falling apart (we get fading clouds) but perhaps on occasion, with some sort of low level jet helping things out a bit…something could survive (storm/rain wise) towards us. Again it's a step into the deep dive into what the models suggest and it relies on the models to be somewhat correct in the positioning of the major atmospheric features in 15 days (good luck) but this sort of makes sense to me. There would be relief towards the Lakes and the NE part of the country too from long lasting extreme heat as well.
You can see why I'm a bit of a skeptic about the forecast from NOAA for the month of July. Something like the playout above…with the ridge towards the 4 corners, isn't too exciting for a lot of monsoonal moisture, in my opinion either.
Anyway a deep dive towards mid-month for you.
Odds are I'll be taking a blog day off tomorrow but I'll be filling in for MT through Wednesday so see you on the evening news!
Our feature photo comes from Mary Jo Seever…a nice serene lake setting.
Don't forget to follow me @fox4wx on Twitter and Joe Lauria Fox 4 Meteorologist on FB.
Joe