Joe's Weather Blog: Heatwave to settle in (SUN-7/8)
Getting ready to take some days off and spend some time with family. I will be escaping the worst of the summer heat that's about to bake the Plains region for days on end. I won't escape it all…but I will be in a part of the country up north that will get some cold fronts…so we'll heat up before the front and cool down behind it. It's a good thing because there isn't a lot of A/C's up there so the cool downs are much appreciated.
No real cool downs for the KC region for the foreseeable future. Unless some weird outflow comes down from the north…or there is a cold front next weekend at some point…it looks like a run of near 95° days upwards of near 100° days are going to settle in.
---
---
Forecast:
See fox4kc.com/weather for the latest
---
---
Discussion:
So let's start with this tidbit that puts all the high electric bills and soon the higher water bills into proper context. IF you want to know WHY you're using the A/C's so much these days…this information says it all.
Now "technically" we may be number 3 BUT the data from 1888 had some 60 days of missing information so I tossed that year…and I think you get the point.
It's hot and it's been hot…and it's not going to be "not hot" for quite some time it appears.
Yesterday I talked about the "heat wave generator" that was going to migrate into the Plains…then hang out across MO for a few days this week. The way this breaks down is IF it migrates away from the area..or IF a wave can weaken the top of the ridge and allow a cold front to nudge closer to MO/KS. Should that happen…and it needs to get south of I-80…closer to the MO/IA border…we can then generate storms that hopefully give us either clouds or outflow boundaries to generate additional storms.
Something like this COULD happen next weekend but I'm NOT overly optimistic at this point.
I still think the ridge wants to be more focused into the western 1/3rd of the US and at some point we'll teeter into the NW flow regime again…hopefully opening the door to t/storm chances…but goodness…no strong signals for anything like that anytime soon…through the 15th at least.
So this longer term forecast of probabilities of above/below average temperatures looks about right to me…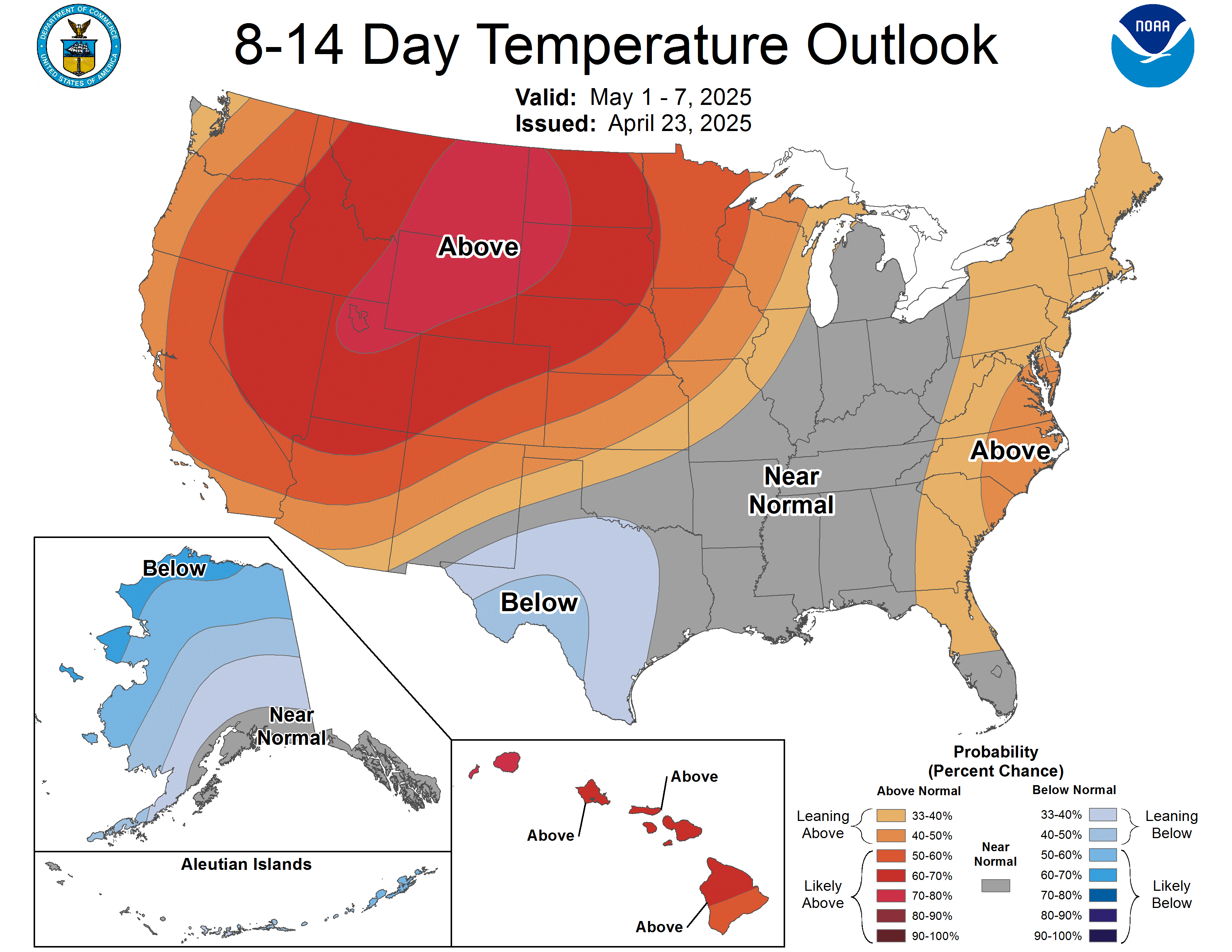 I've got nothing else for you really…only so many ways you can talk about the heat right now. Hopefully there are some random storms between Tuesday and next weekend. Stay hydrated and remember that Christmas is only about 170 days away!
You can reach me via twitter as usual…and I may cobble together a blog or two if I get motivated in some down times since I'll have my computer with me this time…till then…
Joe