COLON, Mich. — A man has started his own Uber ride service to accommodate Amish riders in Michigan. That Uber is a horse and buggy.
Business owner Timothy Hochstedler named the service "Amish Uber."
He takes riders around St. Joseph County, Michigan, for $5. Hochstedler said he and his four-legged pal are cashing in on the ride hailing craze.
"Uber is a cool thing, every single year something new comes in and Uber is hot right now, so we have the Amish Uber. We can deliver people to their front door steps," the buggy driver told WWMT.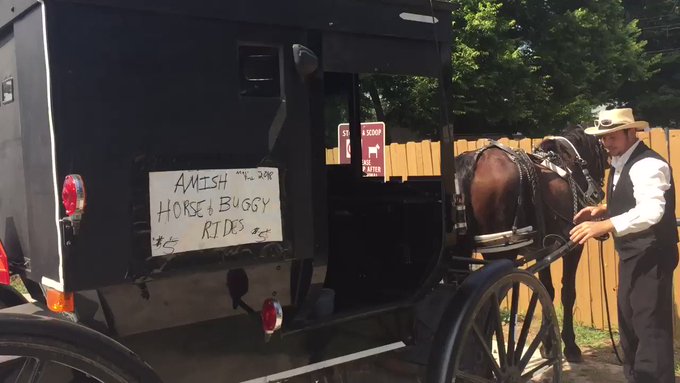 The city of Colon is about 40 miles southeast of Kalamazoo. Colon doesn't have any regular ride-sharing services in town.
Hochstedler doesn't work for the popular ride service Uber. He isn't on any smartphone apps. Customers flag him down like a taxi. As an added perk, customers are allowed to pet the horse.
"He loves people. He's a Morgan. A Morgan is a people's horse. They love giving you a kiss or whatever," Hochstedler said.
Colon has a population of 1,173, according to the 2010 census.
The city does have a small, but thriving, Amish community. St. Joseph County/Centreville has the largest and oldest Amish community in Michigan. About 1,500 Amish live there; the settlement was founded 100 years ago.
Amish businesses and vacation attractions are found throughout Michigan. Businesses include anything from making furniture to bakeries.