Joe's Weather Blog: Blizzard Warning in effect for KC Metro! (SAT-11/24)
Now before you raise your eyes at the title of the blog…hear me out. We're trying to predict a snowstorm whose main component…the snow…doesn't really exist yet. Sure there are some areas of snow developing in the Rockies now…but the real part of the storm for us doesn't exist as I type this blog. We're trying to also predict where the heaviest part of the storm will go in terms of snow production…and that heavy part will have 6-12″ of snow in it…and we have data that shows that heaviest part roughly in a 1-2+ county wide band that could set up anywhere from St Joe eastwards or Topeka eastwards or perhaps even a nudge farther south. we're trying to decide the path of a surface low pressure area that will wobble 50 miles in model runs north or south..and that north or south wobble basically either puts the Metro in the heaviest snow band or a much lighter snow area. Oh and our viewing area covers more than 40 counties and about 1.5 million of you live in about 6 counties where the dividing line may set up. So if you're getting somewhat frustrated…think of your local meteorologist. Finally this won't really reveal itself fully till after daybreak. Yes some of you may not even see a flake of snow from this…yes some of you will need some serious snow plowing/shoveling to get out of your garage and yes the winds will be blowing at 40 MPH mph blowing the 2″ or 12″ of snow all over the place making it impossible to measure to begin with.
Its frustrating and exhilarating at the same time…but tomorrow is such a heavily traveled day…folks going from place to place it's been tough to nail down. By know though…if someone says…I didn't know this was coming…I can't really help you. This has been talked about for a week…we've known about the potential..we've told you that this storm was a bit unusual in a sense…we've discussed the variance of 50 miles either which way…you know that…others who aren't as weather savvy as you hopefully watched the weathercasts and know that as well.
---
---
Forecast: Updated at 10PM
Tonight: Cloudy but remaining somewhat mild for most of the night…lows near 40°
Sunday: Blizzard Warning in effect for KC Metro! So much is going to happen before 12PM…falling temperatures from the 40° mark to the 20s…some rain (not a lot) changing over to a brief wintry mix before a full changeover to heavy snow…winds which will be increasing to 40 MPH in gusts…maybe close to 55 MPH…and finally dangerous travel conditions……accumulations look to be 3-6″ (some upside) for many areas of KC with 1-4″ on the SE side of the Metro and 6-12″ with 3 foot drifts (or more) in NW MO and NE KS…basically near and north of 36 highway.
Sunday night: Clearing out and breezy but not as windy as the day. Lows in the teens
Monday: Mostly sunny and cold with highs near 30°.
---
---
Discussion:
So as you know we've been talking about the track of the storm for the last several days…and how it would be critical to how much snow we get…that is still abundantly clear. No change to that…the issue is that we had about a 50-75 mile "cushion" in thinking that the heaviest snows would be somewhat (just barely) north of KC…along the US 36 corridor region…well today's data has that cushion down to about 25 miles…and it continues to not surprise me in the least.
The models are going to wiggle and wobble and as I've said before to say "we're into the heart of the storm" or "we're escaping the worst" from days away is fools gold in my opinion.  You can talk trends but to be absolute is nuts…not with this type of storm…not with these types of dynamics and not with this plunge of cold that's coming southwards. Hence the title of the blog.
I said it somewhat jokingly the other day…and it's still true.
The storm itself…actually does exist…it's moving into the Rockies today and will cross over the mountains tonight and come into the Plains. That is in the upper levels…at the surface the storm is represented by an area of low pressure that will be in the southern Plains tonight ad will be moving towards the ENE tomorrow…and we'll track that area of low pressure carefully.
.That area of low pressure at the surface will be absorbing a chunk of cold air that will be rushing southwards overnight. Look at this map of the northern Plains…the temperatures are in RED…see the colder air towards SD/ND…that air is coming our way tomorrow morning.
Note the 40s/50s in NE and the drop off towards the north.
So we have a storm…we have cold air dropping southwards and now we need precipitation. Yes we sort of have that too…
It doesn't look impressive this afternoon…and I get that…it's waiting on the upper level energy to come out of the Rockies and sweep into the Plains overnight and tomorrow to really start to blossom.
The HRRR model will start to show this occurring…especially IF you're reading the blog on Saturday night…this model will auto update for you as will the surface pressure map showing the storm's center above it.
Now about that upper level wave…without that…no surface storm…so yes we track the surface storm…but the upper wave and the various areas of stronger lift associated with it are really a big key in the whole thing…and this is where the model data will really fight itself from one run to another…and little south shift of the stronger lift (or north) means heavier (or lighter) snow amounts…and it also means bands of heavy snow which really can't be picked up and forecast for until the reveal themselves on local radar.
Another aspect of the whole storm is our position in KC in relation to the jet stream…and this is something we've talked about before…but suffice it to say that there will be about a 3-6 hour period where there should be some very impressive jet stream dynamics helping in the snow production…and this is what I'm so concerned about and why I still wouldn't be surprised if the heavy band forecast to be just barely (!) north of the Metro slides further southwards and involves more of the KC area.
So let's get to the nuts and bolts and get some modeled snow maps out there to peruse…and I want you to use the slider below to see how close to the ragged edge we are…
The NAM, which last night pushed things north of the area..is back pushing things into more of a bigger KC Metro impact…the GFS which also was north has come in farther south too in today's data.
The maps above represent the models snow forecast from 9AM-3PM…this should roughly be the heart of the storm for the KC area. Now we're going to have some warm pavement and grass after today and with an above freezing start on Sunday so there will be some melting initially. So let's just say the real accumulating snows don't get going till 10AM…again you can see how on the ragged edge we are.
Now onto some other models…here is the EURO…
The problem with the map below is it's from 6AM Sunday (when whatever falls would be liquid) to 6AM Monday…so it's capturing at least some of the non-accumulating and/or melting winter precipitation I think…
Regardless of the model..there is a sharp cutoff towards the south and actually the EURO would spare far NW MO from the heavier snows…in my opinion trim 1-2″ off that forecast above for a better representation of what could happen…
You can see how I wasn't kidding when I said 0-12″ right?
Again I keep going back to how the KC area seems to really be in a favorable spot for the upper level energy to create a lot of snow to move through…and it will take VERY little tonight in the data for me to pull my 4-8″ line of snow, which this morning I have in the northern part of Platte County about another county and a half father south.
Other aspects of the storm…let's start with the temperatures…
Sunday morning…
Sunday at noon…
Near 40 to mid>upper 20s…
Now the winds…this will create the blizzard conditions in the heavier snow bands that set-up and again this well may be in the KC area. (AM Sunday…the hi-res NAM is picking up the 30-35 knot (33-38 MPH) gusts. I'm using winds just a bit above the surface because I think sometimes the models underestimate the winds at the surface in dynamic situations like this.
Those winds won't be as gusty later in the afternoon.
Again this will complicate the road efforts quite a bit…
So we have a storm with rapidly dropping temperatures…wet roads that should turn snow-packed and slick and strong winds…again it should be miserable.
---
---
Next up…can this be avoided totally…in other words can the Metro be missed? Possible…I would place that chance of being totally missed at 10% at this point. We will have the winds and the falling temperatures regardless of what happens with the snow.
Can the Metro be slammed and be in the core of the heaviest snow…I'd say yes to that…chances to me are about 40% that ALL of KC gets into the 4-8″ swath right now
Can the Metro be split…with something like 1-3″ towards Harrisonville and 6-10″ up towards northern Platte Co…absolutely…chances are 50% of that…
Can we wake up to a sunny and 80° day…chances are 1% (kidding…they're 0%)
Here is a look at the latest warnings/advisories…blizzard warnings are flying and may expand tomorrow.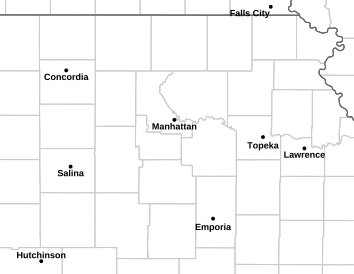 ---
---
A few final things…here are the biggest snow storms (in one day) for the month of November.
I leave you with this…1754 days, including today, where we haven't had at least 3″ of snow in one calendar day…can we beat this number on Sunday and end the meaningful snow drought?
Final…final note…thanks for all the reading of the blog…I know they're long…and detailed and perhaps some wish they would be a bit less so…but it is who I am…I want for you to understand a bit better what we in the weather enterprise who care deeply about what we do…and how we want to be so right all the time…and yet realize that we can't always predict with absolute perfection the nuances of things from days…or even hours away. The weather blog (s) during these high impact events are typically at the top (or darn close to it) of what people come to look at on fox4kc.com. So thanks for reading my thoughts and reflections…and I hope you learn a bit more about the process I go through when trying to come up with a forecast.
Our feature photo today is from Richard March…nice halo as the high clouds filter out the sunshine…
Joe