Joe's Weather Blog: Winter weather advisory in KC…warnings up north (SAT-11/24)
I know a lot of you will be in and out today so I wanted to get something quick out to you this morning…a full and much more detailed weather blog will come out this afternoon and should be posted by about 2PM or so…so look for something more comprehensive. I'm trying to get something out inbetween all the weather hits this morning…I may add a bit to this after the show.
---
---
Forecast:
Today: Great…60s
Tonight: Fine…40s
Sunday: Cloudy…some rain…then a wintry mix…then snow. Transition timing is between 8AM-10AM it appears. The storm track/intensity…will determine the amount of snow and the longevity of the snow. Accumulations are likely…right now I'm in the 1-4″ range for the KC metro area…with 4-8″ of snow likely and blizzard conditions developing into northern MO. Winds will gust to near 45 MPH so even a little snow will create big headaches.
Monday: Partly cloudy and cold with lows near 15 and highs around 30°
---
---
Discussion:
So let's start with the current advisories and warnings from the NWS in KC and Topeka…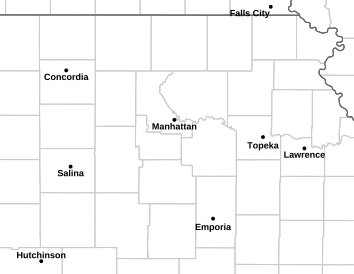 Pink is a winter storm warning…blue-ish…a winter weather advisory and IF there is a blizzard warning issued up north especially…that will be in orange.
The theme right now is that the heaviest snows will be north…towards 36 highway and north into IA…it should be real bad the farther north you get…40-50 MPH wind potential with all the snow expected…should create blizzard conditions.
Closer to the Metro…still questions…the data is mostly inconclusive in terms of a direct path for the soon to be storm coming into the Plains. As we've said ad nauseum…50-75 miles. Some models are farther north…others farther south…50 miles in the weather world is a blip…a butterfly flapping it's wings blip. I'm not relying on a precise track for the storm right now. I think that can come later today.
For now let's go with essentially the same map that I posted yesterday…except let's cut-off 1″ from the Metro totals…and keep the 4-8″ swath essentially where it is. Areas farther south of KC have a less risk of seeing accumulating snow. So right now…and again VERY subject to change because I absolutely see a route to a farther south solution for this storm…let's go with 1-4″ for the Metro…with odds favoring heavier amounts farther north and it's going to be OH SO CLOSE on the northside…for over 4″ of snow and lighter totals farther south.
One of the things that better forecasters who are looking for increased or decreasing confidence…you see just one or two models…I look at dozens of runs within the same model…sort of like splitting a hair 20 ways…for example many are familar with the NAM model…but did you know there are about 20 other models run from that model…
As a forecaster for a storm about 24 hours away…you would want to see tighter clustering of the snow totals…and again with the caveat that the snow totals above aren't perfectly accurate to begin with because of melting and various snow ratio changes…but notice the spread…and that is the important thing…from next to nothing to over 11″. So IF we look at the average…it's close to 4″ @ KCI…and that is um from yesterday.
IF though I take away the two highest totals…and the two lowest totals…we come up with about 3.5″…
Again the reason is how the storm tracks…
Another way of looking at this is by using probabilities and while I hate that approach in many things…sometimes they can be illuminating and help with confidence levels…
So let's use the EURO probabilities…from last night's run.
So let's look deeper into that…and show the highest likelihood of 3″ or more of snow…remember there could be some initial melting…blah blah…blah.
This is using the ensembles…the model that is being run with different physics and initializations…that are then averaged out. There are about 50 different "models of the same model" that go into those calculations
Now let's look at the probabilities of 6″+ of snow…
So you see the trends and the continued reason we still think areas north of KC have better chances of seeing more snow. Those are pretty high probabilities.
I don't have the same luxury with the GFS model…except to average things out overall…there are about 20 "models of the same model" that go into the map above.
As far as current modeling does go…the new NAM brings the heavy snow cutoff into the north side of the KC Metro area…liquid equivalents are posted below…for areas on the south side of the Metro…take off about 1/10″ or so for rain>wintry mix combo that won't accumulate…
So just your basic 0-8″ forecast from south to north…wonderful. This storm is now turning into a pain in the ##!@$%
Our 50-75 mile cushion is now down to about a 25-50 mile cushion.
More this afternoon but wanted something out there this morning for your perusal!
Feature photo is from Tedd Scofield via Twitter!
Joe