Joe's Weather Blog: Southern storm + it wants to get milder (THU-12/6)
Good afternoon…clouds are breaking up slowly but surely and it's going to be a cold night in the region…but at least the data is showing some signs of a warm-up heading this way. This has been mentioned by me a few times over the last few weeks…and today, while we'll continue to go up and down over the next couple of weeks…there will be some decent days mixed in. Decent though by December standards at least. Remember it's supposed to be cold now…
---
---
Tonight: Fair skies and colder with lows in the teens
Friday: Variable clouds and cold with highs in the 30s
Saturday: Lots of high clouds and chilly with highs again well into the 30s
Sunday: Should be brighter but still cool with highs well into the 30s
---
---
The rain/snow system moved away this morning…and in it's wake another dusting to 1″ or so of snow fell. Thankfully at least in KC proper the roads were just wet but areas north of KC…where it was a bit colder…saw slick conditions develop. Almost 2″ were reported in Norborne, MO though…so there were a few places east and east north east of KC that saw some decent snow.
This system behaved pretty well overall. Now some colder air is moving back into the region…after a one day break yesterday. Here is the 1PM map showing the temperatures in RED.
The next storm that we've been watching for about a week or so…is finally moving onshore. It's been raining pretty good in CA today. Flooding is ongoing and with the burned terrain…mud flows and debris flows are an issue out there too.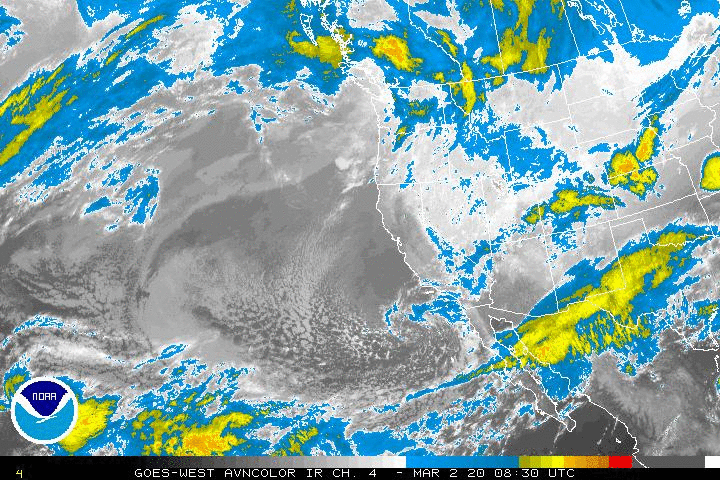 The storm now moving onshore towards Los Angeles will be heading into NE TX later Saturday and then moving into the TN Valley on Sunday.
The conundrum is what happens in the southern Plains regarding the rain>sleet>snow that's expected because the forecast is by no means clear-cut…and will be very dependent on how the atmosphere maintains it's coldness. I don't envy those forecasters down there.
There are a LOT of different types of weather expected towards the I-40 corridor…that central OK area may see a variety of different types of weather from Friday into later Saturday night. The main part…the snow…is still expected to be an issue…and a big one for central OK.
Ice is also a problem too.
Meanwhile towards Tulsa…
and into AR…look a that northern AR snow potential.
A bit closer to home…towards southern MO…
There are still issues though with how the atmosphere sets up…
This storm will turn into a headache down there…and then turn into a big headache across the SE part of the country.
On the big picture and back to the start of the blog…the pattern wants to warm-up for at least a little while…we're going to sort of scour out much of Canada from bitterly cold air for awhile. Take a look at the map below off the EURO model today…showing how temperatures at around 5,000 feet are going to be in relation to average. The map shows an average over a 5 day period from the 11th>16th
Again as I mentioned yesterday…despite all the red above…it's still cold up there and will be. For example here is a look at highs up there for next Friday…
So yeah…lots of teens and 20s…
So it's still cold…just not brutally cold considering the daylight is not so much up there at that point of December.
Here in the Plains though unlike what we saw for much of November…we're NOT going to see a cross polar flow establish anytime soon. Again a 5 day average below of what's happening up at around 18,000 feet or so. We do have a split flow regime…that means the polar jet is up to our north and we're under more of a Pacific jet structure blowing from the west to the east.
This means we'll be more up and down…some milder days…50s mixed in with some cold fronts…dropping temperatures (but no extremes in the cold department for awhile).
It's also potentially an active pattern as well. That sub-tropical jet moving through the US increases the chances of bringing abundant precip to the southern half of the USA. How KC is placed in that remains to be seen. With the brunt of the real cold though up towards the Pole…and into the NW Territories…and not flowing southwards…it may actually take a bit more for us to get any snow. Not that it can't happen…but we might be relying on more dynamic cooling type stuff than anything.
Another note…El Nino.
It's still going pretty good…and actually it's strengthening just a bit.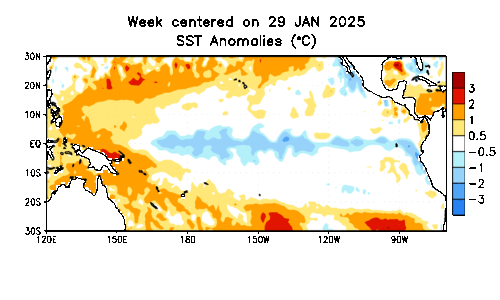 Look at the water temperature anomalies above…the oranges and reds are what I want you to pay attention too near the Equator.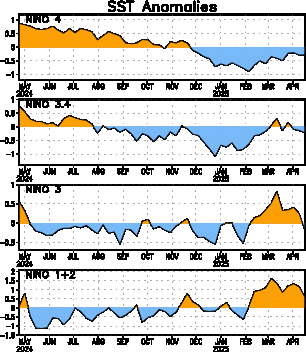 Notice in the Nino 3.4 how the anomalies are popping to about 1°
There is a thought in the back of my mind…and one that should this December not be too bad from here on out from a temperature standpoint…that come JAN>FEB that a flip to cold…may be a drier flip to cold. So how will that play out for snow? Sometimes the northerly flow…assuming we get a strong northerly flow…can wipe the moisture out of the region entirely.
Lots to ponder over the coming weeks…
Our feature photo comes from ‎John Dembski‎
Joe