This is an archived article and the information in the article may be outdated. Please look at the time stamp on the story to see when it was last updated.
MISSION, Kan. -- Folks in Mission, Kansas got a chance to learn the importance of knowing basic self-defense for free Sunday afternoon.
The free seminar, which included an appearance from FOX 4's very own Mary Pulley, was put on by Shogun Martial Arts International.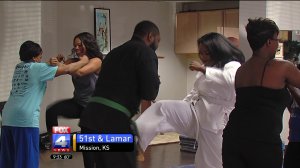 The event focused on showing both men and women how to fight back against things like shirt grabs, an attacker pulling your hair, or trying to choke you from behind.
Mary Pulley was set to be a guest speaker at the seminar, but ended up participating hands-on by facing off with her husband.
Mary says she sends a big thank you to instructor Margie Miller and Shogun Martial Arts International for letting her take part.