KANSAS CITY, Mo. — Another mild start to our day in the region with clouds off to the east and some atmospheric smoke hanging in the air above us courtesy of the wildfires burning in eastern Canada.
That smoke was a huge issue yesterday and will be again today back east. As a matter of fact, the air quality was so bad in NYC yesterday evening that it had the worst air quality in the world at one point.
For us, we have issues with a stagnant air mass. Light to little wind has allowed this air mass to sit on us. With temperatures well into the 80s, the conditions are prime for the sun's heat to take some of the pollution we generate on the ground and convert it to low-level ozone. That is problematic for some of you.
So junk in the upper atmosphere and not great air below. Overall, we need a switch to stir the atmosphere up a bit and some changes are likely heading into the weekend.
++++++++++++++++++++++++++++++++++++++++++++++++++++++++++++
One sentence forecast: Scattered storms today, tonight, tomorrow morning and again over the weekend, perhaps more numerous then.
++++++++++++++++++++++++++++++++++++++++++++++++++++++++++++
Kansas City Forecast:
Today: Partly cloudy with some storms bubbling up after 3 p.m. or so. Some of these scattered storms may contain localized heavy rains and some hail. Highs in the upper 80s.
Tonight: A few areas of showers/storms possible overnight. Lows in the 60s.
Tomorrow: The potential of some scattered showers continues in the morning, before somewhat drier air moves in during the afternoon. Not as hot or humid with highs near or into the lower 80s.
Friday: Pleasant, warm, but not overly humid with highs in the low-to-mid-80s.
++++++++++++++++++++++++++++++++++++++++++++++++++++++++++++
Discussion:
Once again yesterday, although not to the degree of Monday, storms fired up in a few areas. More isolated and random, but still with some locally heavy rain and some small hail in Johnson County, Kansas, at least.
Today things are a bit different. There is a weak front, more of a dry push of air, that will slowly push west today and tomorrow. The front itself is still off towards the east of the region, but will move through the "backdoor" over the next 36 hours or so.
You can see the push of drier air in the model data, especially later Thursday into Friday. Here is the HRRR dew point forecast later today.
Then by Friday:
So with this transition comes scattered storms later today, mainly because of some heat and instability, then tonight with a weak disturbance coming down from Iowa.
Tomorrow we're not out of the weeds yet because that higher dew point air will still be around in the morning, so some scattered storms are possible again.
I won't promise everyone getting rain from this. I do think it will be a bit more widespread though compared to yesterday. Hopefully we get more coverage of the rain so others can benefit from the moisture.
That drier air will be with us on Friday and perhaps into Saturday morning at least. But with the moisture not that far away to the west of the region and it creeping back east into Saturday, it won't take much for rain to become an issue over the weekend. While the timing of that rain over the weekend is a bit questionable, the higher chances and the more widespread coverage of that rain should increase the odds of more folks getting needed rainfall.
These rain chances could linger into Sunday too, so the potential of some widespread 1/2-plus-inch rains is on the increase for the region. We haven't seen something like that (widespread) in quite some time. The model data is starting to reflect that a bit more as well.
From a probability standpoint to at least see 1/2 inch of rain, things look promising.
You can also see the general direction of where things are going to be coming from for the weekend, predominately from the northwest to the southeast.
So if you miss out for the next couple of days (and some will), more chances come your way over the weekend.
By the way, this weather, while warm in the day, is still holding below 90 degrees. While not unusual over the past 20-plus years, the number of 90-degree days into June 12 (I'm not expecting 90-plus degrees through Sunday) is at one so far this year. Here is recent history:
Kansas City air quality
This stagnant air mass is an issue though. Yes it's warm and sort of humid, but it's a bigger issue, as mentioned at the start of the blog, with poor air quality. So why does this happen?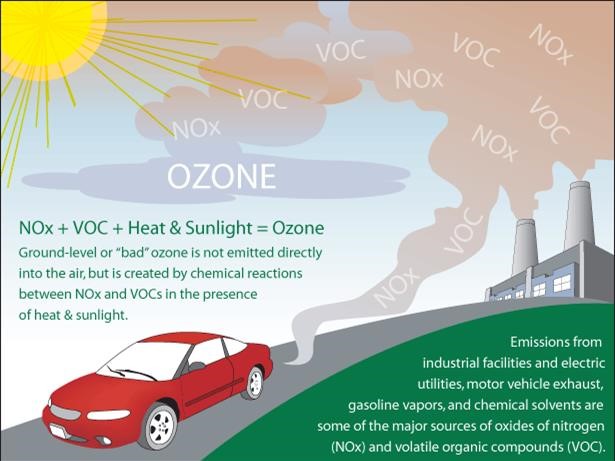 Yesterday several sensors around the Kansas City area went into the unhealthy range.
So until we stir things up, this will be an issue again today and perhaps tomorrow as well.
Don't forget if you're a farmer, landscaper, or gardener there is a new resource available for you at fox4kc.com/farm.
The feature photo comes from Lesa Wardrip when she was in Florida, a nice example of a halo.
Joe