KANSAS CITY, Mo. — Not a pretty start to the day around the metro, but temperatures are in the mid-30s, likely going nowhere today and waffling around where they are right now. The winds though will be blustery, so that will add a certain bite to the air.
The snow is going to end, if it hasn't already by the time you read this, with little to no accumulations in the region as expected really. There have been a few areas towards Cameron into northern Missouri that had a couple of slick spots. We never got cold enough to support sticking snows for the most part.
Seems strange really, but it's been consistent for the winter thus far… just never getting cold enough. We had that 4-5 day shot around Christmas, but since then a real struggle.
How weird are things. January is a full 8 degrees warmer so far (through yesterday) than December was. That's pretty impressive. We won't finish at that lofty level, but we may still be warmer in the end.
++++++++++++++++++++++++++++++++++++++++++++++++++++++
Kansas City Forecast:
Today: Cloudy with some small breaks possible towards the end of the day. Cold and blustery with steady temperatures in the mid-30s.
Tonight: We should clear out, I think. Lows in the mid-to-upper 20s.
Tomorrow: Not too bad with mostly sunny skies and highs in the lower 40s.
Saturday: Increasing clouds with some light snow later in the day into the night. A dusting to 2 inches is what I'm thinking at this point for the metro. Highs in the upper 30s.
Sunday: Turning sunny and seasonable with highs in the upper 30s.
+++++++++++++++++++++++++++++++++++++++++++++++++++++++
Discussion:
Well at least it looks a bit more like winter out there: clouds, then for some, snow in the air briefly this morning, and increasing winds. You know, January in the Plains.
Yesterday's system brought roughly 1/3 to 3/4 inch of moisture to the region as we continue to eat away at the previous drought. While there are still drought conditions in parts of the region, it's a heck of a lot better than than before.
On the Kansas side: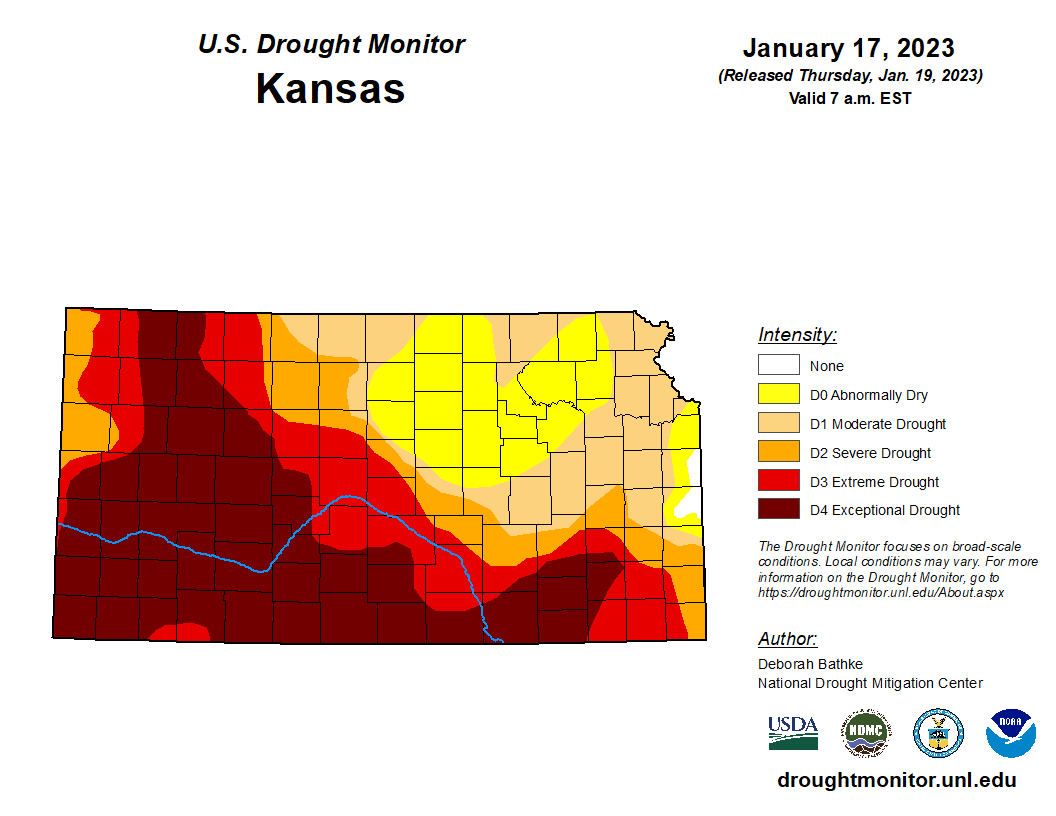 The drought is still serious business across the western and southern parts of the state for sure.
Through 9 a.m. this morning, we've had 6.75 inches of moisture since Nov. 1. We're about 2.5 inches above average for moisture in that time span, certainly a help for sure. Some areas have done better than that too.
What's remarkable is that for the month, we're still around 12 degrees above average. That is a big number for the first 18 days of January. We're still in third place for the warmest start to a year in KC weather history, trailing 1933 and 2006.
Even on a day like today, where we've already had our high of 40 degrees during the wee hours of the morning, our low has been around 35 degrees, which is about 16 degrees above average just on the low side. We may be colder later this evening by a few degrees, but today will be a well above-average day just because of the lows.
The beat just keeps going on. The nights have mostly been above average since just after Christmas. As a matter of fact, including today, this is our 23rd-straight day with above-average temperatures in KC. The last day we were below average was Dec. 27! That's a great run in the middle of winter. This is still the coldest time of the year on average at least. Not this year.
Next chance of snow in KC
So about the snow chances.
Today was not a big deal for the metro at least. Curiosity snow at best as a reminder that it's winter.
The next system is due later Saturday and that may bring a little more snow with it. I don't think this will be a big snowstorm. There's an outside chance some could get over 2 inches of snow later Saturday into early Sunday (northern Missouri, I'm looking at you right now), but I'm thinking the metro may be below that mostly.
The system is the last in the Pacific parade of storms that has hammered California especially.
So much water out there:
The final system is still bringing some lighter showers to central California this morning, but it's now starting to pull away. The disturbance is consolidating in Nevada as you can see it more clearly by the dip in the flow up around 18,000 feet or so.
This should bring some decent snows to western and perhaps central Kansas, but as it comes east, the snow expanse may start to weaken and break up a bit as it encounters drier air. So the front edge may get chewed on for awhile Saturday afternoon.
You can see the NAM model sort of showing this a bit. Notice the notch of a lack of precipitation towards KC by later Saturday night/Sunday morning around midnight.
It's a concern, plus the system is moving quickly. While there may be some bands setting up, they may not be in the metro, leaving us on the lower side of potential here. There is some potential of 2-4-inch totals somewhere in the region where a band sets up and saturates the atmosphere quicker than other areas so that we're not wasting a few hours of snow while the lower part of the atmosphere is still trying to allow the flakes to make it to the ground with any decent rate.
The model data does show the 2-4-inch potential showing up in some spots. My thought is perhaps northern Missouri may stand the better chance of this happening, but it will be watched obviously.
The system itself is actually not too bad looking. There is that promise of some higher totals. I'm just not convinced at this point that those higher totals will be towards Interstate 70. I think right now, the more favored area is up by 36 highway.
We should get something though, and with the big game happening, some might be wondering what to expect. I think that there might be some snow developing during the game. It should be pretty light overall though. One thing to watch for is if we do get some melting on the pavement initially, then with night settling in and road temperatures, with additional light snow falling, there may be some slick spots developing for the drive home. It will be marginal, but the snow may be increasing a bit during the early evening as night settles in.
They should have adequate time for pre-treating to help the cause on the main roads though.
It's something to think about at least and to be watchful for if the snow comes together.
Beyond that, the GFS is showing a bigger system for next week on Tuesday. The EURO has a much farther south track for that. The Canadian would give us something, not huge but something. The ICON has something cooking as well.
This future system is wayyyyy out towards the south of the central part of the Aleutian Islands and it's going to go through some modifications, but it's something to pay attention to. The GFS may be a bit to bullish, but the EURO may be too far south with this. So it's something on the table to watch.
The feature photo comes from Rebecca McDowell up toward Liberty, Missouri, yesterday. There were some great rainbows up there in the afternoon with some cloud breaks.
Joe