Our weather has been leaning on the cool side of things lately. Nothing too cold this week, just cool and overall that may continue for quite some time really.
There may be a day or two next week with warmer than average highs, but overall it should be pretty nice.
It does appear that we won't be dealing with any severe weather threats locally for awhile. While we've had some mostly low end events thus far, sort of typical, the higher end events have missed us towards the north, east, and south.
I don't mind this at all.
Of all the weather we have to deal with around these parts, count severe storms a my least favorite. Some get storm anxiety, the tracking of the storms can get wonky, and the, "is it a tornado or is it not?" decision-making isn't my favorite part of the job.
Essentially I'm fine with the quietness of the storms. Rain is going to be needed sooner rather than later, and the bigger storms are important in that regard, but the nasty weather I can do without.
++++++++++++++++++++++++++++++++++++++++++++++++++++++
Forecast
Today: Mostly sunny to partly cloudy skies and pleasant with highs in the upper 60s
Tonight: Partly cloudy and cool with lows in the upper 40s
Tomorrow: Partly cloudy and seasonable. There remains a chance of some evening showers in the area. Highs in the mid-to-upper 60s
Saturday: Windy and seasonable with highs near 70°
Sunday: Blustery and cooler with highs in the 60° range
++++++++++++++++++++++++++++++++++++++++++++++++++++++
Discussion
It seems to be a going theme around the Plains states: A slow start to tornadoes in the central US. Through today there have only been six tornadoes in Kansas. This seems to be something that I've written about quite a bit over the last five years or so; slow starts to the tornadoes in KS.
Let's throw in Nebraska as well. They haven't had any thus far. Zero!
In Iowa, and you can almost always count on Iowa to start things out, there have been 35! In Missouri there have been around 13 reported. So six in Kansas and 13 in Missouri.
We've just not had the greatest set-ups thus far, and for what's coming down the road, it really isn't a good look for tornadoes in the Plains.
The pattern as mentioned yesterday just isn't too supportive of getting a lot of instability to build up anytime real soon. The upper flow is going to be predominantly from the NW or North, and that isn't helpful at all really.
As I mentioned, no complaints on my side of the world about this. Our two biggest months for severe storms are May and June, so we haven't even started the real "season" yet, BUT I view this as I view winter snows.
In the winter we have about 14 weeks where we have a snow "window." Roughly December 1st through mid-March. Sure, you can get events outside the overall window, but they don't happen that often really.
The severe weather "window" is from May 1 through mid-June in my opinion. Yes, we get other events, we've seen some mostly low-end stuff in March and April locally so far, and things get a bit wonky in July sometimes. But that is the "core" window in my opinion, and it appears the first week of that six-week window will go harmlessly by based on the data lately.
As a matter of fact, the day 10 EURO for May 7th shows this general idea for the flow pattern at around 18,000 feet.
There's a upper level storm off the west coast and somewhere near the northeast US coastal region. In between the is a large ridge. This overall pattern sort of looks like the Greek letter Omega
A pattern like this can mean dry, mild weather under the ridge, and stormy or cooler weather where there are dips connected to the upper level storms.
We actually have a name for this type of pattern… it's called an "Omega block." Typically it's a somewhat persistent pattern that down the road may last for several days. There is nothing to really push those upper level storms along, no real strong "kickers" if you will, hence the weather sort of gets "locked in."
For us, perhaps not perfectly dry, but overall dry may be the common them through the first seven days (or a bit longer) into May. If it's dry, it's tough to get severe storms with that locally.
What could eventually happen is at some point something with start to kick start things from west to east. It may be the system off the west coast that finally helps to alter the pattern around the 10th or so. Whether that means a big uptick in storms remains to be seen. At least though that may turn into our next feature to sort of watch after NEXT weekend.
That's a bit down the road. What this could mean though is at some point more rain for the drought areas of western and southern KS down the road.
The latest drought monitor came out today…
This won't take into account the rains that feel on the KS side over the past couple of days. Some general 1-2″ rains happened out there. This next map is via CoCoRaHS and shows the total rainfall from the 24th through yesterday. The scale is to the left.
Locally we have seen an expansion of the abnormally dry conditions into the southern part of the area…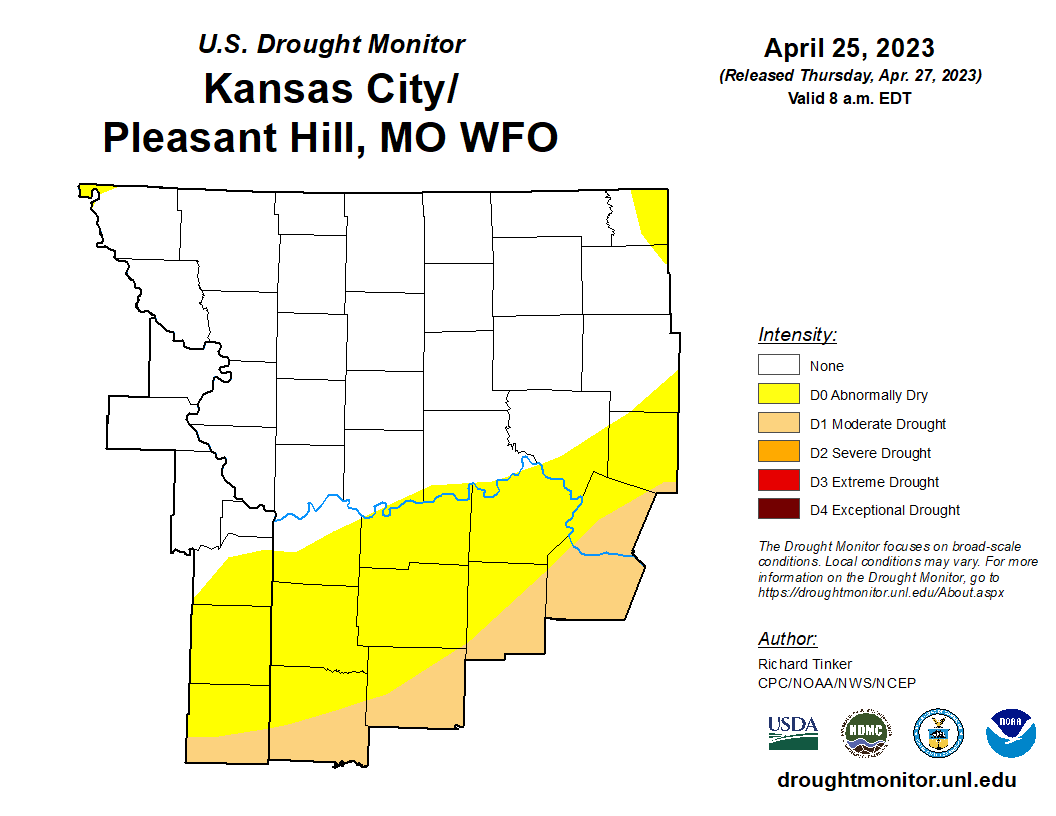 Over the next 15 days or so the chances of any one area getting over 1″ of rain isn't the greatest… as this probability map below shows.
From the GFS which typically is a wetter model…
Keep in mind that we are coming into our two wettest months of the year. On average each week we get almost 1 1/4″ of moisture per week into June, so going almost two weeks with under 1″ isn't the greatest.
What needs to happen in the big picture is for us to get more into a south or southwest flow of air aloft allowing moisture to return from the Gulf and disturbances to come up from the south or southwest to trigger off rains and storms.
That's the big picture.
As far as tomorrow night goes, and the rain chances go, there is definitely a chance of something that could be a nuisance affecting the NFL Draft festivities. There will be a tiny amount of instability perhaps developing later in the day tomorrow, that could mean a few lightning strikes with whatever comes our way.
The latest HRRR model does show some low end instability, and is also showing a few lightning indicators as well between 5-8 PM or so tomorrow night. Not a lot, but thousands of folks outside around Union Station with no great way of getting inside is a bit of a concern
Something to monitor for tomorrow evening. The crowds are biggest tonight though and we should be fine for that, as well as for later Saturday morning.
That's it for today. The feature photo comes from Jim Calhoun of the Northern Lights from a few days ago. Hey shot this with a 15 sec exposure.
Joe