KANSAS CITY, Mo. — It's a bright start to our Tuesday after a record-setting day yesterday where temperatures went out of control thanks to 51 mph wind gusts around the area. This allowed the atmosphere to really become very "mixed".
Air was brought down from nearly 5,000 feet up and when that happens, the air compresses and heats up. Hence the record-setting highs. We broke a record that was set back in 1904.
Today won't be a record breaker, but it will still be above average, behind a cold front that moved through uneventfully last night. Temperatures will still end up 10 degrees above average, in early February, after a cold front.
This has been a weird winter.
+++++++++++++++++++++++++++++++++++++++++++++++++++++++
Forecast
Today: Sunny and mild. Not as windy, with highs in the lower 50s.
Tonight: Mostly clear and colder with lows in the 20s.
Tomorrow: Increasing clouds with some light rain possible in the morning with higher chances likely later in the day into the evening. Highs near 40 degrees into the lower 40s.
The rain may mix with or switch over to snow on Wednesday night for a few hours. Some grassy accumulations aren't out of the question.
Thursday: Variable clouds and chilly with highs near 45 degrees.
+++++++++++++++++++++++++++++++++++++++++++++++++++++++
Discussion
The last three days have been 13, 16, and 23 degrees above average. After a cold start to February, we're now 7 degrees above average. After a crazy mild January and a not-so-bad December (except for that 4-5 day stretch near Christmas), it's been a weird winter.
Seventy-degree days in February aren't exactly common, although it seems this century we're having more of them.
Take a look at this. Allergy season may be starting early this year.
The pattern overall is becoming more active, so our threats of rain and perhaps some chances of snow are going to be more frequent for the rest of the month. The issue is trying to get the cold air to work with whatever systems are coming into the region. This has been, and will continue to be, an issue for the next week or so.
There is one system tomorrow night, that in many other winters would likely be a 2-5-inch wet snowstorm for the area. Another on Friday that may give us some minor accumulations, and one early next week that looks to rain.
Again, active now, but we're still not setting up for a snowstorm.
Possible snow chance in KC area
The system coming our way tomorrow is taking a favorable track for accumulating snows in the KC area. The issue is that we're going to be too warm at the surface and aloft for most of the event. We're gradually going to eat away at the warm atmosphere (by warm, we're talking about a few degrees above freezing) though, and it's not out of the question we could see a transition to some big wet snowflakes for awhile tomorrow night. Even a potential of something like what happened a couple of weeks ago, where most snow accumulations were on the grassy surfaces while most roads fared well.
The below animation shows the storm coming our way later tomorrow heading towards us from the El Paso, Texas, region, as well as a second storm that's coming into the region on Friday morning.
The one coming our way tomorrow night really does look good. That's really a good track for us for snow. Some model data develops a colder pool of air above the surface (below 32 degrees) towards the southwest of the metro tomorrow evening and brings that colder pool up Interstate 35 tomorrow night for several hours of snow chances. It would be the type of snow that is composed of big wet snowflakes. Temperatures would likely still be 32-35 degrees if this happens.
It's on the table, but the snow window is small and the storm is moving quickly, hence the lower part of the atmosphere may actually start to trend warmer again towards daybreak Thursday. I guess I wouldn't be shocked if some areas manage some minor slushy-type accumulation on exposed surfaces somewhere out there, especially north and west of the I-35 corridor. At least the potential is on the table. At most, I could see a coating to 2-inches type event for some areas.
The potential may be a bit better northeast of Kansas City up towards northern and north central Missouri. Sometimes these types of systems can surprise and if someone up there got 2-4 inches of fast-accumulating snow… I won't be shocked.
Some may sneak in a snow day Thursday morning… or at least a delay. It would be a sloppy wet snow and may even have a hard time sticking to the roads. This is sort of like what happened locally a couple of weeks ago when it was sticking to most everything except to a large extent the pavement.
The system on Friday looks minor despite the decent look to it aloft. It would likely be all snow. The one thing to watch would be the perhaps the potential of a little snow creating some slick road conditions in the morning, especially on bridges and overpasses.
After that, you guessed it: a return to windy and milder weather over the weekend, with 50s likely and perhaps a run towards or above 60 degrees on Super Bowl Sunday if we get enough sunshine. It will be windy though it appears.
It's been a weird winter.
Storm system next week
The next Tuesday system will be coming together in the north central Pacific Ocean tomorrow and will be a piece splitting off of the future storm. So it's a piece of a storm that doesn't exist, that's due in one week, and again it appears most likely this will be another rain event for us with absolutely no air cold enough around anywhere to generate snow.
It's no wonder the 6-10 day outlook has this idea: very high probabilities of above-average moisture (mostly rain) for us.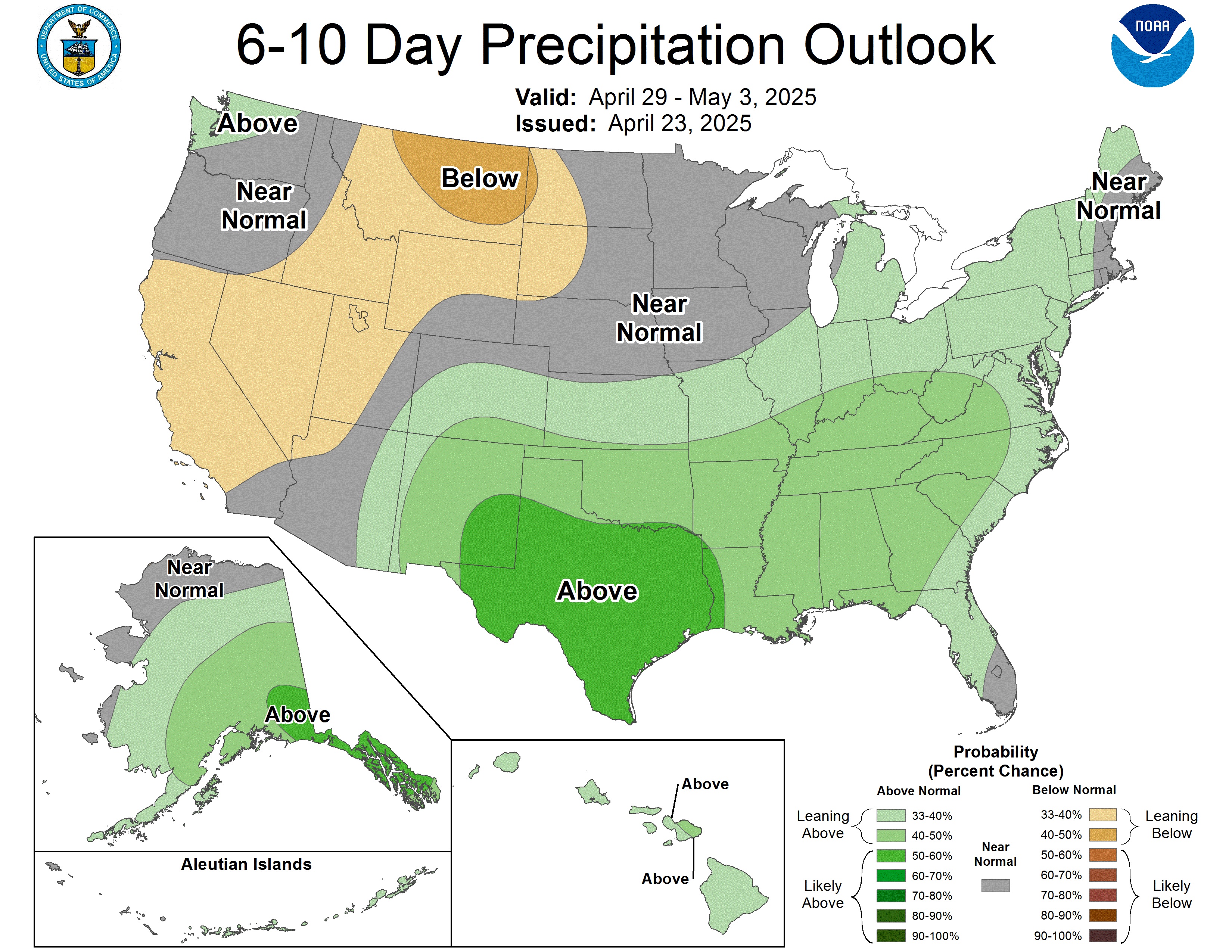 So active weather with a lack of a cold air connection for most of the systems through the middle of next week. Beyond that, it might be a bit more conducive for colder air intrusions for the last 10 days of February, as there are signs of a ridge popping towards Alaska. That would turn the upper-air flow towards the north-northwest and allow colder air to drain into the middle part of the country… potentially.
We'll see if there could be storms with that change. I'm not holding my breath at this point.
The feature photo is from Peggy Jane Farmer of some wildlife out at Swan Lake National Wildlife Refuge in Sumner, Missouri.
Joe