Kansas City, Mo. — Yesterday on Twitter, I spent some time writing about some potential ways Mother Nature could throw us a few Hail Marys for snow since we're getting well into the fourth quarter of our "snow" game. I thought I might elaborate on that today, but I think I'll wait to do that on Thursday morning instead, since it will be colder and blustery and more "wintery" compared to what's coming over the next couple of days.
What's coming is more warmth (yesterday we were in the lower 60s) and tomorrow we may make a serious run towards 70 degrees. That then will switch on Thursday as wind chills in the morning will likely be in the single digits. So a strong cold front is coming later tomorrow evening associated with a strong area of low pressure that will be moving through the region. This will be one of a couple over the coming days with perhaps a stronger one for early next week as well.
Active weather for sure.
++++++++++++++++++++++++++++++++++++++++++++++++++++
Kansas City Forecast:
Today: Sunny and mild with highs approaching 60 degrees.
Tonight: Fair with steady or rising temperatures before clouds thicken up and rain chances increase towards daybreak. Temperatures at daybreak may be near 60 degrees! Windy as well towards daybreak as the warmer air floods in from the south.
Tomorrow: Highest rain chances are in the morning. Temperatures well into the 60s to near 70 degrees. Windy conditions. Then some scattered fast-hitting storms are possible in the afternoon. Temperatures start dropping in the evening.
Thursday: Much colder and blustery. Winds may gust to 40 mph with sunshine. Highs only near 32 degrees.
+++++++++++++++++++++++++++++++++++++++++++++++++++++
Discussion:
Oh hum, another day with mild temperatures. We're doing it so frequently at this point it's more uncommon to write about cold than what this winter has dished out for KC.
Today will be the 14th day with above-average temperatures this month in KC after 25 days in January with above-average temperatures and 16 days on December. So that is roughly 57 days out of 82 days this winter with above-average temperatures. Pretty remarkable really. This month is over 5 degrees above average and we'll add a bit more to that over the next 48 hours or so.
Just for a bit of perspective, the average high is 46 degrees today and the average low is 25 degrees.
The cold shots that we do get Thursday and Friday will certainly be winter-ish and short lived typically. They come and they go. It's been the case all winter and this one will be the same with moderation and likely above average temperatures for the weekend and perhaps through next week as well despite another strong system coming through the region later Sunday into Monday morning.
This is the fourth time this century that temperatures through the 20th are in the top 15 of warmest on record. This year we're 15th. Back in 2012 it was warmer, heck even last year it was warmer.
Today will be another day where we may pop to 60 degrees or higher. Here are the number of days since Dec. 1 we've been 60 degrees or higher. We're down at 20 this morning, but if we get 60 degrees today, we go up a notch.
So we have had a lot of mild weather. Perhaps you're noticing some of this on your gas/electric bill, although whatever saving we may have seen is likely being gobbled up by the price increase over the past year or so.
Weather around the U.S.
Interesting weather though is going to be moving through the middle part of the country and since I like snow in the winter. Let's start there because it will be ALL well towards the north of the region.
This morning there are numerous watches/warnings and advisories out around the country.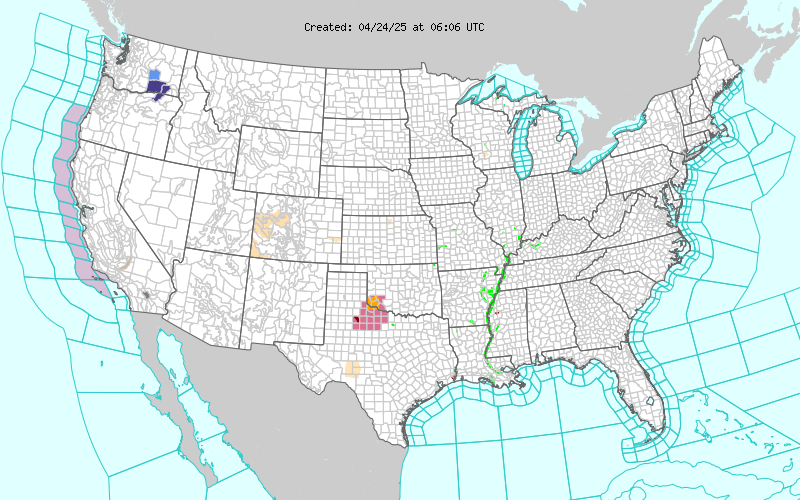 The ones to the north in pink are Winter Storm Warnings and in orange are Blizzard Warnings. This is going to be one heck of a storm towards the Interstate 90 corridor.
Here is the National Weather Service forecast:
And here is a close-up of Minnesota and central and northern Wisconsin:
I was sort of surprised by this though: For the Twin Cities area, with all these years and all those snow storms, this may end up in the top five.
From the NWS in the Twin Cities area this morning:
On the southern end of the accumulating snows comes ice, and enough that with wind there could be some issues towards the Ohio Valley region and the Great Lakes area as well.
This is all connected to an ejecting storm that will be moving through.
Wednesday rain chances in KC
Temperatures will be rising later today. On the warmer side of the storm (us), we see gulf moisture surging north tonight as dew points will be popping into the 50s by daybreak. By daybreak, we are roughly here:
This surface map shows the fronts:
There should be at least some scattered showers out there in the morning.
If some storms get going towards southeast Kansas and northeast Oklahoma, and move toward the northeast, there sound be a few strong storms mixed in. Winds are the main threats.
Some afternoon activity is possible as well, although a bit more questionable. The cold front that will wipe away the warmer weather during the day is likely to move into the region in the mid-afternoon and there should be some instability to work with since we'll be close to 70 degrees with decent dew points and somewhat favorable wind fields. That will need to be watched for a random Severe Thunderstorm Warning, possibly after 3 p.m. for about 1-3 hours, especially on the Missouri side.
Then temperatures will start dropping near sunset and keep going down into Thursday morning. They'll recover somewhat in the afternoon thanks to a lot of sunshine.
Like so many of these cold shots though, by later Friday afternoon the colder air is retreating away. Really incredible as milder air starts moving back northwards aloft at least. It will take a bit of time for that milder air to be realized at the surface though, so Friday is chilly with a very cold start.
There is one issue to watch as we again make the transition from cold to warm heading into the weekend. As the warmer air returns, moisture below 5,000 feet will start moving north later in the day. It is possible we could see freezing mist/drizzle develop on Friday evening for several hours. Worth watching.
Then it's gone and we likely are back into the 40s/50s over the weekend.
Another potent storm comes into the region on Monday and we may do that whole warm surge again on Sunday night with fast-moving rains.
Like I said, it's active.
Still though, no snow expected for days to come locally. Really there aren't any chances into early March to hold out much hope for. We may have to wait at least until next weekend for the chance and good luck with that prospect right now. It just isn't promising right now.
I'll dive deeper into how this may change in March in Thursday's blog. At least there may be some potential, but we're going to be getting really late into the snow window for me to get my hopes up for.
The feature photo comes from Anne Bishop down in Greenwood, Missouri, yesterday. These clouds were generated by a gravity wave that moved across the region.
From a satellite perspective, this is what it looked like:
Joe