KANSAS CITY, Mo. — It's finally sort of raining out there. Nothing too heavy, but we're going to be in it for at least the next several hours into the middle of the afternoon before the disturbance causing this moves away. While the rain amounts won't be too high, at least it's something better than some of the "drought" rains that we've dealt with over the past few weeks.
Speaking of the drought: things have certainly worsened regarding that in the latest drought report that I will show you in the discussion. Degradation was noted for many areas, especially on the south and east side of the metro.
There will be several more chances for rain into Sunday, but still very iffy local severe weather chances, which is sort of strange for this time of the year locally at least. We're now into the heart of severe weather season around these parts for the next 4-5 weeks or so. We'll have to see how things play out. Yesterday, there were tornadoes in western Kansas as well as parts of Colorado. Today there may be tornadoes again in Kansas and perhaps into Oklahoma as well.
++++++++++++++++++++++++++++++++++++++++++++++++++++++
Kansas City Forecast:
Today: Clouds with periods of rain winding down after 4 p.m. or so. Temperatures will struggle in the 60s to lower 70s with the rain and we may get our high for the day later today.
Tonight: Variable clouds with a chance of some early morning storms coming up from the southwest. Lows in the 60s.
Tomorrow: Partly cloudy and warmer with highs in the mid 80s. We'll be watching for evening storms in northeast Kansas moving towards northwest Missouri perhaps. We'll see how far south they can form to potentially affect us.
Saturday: Partly cloudy with a 20% chance of a late day pop up. Highs well into the 80s.
Sunday: About the same although there may be a bit more activity out there during the day depending on the setup. Highs in the lower 80s.
+++++++++++++++++++++++++++++++++++++++++++++++++++++++
Discussion:
Let's start with the needed rain. As mentioned all week, this won't be a ton, but if we can get 1/10-1/2 inch it would be welcome.
Here's radar from Pleasant Hill: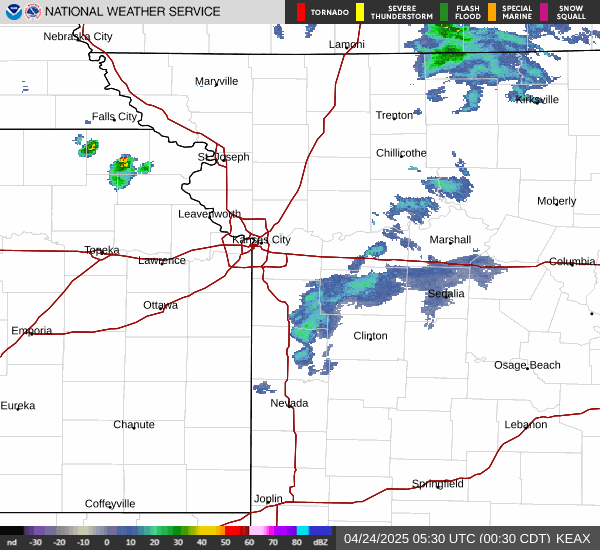 This is all connected with a disturbance that was created down in Texas a couple of days ago that has wandered north over the last couple of days, especially yesterday.
Depending on when you're reading the blog, you'll notice that some of the rain is moving from the south-southeast to the north-northwest circulating around a disturbance. This disturbance is readily seen in the satellite loops as well.
This is a broad disturbance and many should at least get something from this. And something is welcome more than nothing with the drought expanding in the region and worsening as well. The latest update wasn't so great for us locally.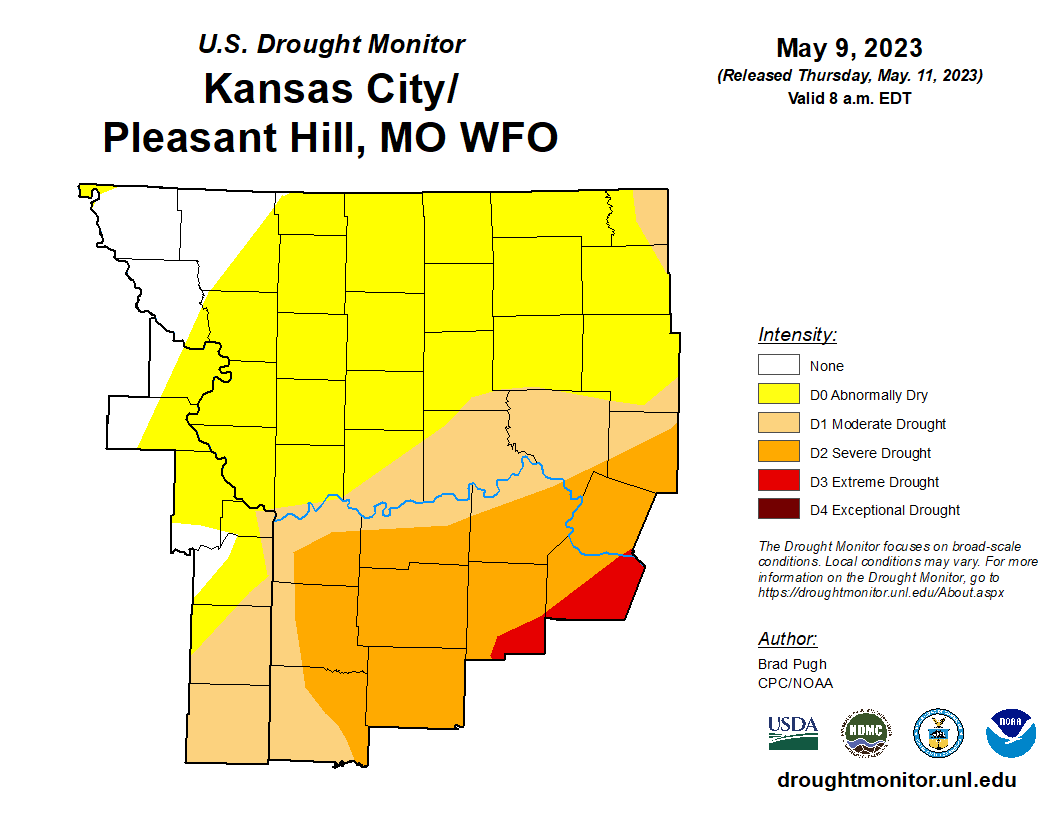 On the Kansas side, it's not too bad right now in northeast Kansas, but western Kansas is sort of a mess.
A large region of exceptional drought is in southern Kansas and western Kansas.
Far northwest Kansas saw some big rains yesterday though, as did far southeast Kansas.
There may be more rain out there today, but with it comes the risk of severe weather out there as well too.
That develops out there though will be moving generally towards the north or north-northeast. Odds favor that it will sort of run out of steam this evening well west of the region and impacts locally from this are very iffy and likely would be sub-severe at any rate early tomorrow morning.
The concern locally for later tomorrow or tomorrow evening would be connected to new storms that may develop in central/eastern Kansas and move towards the northeast or north-northeast as well. Those may get closer to the State Line tomorrow evening.
This is connected to the storm that created the severe weather in the western Plains and into eastern Colorado yesterday. There were tornadoes in northeast Colorado and a couple of weaker ones in northwest Kansas. Lots of hail around the Denver area as well.
By later tomorrow, there will be an area of low pressure into central Nebraska. Trailing that low will be a dry line that will be pushing eastwards into eastern Kansas.
Instability at the same time:
It's pretty unstable and with temperatures into the mid-80s, we won't be really capped too much. Storms may fire in eastern Kansas as this evolves later in the day. Those storms could be severe.
So that will be monitored for tomorrow. Not a slam dunk for us, and I won't be shocked if that is a split-around-KC-type thing where there are bigger storms in far northeast Kansas and northwest Missouri and we get very little. There will be the potential of some rotating storms with this scenario, especially in northwest Missouri, so that needs to be watched for later tomorrow into tomorrow evening.
We'll get more into the weekend tomorrow. Don't cancel your outdoor plans though, and there are a lot of outdoor events coming for the weekend. All sorts of graduation parties and of course Mother's Day on Sunday.
The feature photo is from Kevin E Lewis
Joe