KANSAS CITY, Mo. — Last night was another rather quiet night, then my Twitter feed started to explode with northern light pictures coming into the northern U.S. Not really that unusual up towards the US-Canada border region. Then the pictures and reports started coming in farther and farther south. Soon Virginia, Iowa, Nebraska, Wisconsin, and Colorado all started to report sightings. These weren't the usual sightings either… more vivid displays that were more easily seen with the naked eye and not necessarily long exposure photography.
There were clouds locally though. Some thin spots here and there, but too many clouds. Northern Missouri was clearing out and as the aurora strengthened in Iowa, I thought maybe northern Missouri could see something. Eventually later in the evening a picture came in from Albany, Missouri, then this morning a shot from Smithville (long exposure).
Side story: we have friends up in northern Michigan that we stay with when we're up there visiting family. They're typically asleep, but I texted them to see if they were awake and to go outside and take a look. They walked out the door and voila, the northern lights were putting on a show. They didn't need any special camera work or anything. All readily seen with the naked eye, hence that's the feature photo of the day. Thanks Kelli!
++++++++++++++++++++++++++++++++++++++++++++++++++++++++
Kansas City Forecast:
Today: Cloudy skies. Another cool day, but maybe the north side can squeak out a near-50-degree day while the south side struggles in the mid-40s. Rain chances increase after 4 p.m.
Tonight: Rain ending towards late evening. Then cloudy skies. Lows in the mid-to-upper 30s.
Tomorrow: Actually okay for most of the day with some clearing. Milder temperatures, but really just seasonable. Highs in the upper 50s. There is a growing chance of some thunderstorms coming in after sunset from west to east. These may impact the Sporting KC match.
Sunday. There may be some showers overnight Saturday into Sunday morning then drier in the afternoon. Highs in the lower 50s
+++++++++++++++++++++++++++++++++++++++++++++++++++++++++
Northern Lights in the U.S.:
The Northern Lights are a big bucket item of mine. To see them this far south was fascinating. Here is another shot from northern Michigan.
So what causes these amazing "lights" to happen. Basically the sun sends out energized particles that if directed towards the earth slam into the magnetic field protecting the earth that lies outside the atmosphere. Typically these are more confined to the far northern latitudes, especially towards the Poles. They happen in the northern latitudes and the southern latitudes as well.
Every so often, the energized particles are stronger and the northern lights come farther south, perhaps towards the U.S.-Canada border. Sort of unusual but not really. Then rarely a "storm" is so strong that the lights are visible much farther south, towards California, Colorado, New Mexico, Oklahoma, Missouri, Kansas, North Carolina, Virginia and that's what happened last night. It's a rare thing, perhaps the first real time in Missouri since the October of 2011 I believe.
Anyway, these charged particles are redirected by the magnetic field surrounding the earth towards the poles. They slam into the magnetic field at close to 45 million mph. The colors displayed are the result of different types of gases and altitudes that they hit the field. Greenish colors are more common when the display is 60 miles or so above the earth. Reds are rarer and occur close to 200 miles above the surface. Nitrogen gases can produce the purply-red colors.
This was the most intense storm in six years apparently and even veteran aurora watchers were blown away by the event. There is some great information at spaceweather.com if you want to check it out.
Locally reports came in from Albany and Smithville, Missouri, and Northeast Kansas. All were seen by using long exposure photography.
Onwards.
Discussion
The day for some started with some cracks in the clouds, but the clouds are filling back in from the KC area south. Northern Missouri though has sunshine and should warm up today. As a matter of fact their warmth may be pushed south to some extent by the northeast/east-northeast winds. Hence KCI may sneak into the 50-degree range today while areas farther south struggle to get to 45 degrees.
Rain chances will also start to increase later this afternoon however this northeast wind is actually helping to bring drier air southwards. So it's a battle in a sense for the rain to get towards KC later this afternoon. The front itself, the same one from a couple of days ago has gone belly up in the deep south.
This front will instigate some big time storms in the southern U.S. later today, including the risk for tornadoes and larger hail.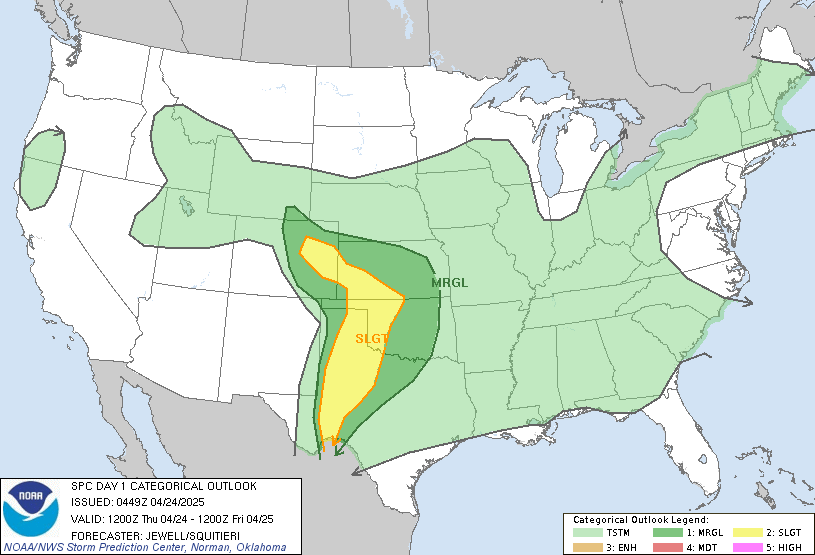 Today's tornado risk is higher down there than usual.
There is also a strong wind risk with this system down there as well, so a full day of weather is coming for that part of the country.
Kansas City rain chances
Our rain chances here seem to increase later this afternoon from south of Kansas City to the northside of the metro. It appears the drier air will protect northern Missouri and northeast Kansas from much rain today and tonight.
Tomorrow should be okay for awhile, but some guidance is bringing a cold front of sorts into the region in the evening from west to east and creating a quasi line of storms moving through eastern Kansas. I'm not sure how "real" that will be, but the potential is there at least. If that happens, that could be a 7-10 p.m.-type thing. We'll update that potential on the news tonight.
Sunday won't be terrible. Best chance of rain appears in the early morning hours with drier conditions developing. Just another day with temperatures below average by about 10 degrees… so what else is new.
Then there's this:
Another sad snow season seems to be wrapping up. What was freaky was last night's NAM model actually went bonkers and threw a 21-inch snow storm into parts of the metro on Sunday night. That was funny (not going to happen). The EURO actually has snow around here tonight (doubt that highly).
Get this though: Eight of the least-snowiest winters have occurred since 2000. Four have happened since 2011-12, which was our least snowiest winter with just shy of 4 inches. Winters around here just aren't what they used to be.
So it goes.
Have a great weekend.
Joe