KANSAS CITY, Mo. — It's a short blog today with a more in-depth look at the Friday system tomorrow. Overall, the weather for the next couple of days will be wonderful. Windy, but really nice. Temperatures yesterday topped off in the upper 70s. Today and tomorrow should be near 80 degrees give or take a degree or so.
As mentioned though, winds will be a thing today and tomorrow, probably Friday too. From the south, gusting to near 30 mph at times… there is that element to the forecast. Initially though, the south-southwest winds will not tug much gulf moisture north in time. On Friday they will though, but it'll be more abundant down towards eastern Oklahoma and Texas it appears.
++++++++++++++++++++++++++++++++++++++++++++++++++++++
Kansas City Forecast:
Today: Sunny and windy. Highs near 80 degrees
Tonight: Fair and pleasant. Breezy with lows in the mid-50s.
Tomorrow: About the same.
Friday: Increasing clouds with a few showers/storms possible during the day, but better chances at night. Warm with highs in the mid-to-upper 70s depending on the clouds.
+++++++++++++++++++++++++++++++++++++++++++++++++++++++
Discussion:
Thought I'd start with this from my colleagues at the National Weather Service in Pleasant Hill. This is through yesterday I think:
So mild and wet to start out 2023.
The snow part is right… so pathetic this winter.
Weather around the U.S.
Yesterday was fascinating in another way. Up north towards South Dakota where leftover snow altered temperatures from one location to the other by almost 50 degrees at one point. Pierre, South Dakota got into the mid-90s, while Aberdeen, South Dakota (about 115 miles away as the crow flies), was in the mid-40s. Eventually, they briefly popped to near-60 degrees with a west wind that brought in warmer air for an hour before it chilled down again. Fascinating.
So why did this happen? Snow cover.
I don't recall ever seeing that sort of contrast before.
Record highs today are possible in the areas shown below, even into Michigan!
Then on Friday records are possible into the eastern U.S.
I alluded to this the other day. Here is another update concerning the active start to the severe weather season. This is through the first three months of the year:
There have been quite a few watches so far this year.
And Tornado Watches:
A focus for sure across Dixie and the southern U.S.
The Plains will start to catch up over the coming weeks, which is typical.
Next rain chance in KC
Our next storm is out across the across the western U.S. It's actually in two pieces. The main piece is coming into the northern Rockies Friday morning. A trailing piece off California will be coming into the region later Friday and with that the rain chances will be increasing.
Sort of interesting to note: that better Gulf moisture may not arrive until later Friday night so it's really not the greatest severe weather set-up in my opinion locally at least. Something to watch just in case, but the better rains may not come until Saturday morning.
Here is the day 3 severe weather update from the Storm Prediction Center for Friday.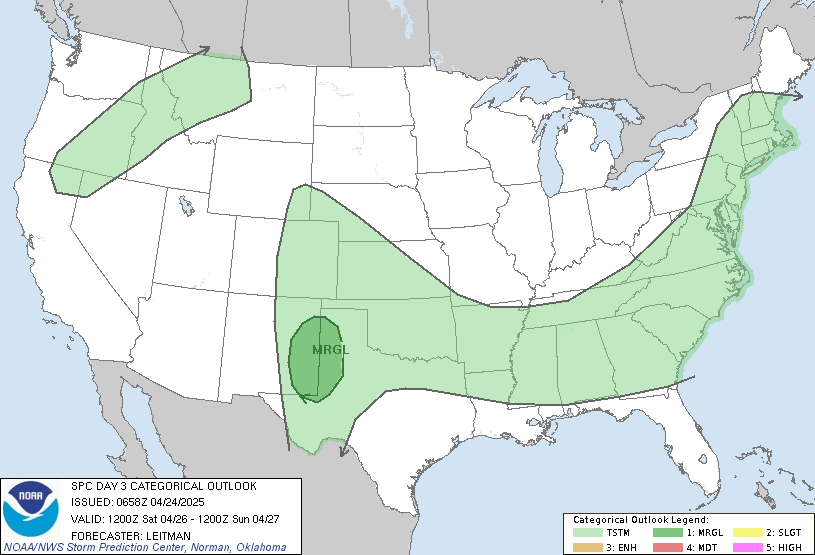 Something to sort of watch, but I think the higher risks may be more south of the area.
OK that's it for today. one more blog tomorrow before I'll be off for about 10 days.
The feature photo comes from Mary Jo Seever.
Joe