KANSAS CITY, Mo. — We're now coming into the coldest time of the winter on average. On average, the next two weeks from the 10th through the 23rd are the coldest from a high and low standpoint. Yet here we are looking at more 50s to come.
And sure, there is another fast-moving storm likely to affect the area mainly Wednesday night into Thursday morning, but there again is no strong connection to Canadian air behind that system. We should quickly return above average heading towards the weekend.
It's like our January thaw that we usually see may last almost all month.
There are signs of some snow in the forecast and perhaps towards the last 10 days of the month a switch back to colder weather that can be a bit more sustained. But until then, we'll save more money on the heating bills it appears.
++++++++++++++++++++++++++++++++++++++++++++++++++++++++
Kansas City Forecast:
Today: Mostly sunny and warm with highs well into the 50s. A bit on the breezy side as well.
Tonight: Fair and mild with lows near 32 degrees.
Tomorrow: Another pleasant day with highs approaching 60 degrees.
Wednesday: Partly cloudy and mild with highs well into the 50s.
++++++++++++++++++++++++++++++++++++++++++++++++++++++++
Discussion:
There is a system to track this week and one that may give us some snow too. Sounds strange when the forecast is so darn warm: Almost every day 15 degrees or more above average. Ok that may be a push. Thursday and Friday will be closer to average, but again an island of normalcy in a sea of warm weather it appears.
The lack of snow is a real thing this winter. There were some flakes out there and a few other things on Saturday, especially in the afternoon and evening. Some areas southeast of the metro had just enough to create a headache on some of the roads. For the most part, no accumulations.
We won't have measurable snow through Wednesday. We've had 1.7 inches this season which is a pretty paltry amount. So on the assumption that there is none through the 11th, here is where we will stand heading into our next system early on the 12th for the least amount of snows through Jan. 11: 21st place.
On the one hand, those that hope for snows to clear and whose business depends on that are not too happy at this point. On the other hand, some of those same businesses have been able to do a lot of side projects and cleaning. Cities who are short on plow drivers and struggle these days to clear roads are skating by because of the lack of winter weather. All of us have saved money this season on heating costs, because while we had that cold stretch near Christmas (and it was bitterly cold), we've more than made up for that in all the warmth so far since then really.
For the first eight days of the month, we're up to No. 9 in warmest starts to January:
We're likely to increase our ranking over the next couple of days as well. The last time we had a warmer start was back in 2006.
You would think something has to give right? And perhaps much farther down the line something will, but it won't be anytime soon. The latest 8-14 day forecast is showing a lot of red, indicating high probabilities of warmer-than-average temperatures through the coldest time of the winter in the Plains.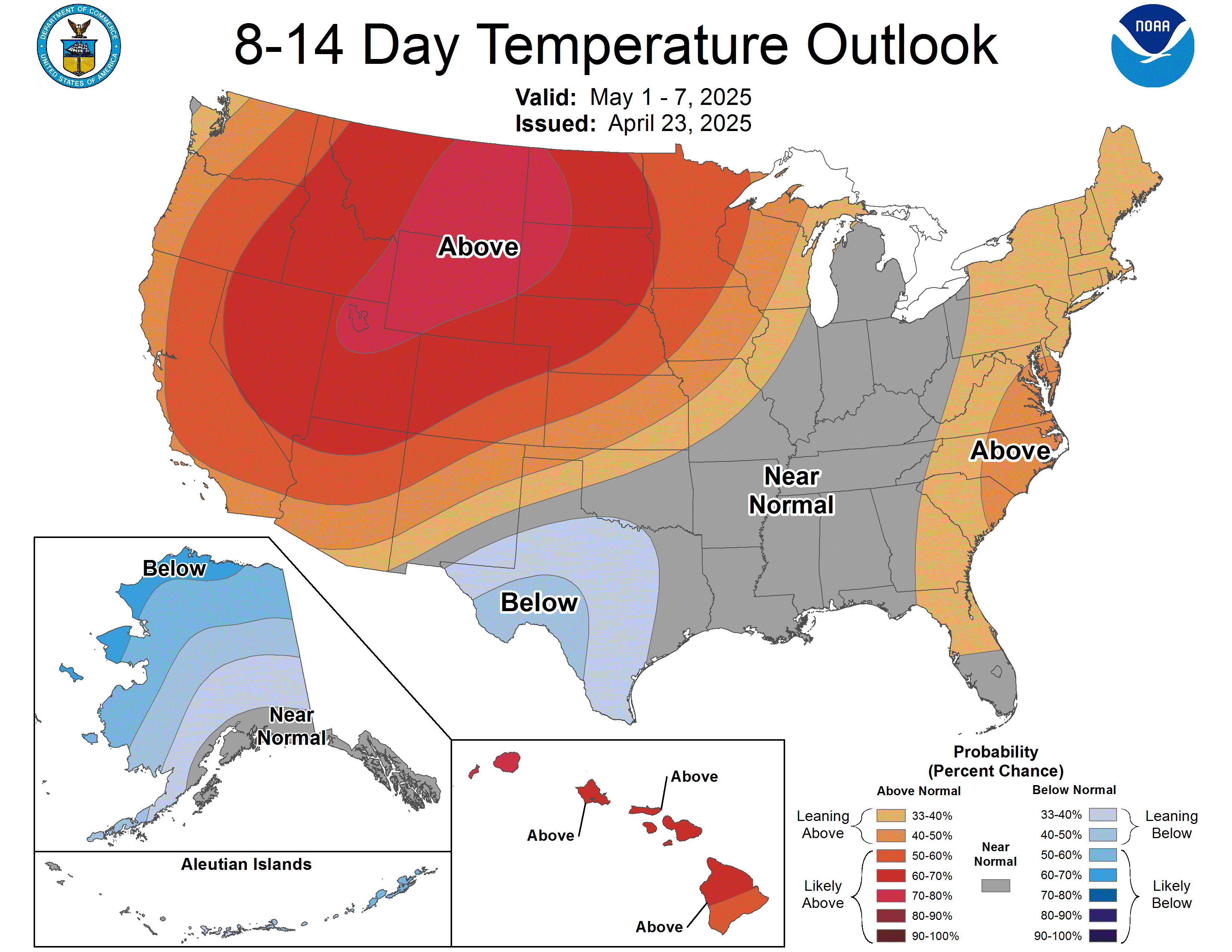 So there's that.
California storm's impact
There's also a system to watch this week that will give us more moisture, at least some rain, and perhaps even some snow to finish. The main part of the system is currently hitting California pretty hard with flooding rains and heavy Sierra snow (again). We'll be looking for a piece of the system to break off and move towards the Plains into the region later Wednesday into Thursday morning before zipping through and out of here first thing on Thursday.
With its rapid movement through the area, it's tough to get too revved up about a big snowstorm from it. But we should see things chill down as it approaches, so initially this will be a rain system for us later Wednesday night.
Here is the system, and it's another whopper for the western U.S. especially most of California.
The bigger focus for the rains this time is more towards central and southern California. With two-day rain totals of 2-5 inches near the coastal regions. The Sierras will see feet of snow.
This will add to these totals where some of the higher elevations have more than 10-plus feet on the ground.
If you're wondering about the reservoirs out there, it's helping, but there is a long way to go just to have them close to their historical averages for the time of the year that we're in.
While the flooding is getting worse and worse, there is a long way to go to get more into the reservoirs.
Snow chance in KC Thursday
That storm will be a player in the region later Wednesday and Thursday morning. It will likely be a quick hitter with rain initially, but there will be a bit of a cold air connection with this in the Plains. We should see a switchover to at least some wet snow early Thursday morning. The snow "window" is somewhat small, only about six hours, and the ground will have some warmth in it after another day in the 50s (same with the roads). It will take a bit for anything to stick.
Model output is suggesting about 1/10 inch or so in snow production time. If things play out, that could be a sloppy, up to coating, to 1-inch type event. We'll see this especially on the grassy surfaces, with slush on the roads possible, depending on the snow rates and if it can snow hard enough to overcome the initial melting. With this being a nighttime event, those chances increase.
So it's conceivable that we may have a morning commute to watch on Thursday depending on the snow production side of the storm.
It's worth monitoring.
The feature photo is from Jerry Keeney who was up towards Smithville Dam taking some eagle pictures!
I have a full morning/afternoon schedule tomorrow, not sure I can get a blog out, but may try.
Joe