KANSAS CITY, Mo. — It was a loud night with numerous Severe Weather Warnings for mostly hail moving through many areas of the region. Overall though, it was just a lower-end line of storms that moved through the region. Some areas didn't get a drop of rain, other areas across northern Missouri had some pretty good rains. Winds weren't too big of an issue for most of the storms.
What was interesting to me though is the number of "hooks" on radar that were apparent. Those are one of the "tells" to rotating storms and potential tornadoes. So the storms were rotating. The saving grace overnight and the reason why there were no tornadoes: an outflow of rain cooled air jumped ahead of the line of storms coming in. That effectively killed the tornadic potential.
I counted at least two decent hooks just going over Lawrence, Kansas, last night.
So were were sort of lucky about how things worked out.
++++++++++++++++++++++++++++++++++++++++++++++++++++
Kansas City Forecast:
Today: Sunny and cool. Temperatures in the lower 50s with blustery winds for most of the day dropping off later.
Tonight: Mostly clear and chilly with some frost possible. Lows in the upper 20s, some mid-20s are possible in some areas.
Tomorrow: Sunny and pleasant with highs in the low 60s.
Friday: Nice with highs well into the 60s.
+++++++++++++++++++++++++++++++++++++++++++++++++++++
Discussion:
A busy night, but I guess if we're going to have a line of storms come through, a weakening line is the way to do it.
The storms developed in the late afternoon and early evening across northwest Missouri and gradually developed down through northeast Kansas. The cells were moving towards the northeast while the whole line itself was moving towards the east. Sometimes when that happens, and especially with so many cells fighting for the same instability, they can generate and advance out of them a gust front or outflow. This is what happened last night.
So as the line of storms move towards the east, they push out cold air and then the movement of the line allows the storms to suck back in the colder air that they shot out. That typically weakens the storms. It's more or less a common occurrence. It doesn't mean the storms still can't produce severe weather (they can), but it typically means the tornadic threat is eliminated.
That was the case last night because to get spin ups. You do need to have the right lower atmospheric conditions and a rain-cooled air mass being sucked into a storm is not helpful at all for this. That's a good thing!
So let me show one of the hooks that I noticed towards the Lawrence, Kansas, area last night:
The familiar "hook" is readily seen in the left side, while the velocities shown on the right side (red moving away and green moving towards the radar in Pleasant Hill, Missouri) were apparent as well. It's certainly not the strongest couplet (at all), but it was sort of trying. Again though, the lowest atmosphere wasn't set up for a tornado by that point.
There were tornadoes yesterday in Iowa again, and there was a nasty one in southeast Missouri (Bollinger County) early this morning that sounds like some lives may have been lost.
Here is a close up:
There were stronger winds last night down towards Bourbon and Linn, Kansas, and Bates County, Missouri, with some minor damage earlier this morning.
The metro as you can see pretty much got off with only a couple of quarter-sized stones. There was a golf ball report from Dearborn, Missouri, as well.
Weather around the U.S.
Today's severe weather risk is off towards the east of the region.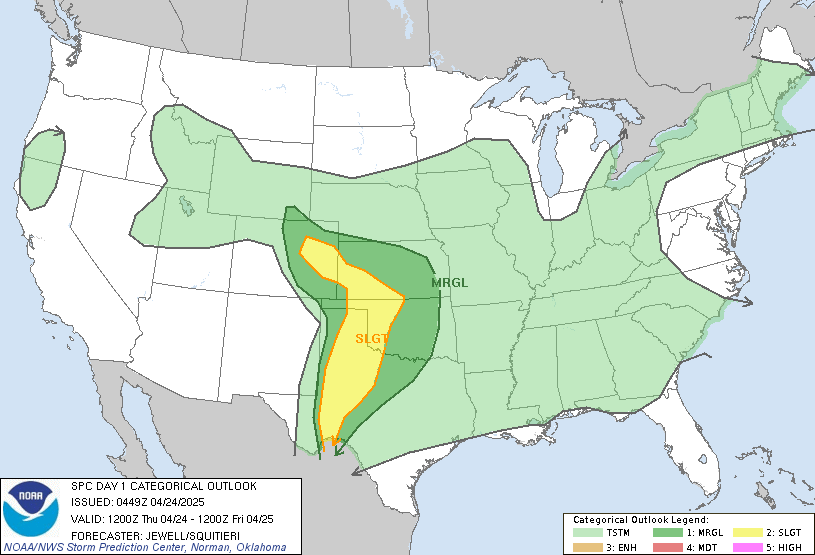 Yesterday's risks were realized to some extent, but the area in southwest Missouri was concerning for nighttime tornadoes never came to fruition.
Here is a rundown of the leadup to the storms last night from an outlook standpoint. Thankfully, only about 15 reports of tornadoes were received and that number will be cut with the duplicate reports that are in the system.
Interestingly, they are still counting up the tornadoes from last Friday, now approaching 100 confirmed. The concern leading up to yesterday was that a similar thing could occur, but this was a different storm. The upper-level storm tracking 100s of miles farther north and to expect the same outcome is a bit of a stretch.
Similar perhaps, but not the same. Here is what happened last Friday.
Now compare that to the one earlier in the blog from yesterday and last night.
Mud rain in KC
My guess is many are wondering today, assuming they have brown splotches on the car, what happened with that. As I mentioned, we'd have a mud rain from this. Why? Because there there was so much dirt and dust sucked into the storm coming from as far away as New Mexico, including the White Sands area.
That dust yesterday in central and western Kansas (a drought region) was impressive.
This morning's map shows the colder air streaming in with gusty northwest winds.
Yesterday, we had highs in the mid-80s. Today we woke up with wind chills in the lower 20s.
So it goes.
I'll leave you with this: The colder air that came in behind this front is very transient. Nicer days are coming again with a nice warmup on the table with fewer rain chances for awhile.
The feature photo is from Matthew Smith with some 1-inch hail last night.
Joe