KANSAS CITY, Mo. — Not the prettiest of mornings out there with light rain in the area. Temperatures are going to be much cooler today compared to the 80s of the last several days as a cold front comes through the region. The great news is that the setup for the weekend couldn't be any better and with cooler mornings and delightful afternoons we also might get an A/C break for a bit as well.
The issue coming, despite the gentle rain this morning, is that this will have to do us for a while as no significant rains are expected for the next six-plus days. There may be some scattered activity around later next week, but nothing concrete showing up right now.
+++++++++++++++++++++++++++++++++++++++++++++++++++++++++
Kansas City Forecast:
Today: Rain winds down towards mid afternoon. Mostly light with temperatures dropping to the upper 50s before moderating into the 60s later this afternoon after the rain ends. Maybe some late-day sunshine.
Tonight: Clearing and chillier. Lows in the mid-40s.
Tomorrow: Ideal with highs in the 70-degree range.
Sunday: Great with highs in the mid-70s.
++++++++++++++++++++++++++++++++++++++++++++++++++++++++++
Discussion:
Not a lot really for today's blog with some nice lighter rains coming through this morning in some areas. Here's radar: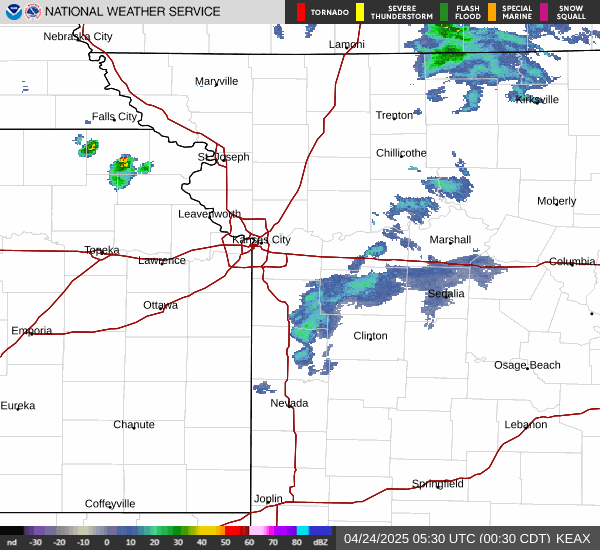 The better lighter rains may favor areas on the south side with more scattered activity on the north side. The northern Missouri area will miss out on most of this.
The latest surface map shows a cold front through the region. Cooler air is filtering in behind the front.
The air may have a tinge of a smoky smell as well. As I mentioned yesterday, there was a lot of smoke in the Plains from Interstate 80 northwards. That smoke is drifting through the region as well.
The rain amounts today will likely be under 1/4 inch or so. It will mildly help, but with the really nice weather coming over the coming days will quickly evaporate away.
The air mass arriving though is a little unusual for late May standards. It's really cool. As a result, tomorrow will be nice and cool. For a day filled with sunshine and late May, that combination is somewhat tough to achieve.
The weather early next week is looking milder and generally dry. There are some hints of a few scattered showers or storms possible on Wednesday of next week. That will be the next thing to sort of watch for, but nothing overly impressive is expected from that.
Finally here is something interesting: the summer outlook from NOAA came out yesterday.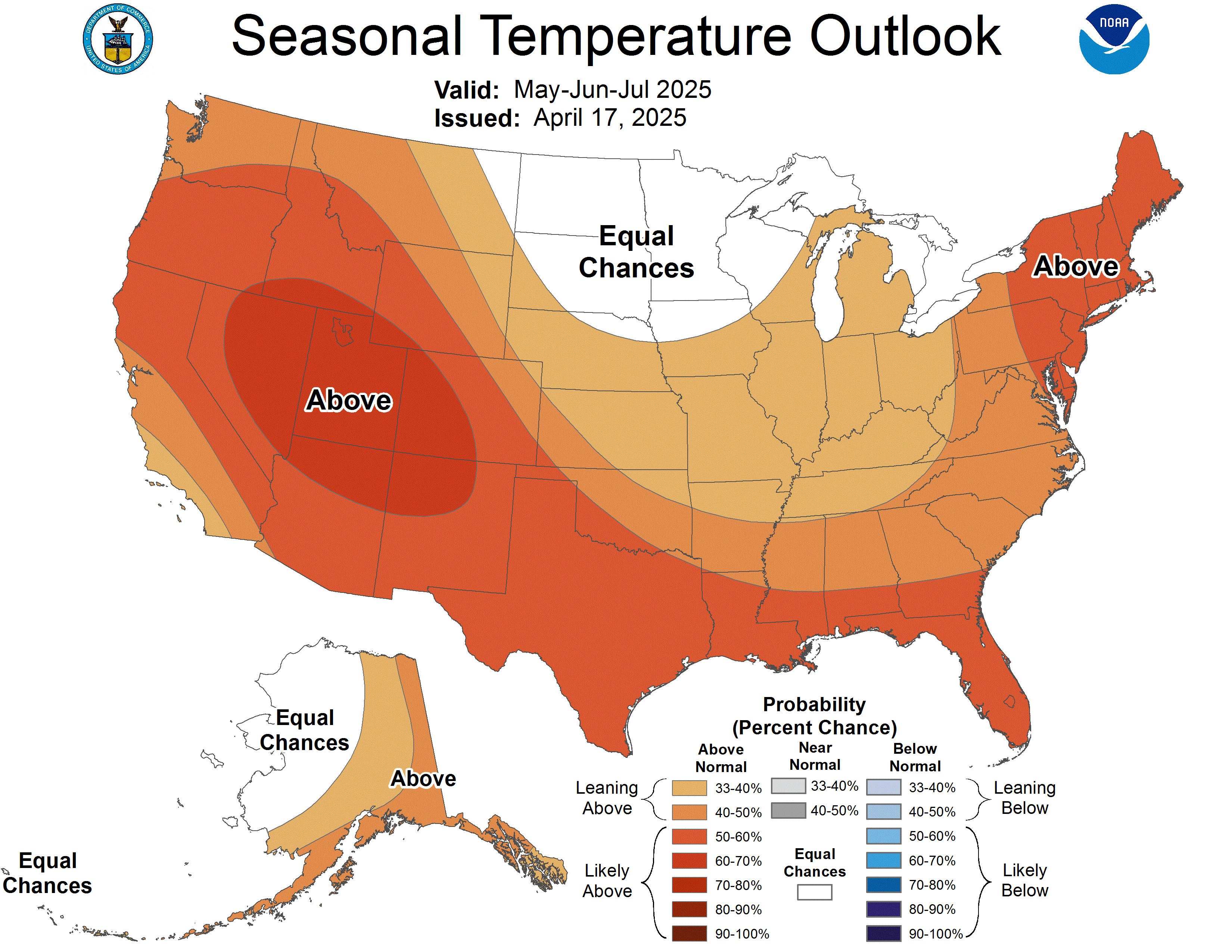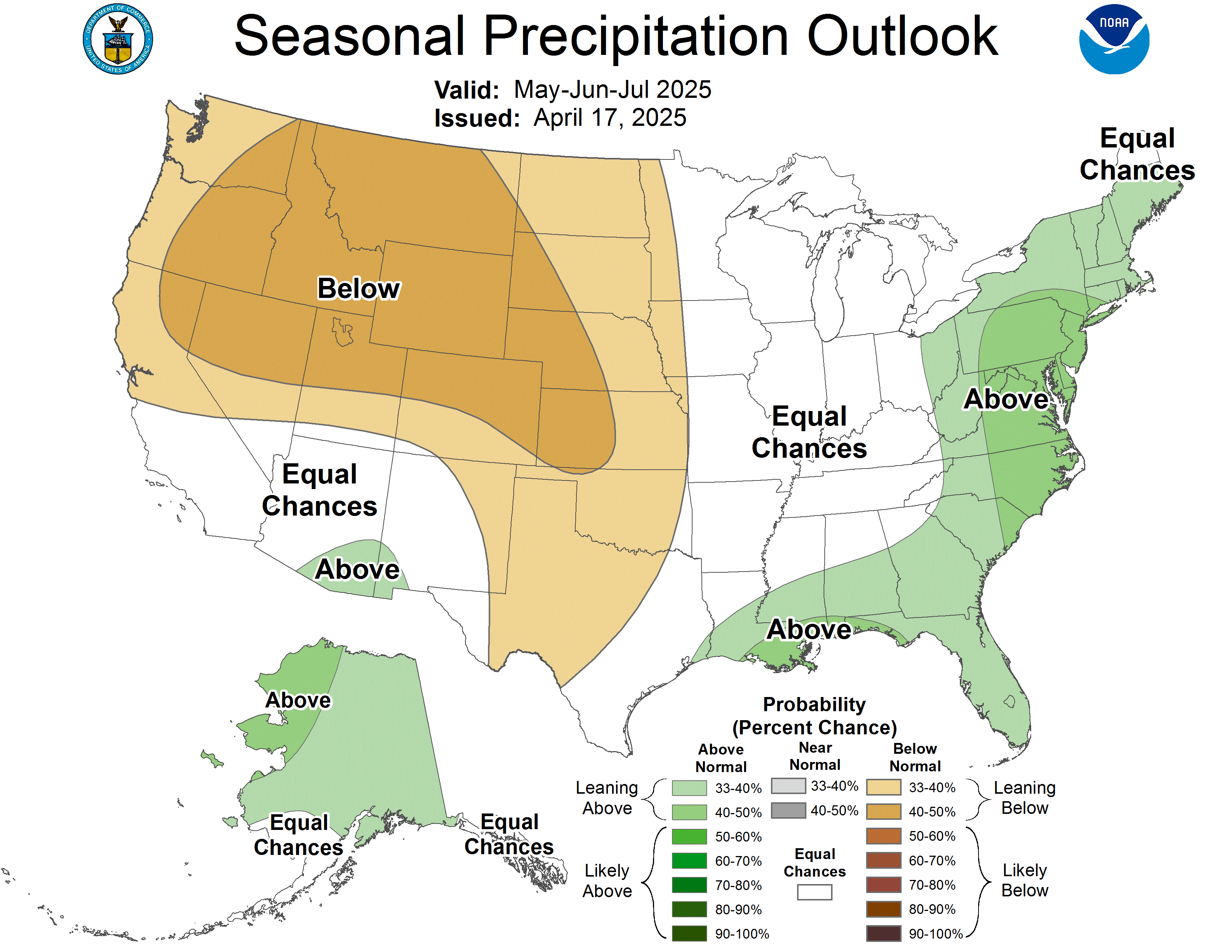 It doesn't really have a signal for warmth or coolness locally, but it does has a slightly better chance of more rain.
We'll see.
That's it for today. Enjoy the weekend! The feature photo is from Wes Lindquist.
Joe