KANSAS CITY, Mo. — It's rainy, not overly cold, but chilly and not too pleasant on this Tuesday morning in KC.
The rain is expansive and will be affecting the region for the next few hours this morning. Light-to-moderate rain will be most likely with this batch moving through. No flooding of consequence is expected, despite soils that are pretty saturated after all the moisture from the last few months.
The rain should move out after lunch for a few hours with another disturbance rotating through later today or very early this evening. There is a remote chance of a few stronger storms, mainly towards northwest Missouri and northeast Kansas for a couple of hours later today, but the window of opportunity is pretty short.
Storm No. 1 is a wet one.
Storm No. 2 has some winter potential to it and that will be an issue Thursday morning.
++++++++++++++++++++++++++++++++++++++++++++++++++++++++++
Kansas City Forecast:
Today: Rainy through early this afternoon, then additional showers/storms later today into early this evening with some dry time in between. Windy and mild, with highs well into low-to-mid 50s. Winds may gust to near 40 mph.
Tonight: Mostly cloudy and blustery. Temperatures drop into the low to mid-30s.
Tomorrow: Partly cloudy and seasonable with highs in the low to mid-40s. Chillier north.
Thursday: Snow in the morning. A dusting to 2 inches is possible from south to north in the metro. Higher totals of 2-5 inches is possible across northern Missouri. Colder and blustery with temperatures only in the 20s with some late afternoon sunshine possible.
++++++++++++++++++++++++++++++++++++++++++++++++++++++++++
Discussion:
The active week of weather continues as two storm systems are in line, one affecting us this morning with rain, and good rain at that.
Here is radar from Pleasant Hill.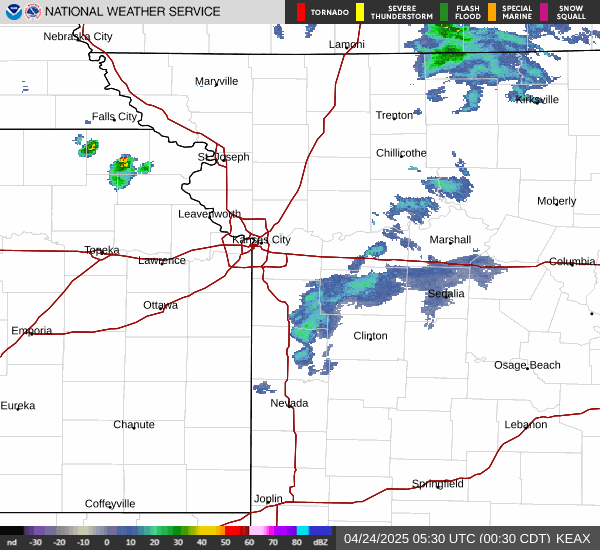 Here is regional radar: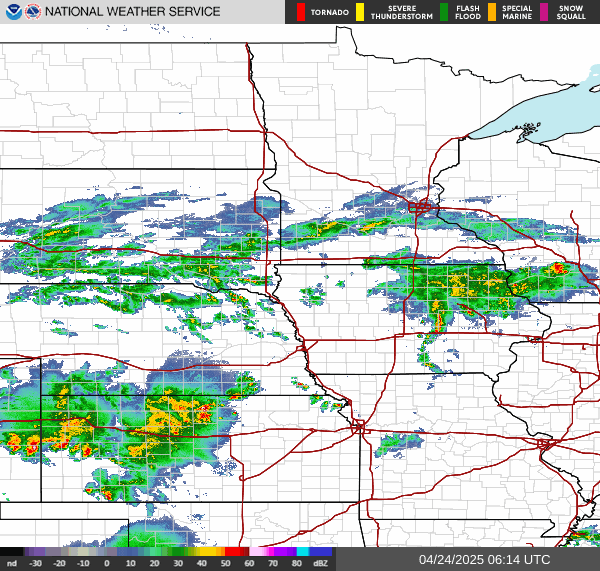 You can see the broad circulation of the system across the Plains.
On the satellite loop, the circulation is more evident.
Broad lift to the atmosphere is very evident in the Plains. With us being on the warm side of the storm with a strong southerly wind fetch, milder air will continue to move northwards today.
The 8 a.m. surface map shows the surface storm across southeast Colorado.
This will move towards the Plains today. You can follow the movement below. This is the pressure map and the black lines are isobars. They represent lines of equal air pressure.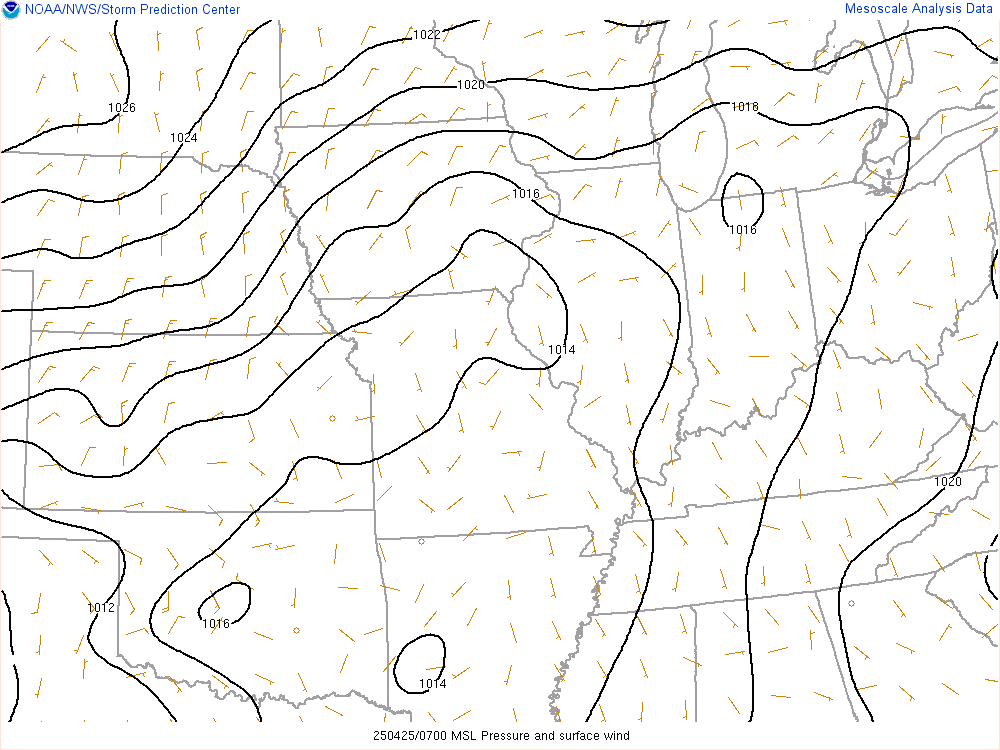 The severe weather threat today is limited and we may not get unstable enough to yield that much. But there is a small window, especially towards northwest Missouri and northeast Kansas where the surface low will track closer later this afternoon that we could see some shallow rotating storms.
As I talked about in yesterday's blog, these wouldn't be the big towering storms of the spring or summer. These won't have that much instability to work with to generate those tall updrafts. But with the combination of increasing winds as you go upwards and directional changes to the wind direction, some small areas of spinning will develop within the atmosphere.
That will need to be watched for the possibilities of small localized areas of severe weather and the smallest of chances of a tornado. I'm still not convinced on the second item at this point. If there is more instability, maybe. Just not convinced how much instability will be out there to tap into the shear that will be helping the storms organize.
The Storm Prediction Center is monitoring the region though for this potential. The darker green represents a marginal risk or a level 1 risk out of 5.
Of note as well is a second disturbance that will be rotating up from the southwest closer to the metro. This too could pose a small risk of stronger storms with perhaps some hail.
The atmosphere in the lower part of the atmosphere will be near 50 degrees, but aloft at around 18,000 feet that air will be colder than average, close to minus 15 degrees to minus 20 degrees. That is a strong change in temperatures from below to above. That could help the disturbance generate some more vigorous updrafts as well, so that needs to be watched. If there is a random warning or two for that, I won't be shocked either.
It's an active morning with rain and then a few-hour window later this afternoon for storm potential.
Tomorrow we have a lull. A concern tomorrow is with a warm front south of the region with 60s in southern Missouri and our region in a north-northeast flow of air, the temperatures may be on a bit of a struggle bus for awhile especially on the north side of KC and north. If we have some clouds, that will also slow us down to warming up. It should be a seasonably chilly February day with highs 40-45 degrees or so for the Chiefs parade. With any breeze out there being funneled between the buildings downtown, it will feel colder as well.
Snow chance Thursday in Kansas City
Now the setup to storm No. 2.
This is a disturbance in the western U.S. towards northern Nevada this morning.
As it moves through the Plains, it may be shearing out though, so the amount of snow in northern Missouri may be affected by the speed it's moving through and the fact that it may be weakening when it does so. The timing of whatever wintry weather we get appears to be later tomorrow night into Thursday mid-morning before it zips through.
There may be a few hours (perhaps less) of some sort of mixture of precipitation types Wednesday night, then a switch to mostly light snow. This could impact the roads, especially untreated roads as as this unfolds, temperatures will be dropping into the low to mid-20s, or chillier by Thursday morning. This very well may result in slick road conditions Thursday morning. So schools may be impacted by this.
There may be some recovery in the afternoon to near 30 degrees.
Northern Missouri though, especially from 36 Highway upwards, has a better chance of seeing more snow compared to areas closer to Interstate 70. Their amounts could be around 2-5 inches, so more of an impactful snow up there it appears right now. There is some data that suggests even higher totals are on the table for northern Missouri towards the Iowa border region. So northern Missouri watch for this!
In the weird winter of 22-23 though, there isn't a cold air tap of significance with this storm either. We start to moderate quickly on Friday, perhaps back into the 40s, depending on snow cover issues. Then we're into the 50s over the weekend, if not warmer, with the strong winds stirring up the air again like last weekend.
Current National Weather Service forecasts have this idea for the region as a whole over the next few days.
A closer up view of our region shows this:
You can see the gist of things from south to north.
More on all this tomorrow, but again some school cancellations are on the table. Areas southeast of the metro may have minor affects from this.
The feature photo comes from Sandra Cox out towards Leeton, Missouri. The snow geese are migrating again… heading north, but they stopped by!
Joe